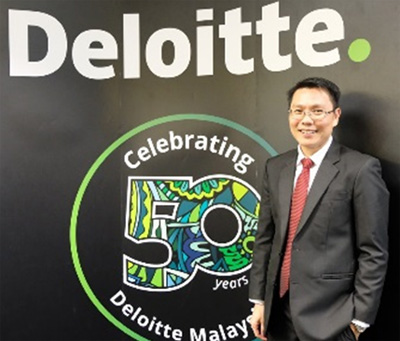 Mr Yee Wing Peng assumes the position as the Country Managing Partner of Deloitte Malaysia starting from 1 June 2018
With the Diploma in Commerce and the Association of Chartered Certified Accountants ('ACCA') qualification he obtained from the then TAR College in 1993, he, like many other young graduates, joined the workforce in the field of audit for 4 years. A stroke of serendipity led him to enter the field of taxation at Deloitte Malaysia in 1997. Being hardworking with a strong will to learn which is the hallmark of TAR UC graduates, he moulded his career of 21 years in the company to eventually take the helm. The man spoken of is Mr Yee Wing Peng, who has recently been appointed as Deloitte Malaysia's Country Managing Partner with effect from 1 June 2018. In this exclusive interview, this TAR UC alumnus shares his vision for the company and how he plans to further strengthen the industry - academia collaboration between Deloitte Malaysia and TAR UC.
What are the skills / things you have learnt in the then TAR College that have been very helpful for you in your career and why?

TAR College's diploma has equipped me with solid technical knowledge which has helped me tremendously in my career. On top of this, TAR UC's Internally Assessed ACCA Fundamentals programme is a very good programme to help provide graduates like myself a good stepping stone to soar high in the finance and business fields. Besides this, my campus life in TAR College was a hectic one where besides striving to do well in my studies, I was also active in extra-curricular activities especially in football where I was the Captain of the School of Business Studies' football team and also a member of the college football team. I truly appreciate the experience I gained from the many football tournaments I participated in at inter-varsity and even regional levels. These experiences taught me various skills that helped me develop important leadership traits such as how to harness each other's strength and skills as well as strategise on how to win tournaments. As a result, I learnt how to lead in a competitive environment and instilled in me the spirit of giving my best in everything I do.

Many TAR UC graduates have been employed by Deloitte. In your opinion, what makes TAR UC students stand out among the rest? And do you see the same qualities which you have been inculcated after having graduated from TAR UC passed down to the many generations of graduates after you?

I can still see the same core values and qualities in many TAR UC graduates after I left the institution such as hardworking, diligent, humble, respectful and willingness to learn. Not forgetting to mention that TAR UC graduates are always well-trained with strong technical knowledge. I am glad that the standard of graduates produced by TAR UC has not slipped a bit. So TAR UC can look ahead on how to further improve on producing better graduates especially in the areas of strengthening students' communication skills, enhancing their critical thinking skills and increasing their self-confidence in dealing with challenges in life.

With Industry 4.0 changing the world's economic landscape, what do you think are the most important skills and knowledge accounting students should acquire to equip them well for the employment market?

Industry 4.0 has a lot of potentials and this is why Deloitte is looking at ways on how we can operate by using the potentials offered by Industry 4.0. For example, Deloitte Malaysia has hired 4 IT analysts to automate more processes such as software to compute corporate and personal taxes. By doing so, we will be able to automate the mundane process of data processing, thus releasing our workforce to carry out higher value work such as client relations and consultation. Therefore, in my opinion, it is very important for graduates to not only have the technical know-how but also critical thinking skills, communication and the ability to think out of the box. We cannot run away from the fact that technology will replace humans in carrying out repetitive work but human intelligence is still needed to process and apply the information as well as find and draw out practical solutions to problems. At Deloitte, we specialise in providing practical and effective solutions to our clients. Hence, it is important that our workforce have excellent problem-solving skills to excel in their work. I also cannot emphasise enough on the importance of being competitive and having high level of confidence to stay ahead of the competition. Malaysians are highly capable and intelligent as proven by a number of high ranking officials in Deloitte alone. What makes the difference is the level of self-confidence one has to either lead or follow the lead.

As the new Country Managing Partner of Deloitte Malaysia, what is your vision of the collaboration between Deloitte Malaysia and academia such as TAR UC? Why industry-academia collaboration is important and what are the possible future collaborations between Deloitte Malaysia and TAR UC that can take place to benefit future students?

Industry-academia collaborations are very important as the industries depend on institutions of higher learning to produce the required workforce for the industries. This is why institutes of higher learning must always ensure that what they equip their students with must always be relevant to the industries. As TAR UC alumnus, I am certainly open to ways and means on how to strengthen the collaboration that we have forged with TAR UC over the years. Just to share that I initiated the ACCA World Prize Programme in Deloitte Malaysia. The program is exclusively for TAR UC students to go through a four-month internship with Deloitte that provides intensive academic guidance covering the fundamental and technical areas of Malaysian Taxation, in order to become the ACCA P6 World Prize Winner. On top of this, the annually held Deloitte Tax Challenge is another way we collaborate with institutes of higher learning. The national competition is growing in popularity by the year and as a result, we organised the inaugural Deloitte South East Asia Tax Challenge in 2016. I will also be giving a 'Power Talk' to TAR UC students in Perak Branch Campus on 19 June 2018. In a nutshell, I certainly will be supportive of any further efforts to strengthen the collaboration between Deloitte Malaysia and TAR UC.