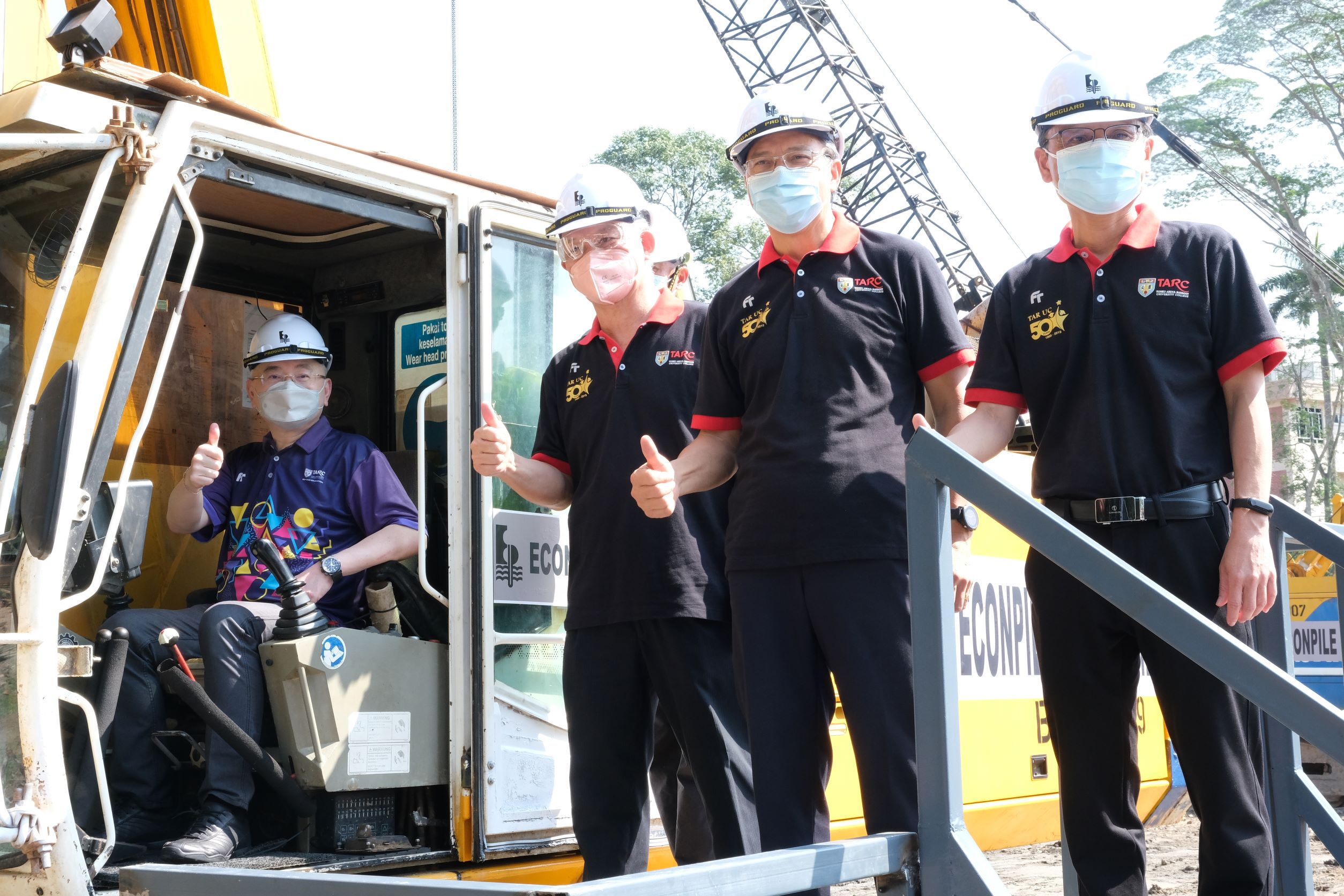 Datuk Seri Ir Dr Wee giving the thumbs-up in the cockpit of a piling machine at the site of the new Student Centre at TAR UC Kuala Lumpur Main Campus. Looking on are (from right) Prof Ir Dr Lee, Dato' Sri Liow and Datuk Seri Yew.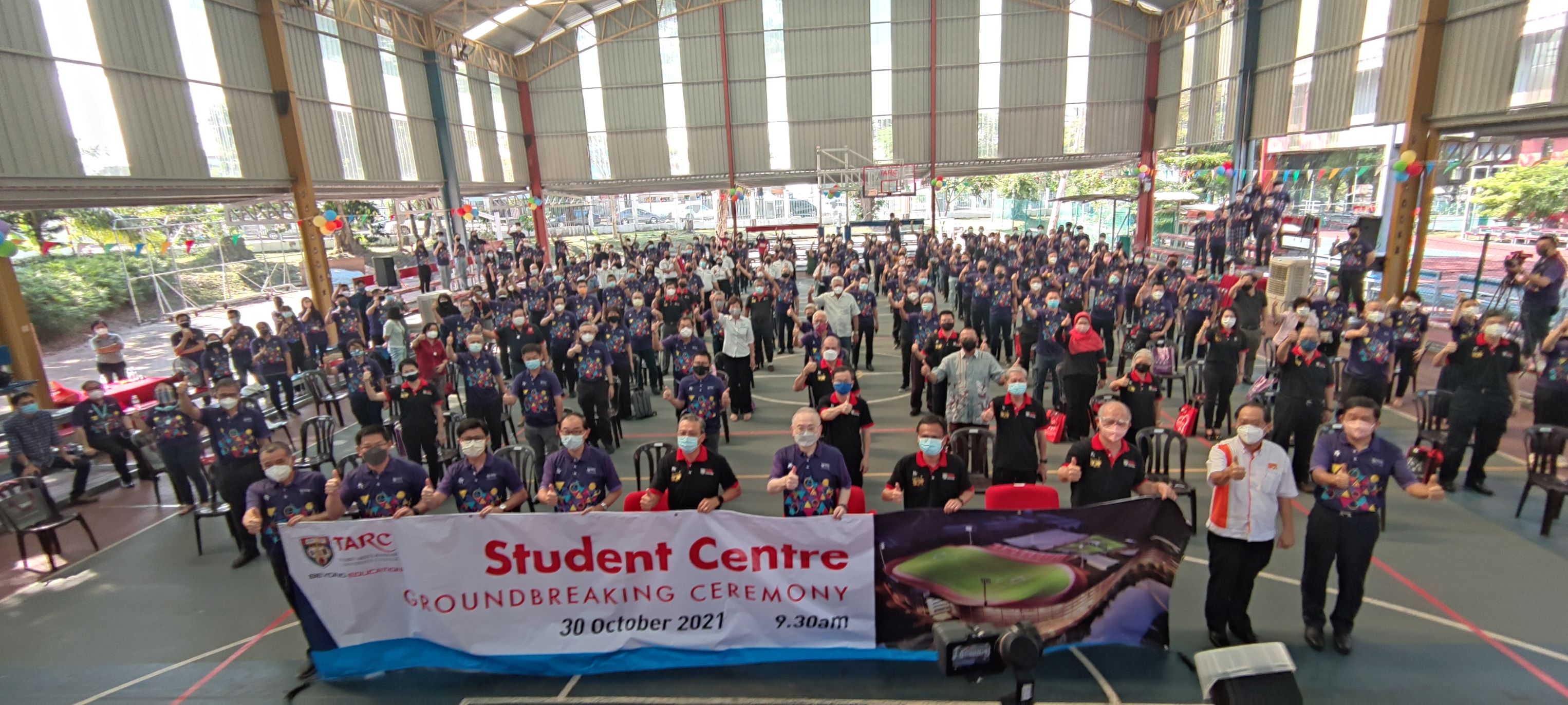 The guests which include Datuk Seri Ir Dr Wee (front row, fifth from right), Dato' Sri Liow, (front row, sixth from right), Tan Sri Datuk Seri Gan Yu Chai (extreme right), Tan Sri Datuk Seri Lim Keng Cheng (second from right) Datuk Seri Yew (third from right), Prof Ir Dr Lee (fourth from right), Senator Dato' Dr Mah (seventh from right), Datuk Chong Sin Woon (eighth from right), Secretary General of Malaysian Chinese Association ('MCA'), Senator Datuk Lim (ninth from right) and Datuk Tan Teik Cheng (tenth from right), Vice President of MCA, holding up the Student Centre Groundbreaking Ceremony banner to commemorate the occasion.
TAR UC kicked off the construction of the Student Centre with a groundbreaking ceremony held at the site in Kuala Lumpur Main Campus on 30 October 2021, marking a momentous milestone in the history of TAR UC.
Targeted to be completed in 2024 at an estimated cost of RM 176 million, this Student Centre is a dedicated hub for students' activities which will be equipped with many modern facilities and amenities and it is aimed at enhancing the multi-dimensional learning for students. The Student Centre is a 7-storey building with total built-up area of 1,470,832 sqft comprising 1,408 car parking lots.
Dato' Sri Liow Tiong Lai, Chairman of TAR UC's Board of Governors gave his welcome remark during the ceremony. "As we continue moving forward into the future with our sights set on becoming a university transforming the future, this new centre will further complement TAR UC's 10-year roadmap by providing TARCians and our stakeholders with a new vibrant and creative avenue equipped with top-notch facilities, learning spaces and tools to facilitate learning Beyond Education," he said.
Datuk Seri Ir Dr Wee Ka Siong, Chairman of the Board of Trustees of TARC Education Foundation, who is also the Minister of Transport, highlighted the key roles of the Student Centre in promoting and encouraging entrepreneurship and innovation. He said: "The new Student Centre at TAR UC will also house the SME Centre which will be a one-stop centre that aims to bring together the SMEs and the supporting eco-system to synergise innovation and entrepreneurship for the betterment of the SMEs and the wider community. This is truly in line with one of the themes of RMK-12 on 'Resetting the Economy'. The setting up of the SME Centre is certainly a critical step in the right direction for TAR UC to support and develop SMEs to be the driver of growth in Malaysia. In the near future, TAR UC students aspiring to be entrepreneurs will be able to gain access to network connections, professional development and training or services as well as research knowledge transfer via the SME Centre to give them a leg up in their entrepreneurial journey."
At the ceremony, Tan Sri Datuk Seri Lim Keng Cheng, Managing Director of Ekovest Bhd and Tan Sri Datuk Seri Gan Yu Chai, Managing Director of Platinum Victory Sdn Bhd received plaques for their contribution and strong support in the TAR UC Land Committee which was responsible for the planning and development of TAR UC Main Campus including the new Student Centre.
The highlight of the event was when Datuk Seri Ir Dr Wee was accompanied by Dato' Sri Liow Tiong Lai, Datuk Seri Yew Teong Look, member of the Board of Trustees of TARC Education Foundation and Prof Ir Dr Lee Sze Wei, President of TAR UC, to fire up a piling machine in showcasing the symbolic breaking of ground at the site which was formerly the football field and futsal courts.
At the end of the event, there was also a visit to the SPE Highway (Duke 3) exit which is connected to TAR UC's upcoming new entrance at the East Campus of the Kuala Lumpur Main Campus.
Among the distinguished guests who were present to witness the groundbreaking ceremony was the grandson of Tunku Abdul Rahman Putra Al-Haj, Malaysia's first Prime Minister and Father of Independence, Tunku Muinuddin Putra Ahmad Nerang. Also present were Senator Dato' Dr Mah Hang Soon, Deputy Minister of Education, Senator Dato' Sri Ti Lian Ker, Deputy Minister of Youth and Sports and Senator Datuk Lim Ban Hong, Deputy Minister of International Trade and Industry.