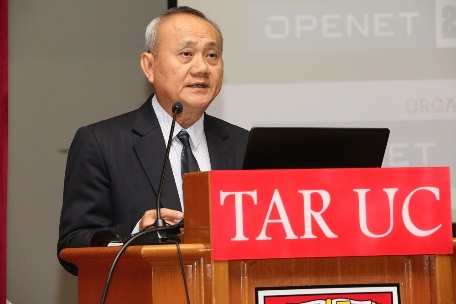 Datuk Dr Tan Chik Heok presenting his opening remark at the Opening Ceremony.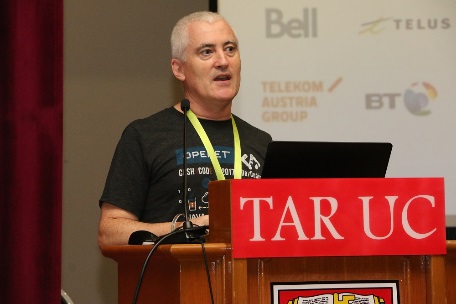 Mr Eoin Leahy addressing the audience at the opening ceremony.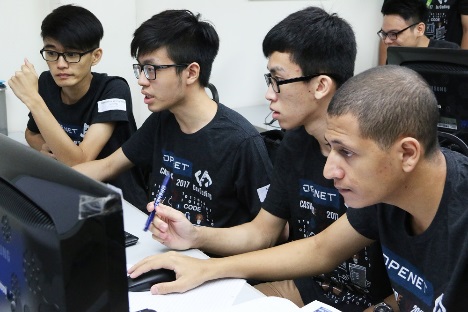 A team of participants attempting the first-round question.
Once again, Openet Cash4Code Programming Competition was held in TAR UC on 4 July 2017, marking the third time the competition was held at TAR UC. Organised and sponsored by Openet and hosted by the Faculty of Computing and Information Technology ('FOCS') and the Computer Science Society of TAR UC, this year's competition was the first time it was open to participants from other institutions of higher learning namely Asia Pacific University ('APU'), Universiti Malaya and Universiti Tunku Abdul Rahman. This resulted in the total number of participants reaching 101 students.
The Opening Ceremony which was held in the Auditorium at Kuala Lumpur Main Campus was attended by Datuk Dr Tan Chik Heok, President of TAR UC and Mr Eoin Leahy, Executive Director, Engineering of Openet, senior management of TAR UC as well as representatives from the participating institutes of higher learning. In his opening remarks, Datuk Dr Tan also said: "The world is rapidly changing and the growth of IT requires highly skilled and creative workforce. If we look at the statistics provided by U.S. Bureau of Labour Statistics, the number of jobs as software developers is expected to grow as much as 17% from 2014 till 2024. Therefore, learn as much as possible in order to upskill yourself as you will have many choices for a rewarding career in ICT".
"Besides learning programming in your course, participating in competitions like Openet Cash4Code Competition 2017 will definitely stretch your capability and offer you experiential learning outside classroom. Not to forget that competitions such as this provides a platform for employers like Openet to source for highly skilled and capable individuals who have the potential to be great employees."
Meanwhile, Mr Eoin Leahy shared on what Openet would like to achieve from this competition. "We are looking for people who are smart, fun and like to build stuff which brings us to the objectives of this year's competition. Besides having some fun, participants will also need to solve some coding problems which would require some analysis and algorithmic design skills. This year's competition would require participants to build a robot that wins a battle. In addition to this, this year's competition would be the first time where participants will be grouped in a team in the first and second round of the competition. The best 2 participants in each team will proceed to compete with each other in the quarter-finals, semi-finals and finals. Participants will also be tested on how well they can work under pressure," he explained.
The first and second rounds as well as the quarter-finals of the competition were held at the computer labs in the IBM Centre for Excellence in TAR UC whereas the semi-finals and finals of the competition were held in the Auditorium. Three TAR UC students and another student from APU were named as the Best Teamwork in the competition.