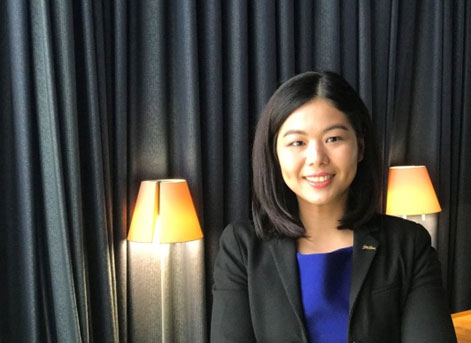 Samantha Lim, a capable young lady from TAR UC who has made it in the UK
1.

As the Financial Controller at the Radisson Blu Hotel, Liverpool, what are the important learning experiences and lessons that helped you to be successful in your career now?

I started off as a receptionist in Radisson Blu Hotel, Liverpool, in May 2009. Undeniably, it was a very difficult time at the beginning, even though I played a junior role, especially in cultural and language adjustments- Liverpudlians speak a localised lingo called 'Scouse'. I am always ambitious and have clear goals of what I want to achieve. I learnt that every step in one's life serves as a learning lesson no matter how small or big the step is.

I joined the Accounts team in 2010. From day one, the management set out a career development plan for me and the experiences I need to gain in and outside of work. My personal motto has always been to never stop learning. So, I take every opportunity that I have to learn from my superior. Sometimes that might mean working longer hours than is expected of me. In December 2013, I was covering the Financial Controller's role during her maternity leave.

At the time, there was an initiative from the company to change the way we did forecasting and the launch did not go down very well with the staff. There was a lot of complaining from them about the new tool. However, I learnt that sometimes you just simply need to get on with your job and do the best you can with the tool that you have. I persevered during this period and made sure I submitted the forecast accurately, which in turn pleased the GM and Area Office.

The company strongly promoted what they called 'Balanced Leadership'. I was put forth for a course, namely 'Steps', designed for women to have effective and balanced leadership skills. Prior to the course, I had been a very ambitious person who was always on the go. Work comes first but through the course, I have learned about total life balance, such as when to 'push' and when to 'pull'. I have also learnt to be more confident when dealing with uncomfortable situations.

2.

What motivates you to continue to have the zeal to work at Radisson Blu Hotel?

A strong believer in talent should be grown from within. I have met several key people who wielded significant influence in my career with the company. They inspired me time and time again. They were willing to spend time with the team to develop a solid personal development plan for each member and also willing to invest on training courses.

Over the years, I have attended different courses (we call it Business School) not only in the UK, but also in Amsterdam, the Netherlands, Riga in Latvia and Oslo in Norway. These have enabled me to experience training in other hotels within the group and to have networking opportunities.

Money is not always the only motivator (as it is never enough!), but being recognized for one's work is more important. Thankfully, I have been recognised in different ways by my managers, team and also the colleagues I work with in the hotel.

3.

What is your plan in the upcoming years?

My plan has always been to grow with the company with the aim of taking up a senior role one day and to continue to contribute and to make a positive impact.

Besides that, I do have a personal inspiration to write a book one day. I believe in inspiring people to seek continuous improvement through learning and finding happiness through sharing.

4.

What is your most memorable moment as a student at TAR College (now TAR UC)?

We did a campaign once, called 'Have a Heart, Do Your Part', which was definitely one of my most memorable moments. There was great team effort, lots of planning and execution and not to mention, fun.

5.

Please elaborate on the learning experiences and lessons at TAR UC that have contributed to your successful career?

I found that there is a good balance of practical experience and classroom lessons that enable students to learn hands-on practical work whilst grasping a solid theoretical foundation.

Good educators are also imperative for a student's journey in learning. The three lecturers I remembered the most are Ms Lim Siz Siz, Mr Chuan Tek Pheung (both PR programme leaders) and Mr Leong Kin Seng (now VP at UOB). Ms Lim gave a lot of industry tips and PR Campaign guidance, while Mr Leong's Crisis Management was one of the best classes I had ever attended and finally, Mr Chuan emphasised on the practical application of PR concepts and also encouraged me to think on my feet.

6.

What advice would you like to share with TAR UC students or graduates who are interested in your field?

Go beyond your circle. In finance, what is important is strategy setting, strong commercial awareness and more importantly, the impact on a company's non-financial performance.

7.

In your opinion, in what way can TARCians contribute to their alma mater?

I firmly believe in sharing experiences and stories with students of TAR UC and I also think that having a circle of alumni who are interested in contributing would help. This encourages a more active involvement.