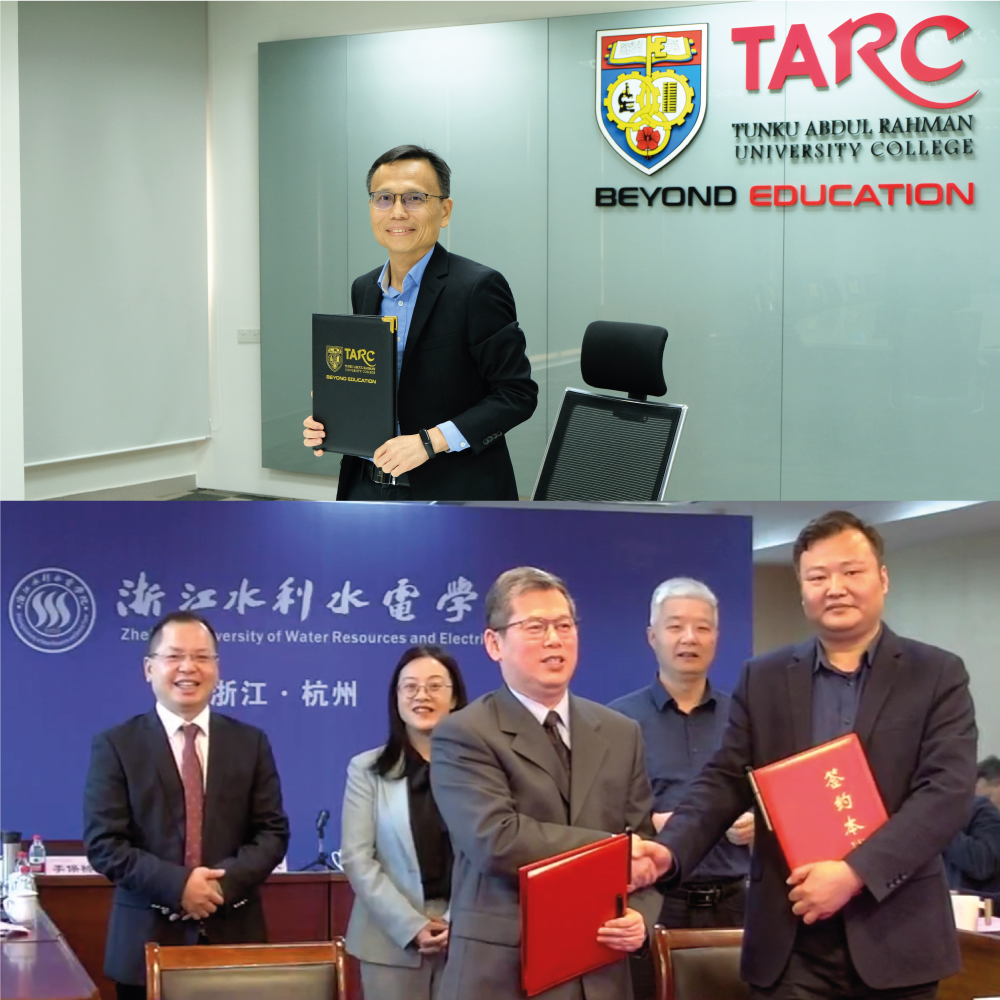 The formalisation of the MoU signed between TAR UC, ZJWEU and ZTE Education paves the way for the establishment of the Silk Road Institute which will be based in TAR UC.
Top picture: Prof Ir Dr Lee Sze Wei after signing the MoU on behalf of TAR UC.
Right picture (1st row, from left): Mr Hua Ertian and Mr Li Baoqiao representing ZJWEU and ZTE Education respectively; (2nd row from left): Mr Zhao Bo, Vice President of ZJWEU, Ms Lan Jingjing, Mr Liu Yanzong, General Manager of ZTE Education.
In a virtual ceremony, TAR UC inked a tripartite Memorandum of Understanding ('MoU') with Zhejiang University of Water Resources and Electric Power ('ZJWEU') and ZTE Education Management Co. Ltd ('ZTE Education') to strengthen the educational, cultural and academic exchanges between Malaysia and China.
Participants of the MoU signing held on 26 March 2021 included Prof Ir Dr Lee Sze Wei, President of TAR UC, Mr Hua Ertian, President of ZJWEU and Mr Li Baoqiao, Executive Vice President of ZTE Education. The live stream of the MoU signing was witnessed by senior officials from TAR UC, ZJWEU and representatives from ZTE Education.
Under this collaboration, the three parties will jointly establish the Silk Road Institute, based in TAR UC which will explore different kinds of training, staff and student exchanges, academic and cultural exchanges, vocational training, research collaborations pertaining to 5G, Big Data analytics, Internet of Things ('IoT'), robotics and other projects of interest to all parties. Furthermore, the collaboration will also spearhead the establishment of practical training platforms, enable sharing of educational teaching resources, provide internship opportunities and develop course materials among other things that would cultivate professional future talents.
"We are looking forward to this collaboration and the establishment of the Silk Road Institute," said Prof Ir Dr Lee. "Through internationalisation, this collaboration rallies strengths of all parties which is why I believe that this collaboration will not only strengthen relations between both countries, but also greatly benefit our educators and students."
In his speech, Mr Hua Ertian also expressed his aspirations for the collaboration particularly in education context. "The collaboration forged between all parties carries a high degree of significance. It will afford us complementary advantages and mutual support to achieve common goals in education.
"I am very pleased to see the formalisation of this collaboration between TAR UC and ZJWEU," stated Ms Lan Jingjing, Deputy Director of Foreign Affairs Office from the Department of Education Zhejiang Province, who also witnessed the MoU signing. "Today's signing ceremony is only the beginning. I hope that our aims under this collaboration will materialise and thrive"