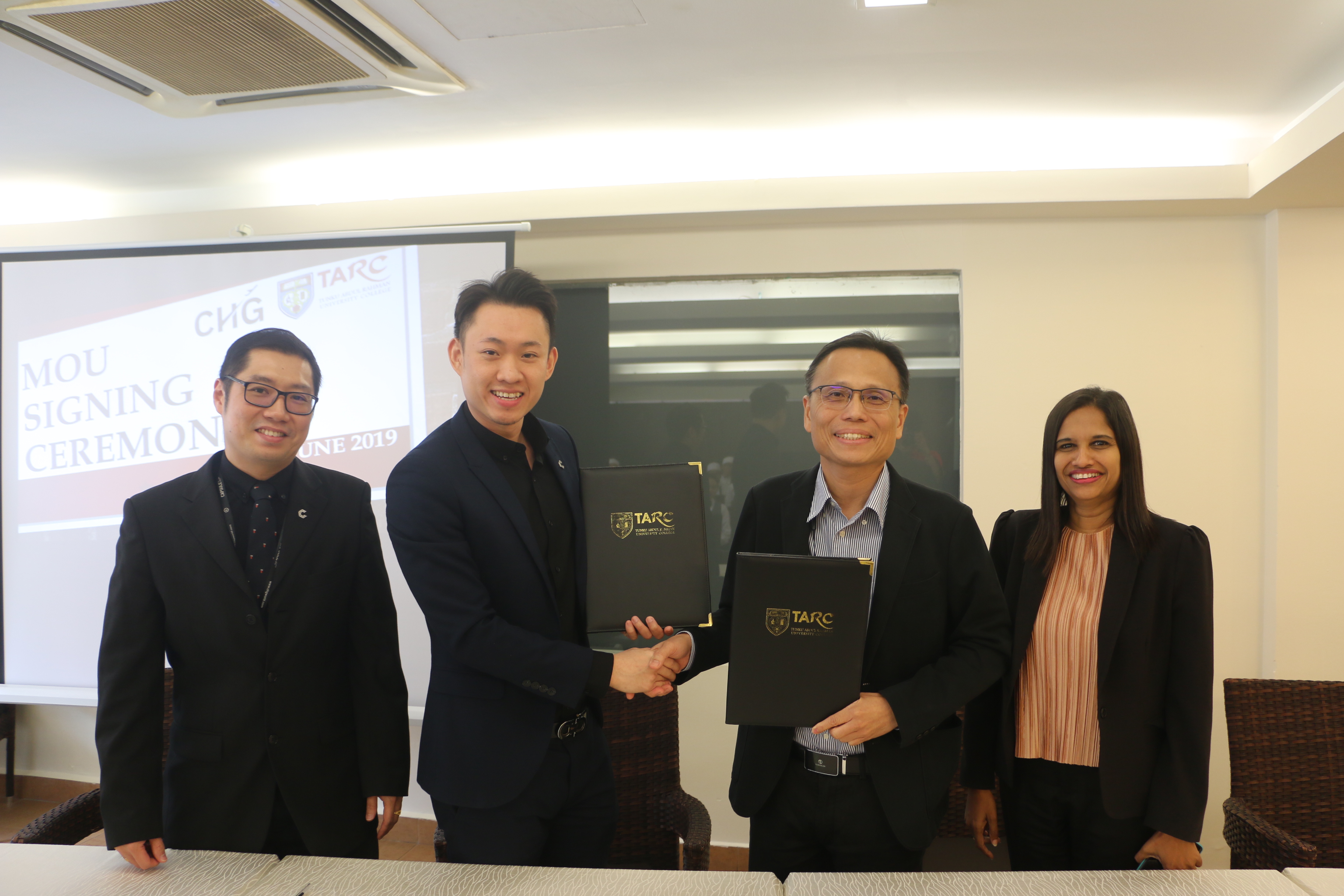 Mr Ryan Loo (2nd from left), holding up the signed MoU together with Prof Ir Dr Lee Sze Wei (2nd from right), while Mr Stanley Chow (extreme left) and Dr Karthiyani Shanmugam (extreme right) look on.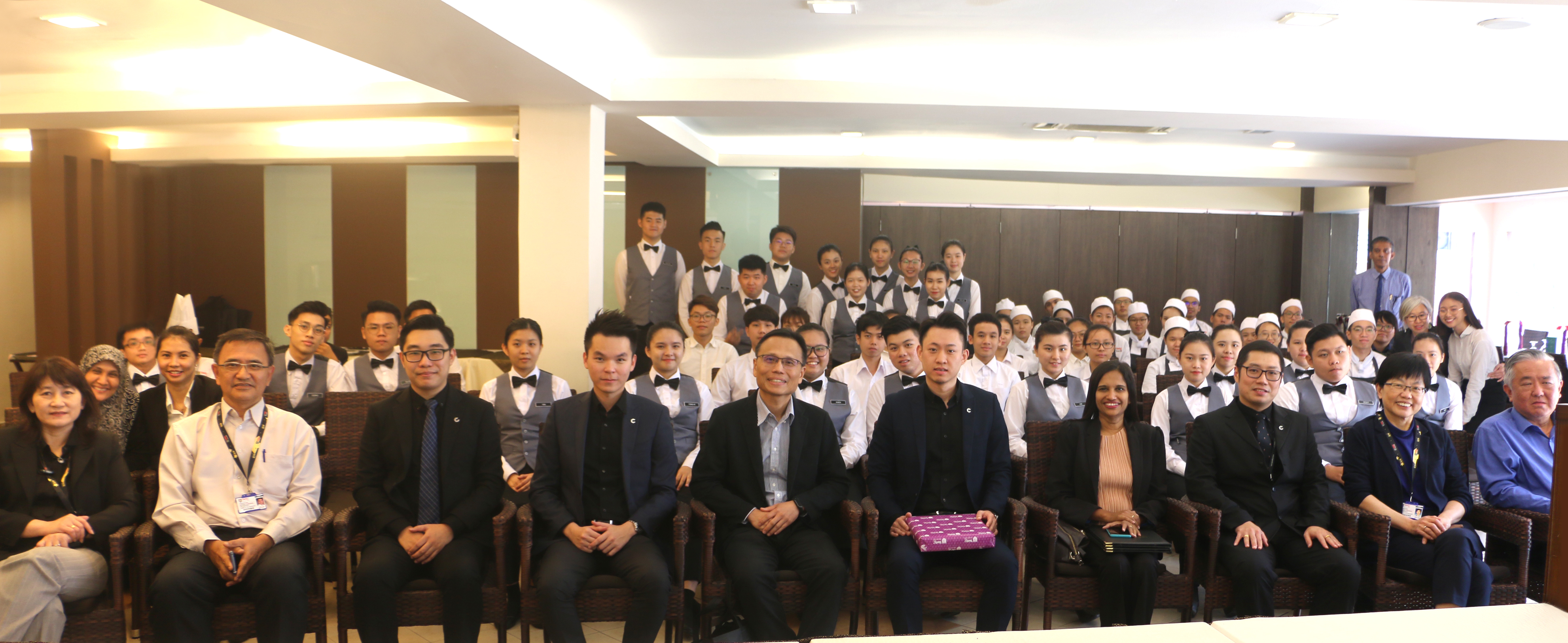 Prof Ir Dr Lee Sze Wei (5th from left) and Mr Ryan Loo (6th from right) taking a group photo with CHG management team, senior management of TAR UC and Hospitality Management lecturers and students at the MoU signing.
To enhance practical learning for students of hospitality management, TAR UC signed a Memorandum of Understanding ('MoU') with Capsule Hotel Group ('CHG'), an airport transit accommodation provider, at The Roots Café Restaurant, TAR UC Kuala Lumpur Main Campus on 27 June 2019. This MoU signing between industry and academia paves the way for TAR UC to provide opportunities for students to acquire practical knowledge on current trends and practices revolving around the contemporary hospitality industry.
Those present at the signing ceremony were Mr Ryan Loo, Chief Executive Officer and Co-founder of CHG, Mr Stanley Chow, General Manager of CHG, Prof Ir Dr Lee Sze Wei, President of TAR UC, four Vice Presidents of TAR UC namely, Assoc Prof Dr Ng Swee Chin, Assoc Prof Say Sok Kwan, Assoc Prof Dr Chook Ka Joo and Assoc Prof Dr Oo Pou San and Dr Karthiyani Shanmugam, Dean of the Faculty of Social Science and Humanities ('FSSH').
Prof Ir Dr Lee Sze Wei gave a welcome address at the rostrum. "This collaboration with another key player in the hospitality industry will bring great benefits to the hospitality management students of TAR UC. The hospitality industry is growing fast. It is a key income generator for the country and therefore having skilled manpower to work in the industry is crucial. The support from industry players will be good in training our students, addressing their shortcomings by having continuous quality improvement and providing them with more exposure," he said.
Mr Ryan Loo also shared insights on the innovative business model of the transit hotel and the potential of the airport transit hotel and its future. "We would like to bring in like-minded people who are professionals to work at one of the largest hotels in South East Asia. The capsule hotel provides airline passengers with a place to rest during transits. It is currently trending in the market, and we hope to bring in more TAR UC students into our organisation," he said.
In the agreement, CHG will collaborate with TAR UC in providing feedback on the syllabus for hospitality and other courses of interest. They will share industry knowledge on the latest trends in consumer behaviour and hotel operational practices in the form of guest lectures and/or lodging visitations. There will also be internship programme and student placements for practical subjects with CHG.