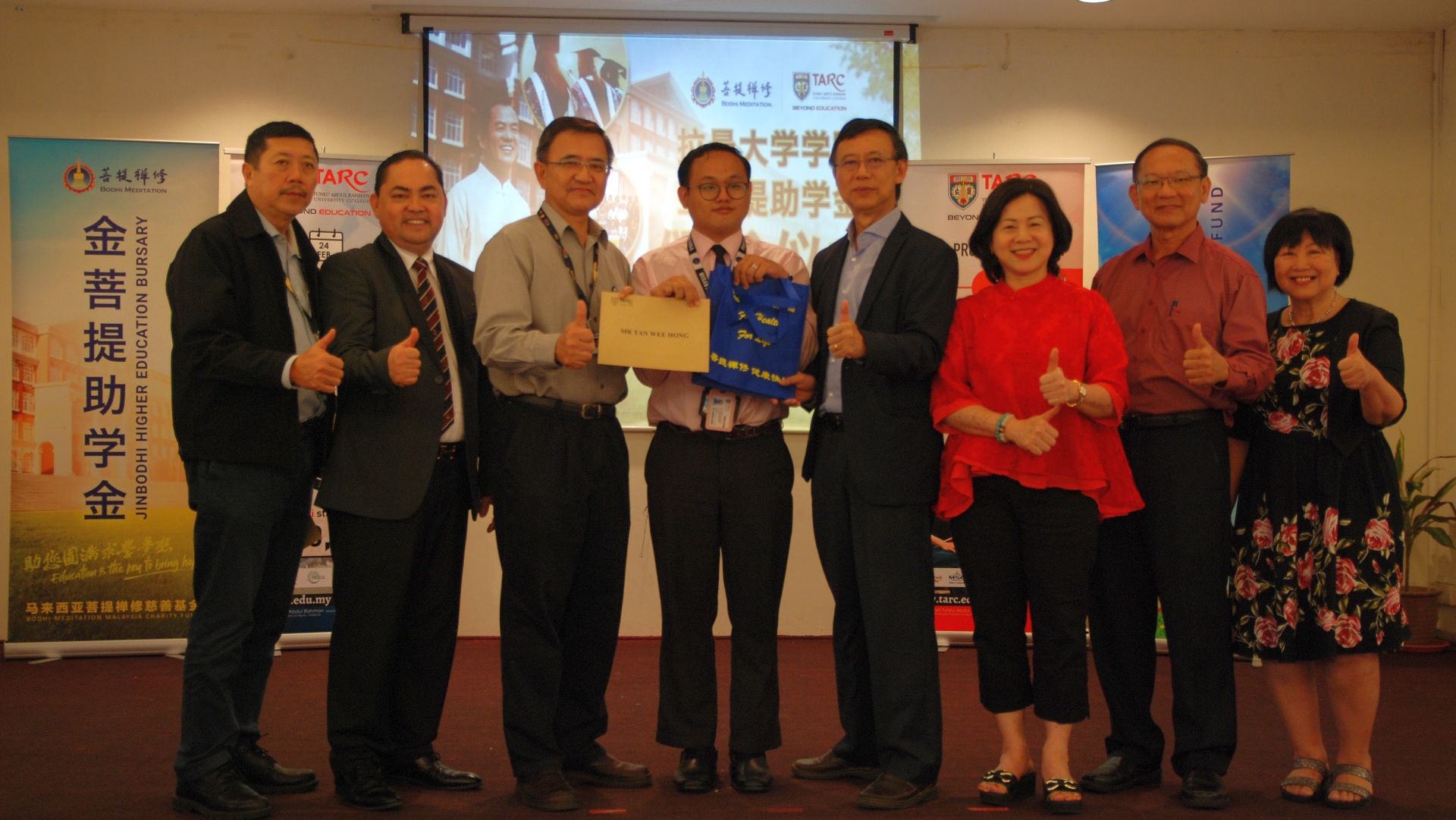 Dr Chook Ka Joo (third from left), Vice President of TAR UC and Teacher Ling Shan (fourth from right) taking a photograph with Wee Hong (fourth from left). Accompanying them are Tan Seng Seng (leftmost), Director of Department of Student Affairs, TAR UC, and Committee Members of BMMB Brother Wen Jun (second from left), Sister Fu Han (third from right), Brother Xu Tie (second from right) and Sister Dong Cao (rightmost).
Tan Wee Hong faced a predicament before his tertiary education journey began. Both his parents passed away while he was in secondary school, and no one was supporting his ambition of furthering his studies.
Therefore, it is understandable that the 25-year old, currently a Diploma in Social Science (Counselling) student at TAR UC, is deeply grateful for the financial aid offered by TAR UC JINBODHI Bursary.
At the JINBODHI Bursary Awards Presentation Ceremony held on 8 January 2020 at the TAR UC Kuala Lumpur Main Campus, Wee Hong was one of the 41 recipients of the TAR UC JINBODHI Bursary, where a total value close to RM800,000 was disbursed. The recipients consisted of 12 Diploma students and 29 Bachelor Degree students.
Prof Ir Dr Lee Sze Wei, President of TAR UC, and Teacher Ling Shan, Chairman of the Board of Trustees, Bodhi Meditation Malaysia Bhd (BMMB), graced the event and heard first-hand testimonials from grateful TAR UC students.
"Thank you JINBODHI for giving students like me the opportunity for a brighter future beyond our wildest dreams," said an appreciative Wee Hong in his testimonial.
Prof Ir Dr Lee expressed his appreciation to BMMB for their continuous support and generosity towards the underprivileged but deserving students: "I hope students here will be imbued with a sense of generosity so that you may one day share this kindness with those who are in need, just like how you received such kindness from BMMB today."
In his speech, Teacher Ling Shan assured students that they will be able to fulfil their dreams through education. "As long as you have a strong spirit to learn inside you, there is nothing you cannot achieve. Devote yourself to learning, and one day you will realise your true potential."
As of this award presentation ceremony, the TAR UC JINBODHI Bursary has assisted 126 students with close to RM2.4 million in total being awarded to cover their tuition fees since the bursary was set up in October 2017.
A group photograph of TAR UC senior officials and members of BMMB accompanied by the recipients of the TAR UC JINBODHI Bursary at the JINBODHI Bursary Awards Presentation Ceremony.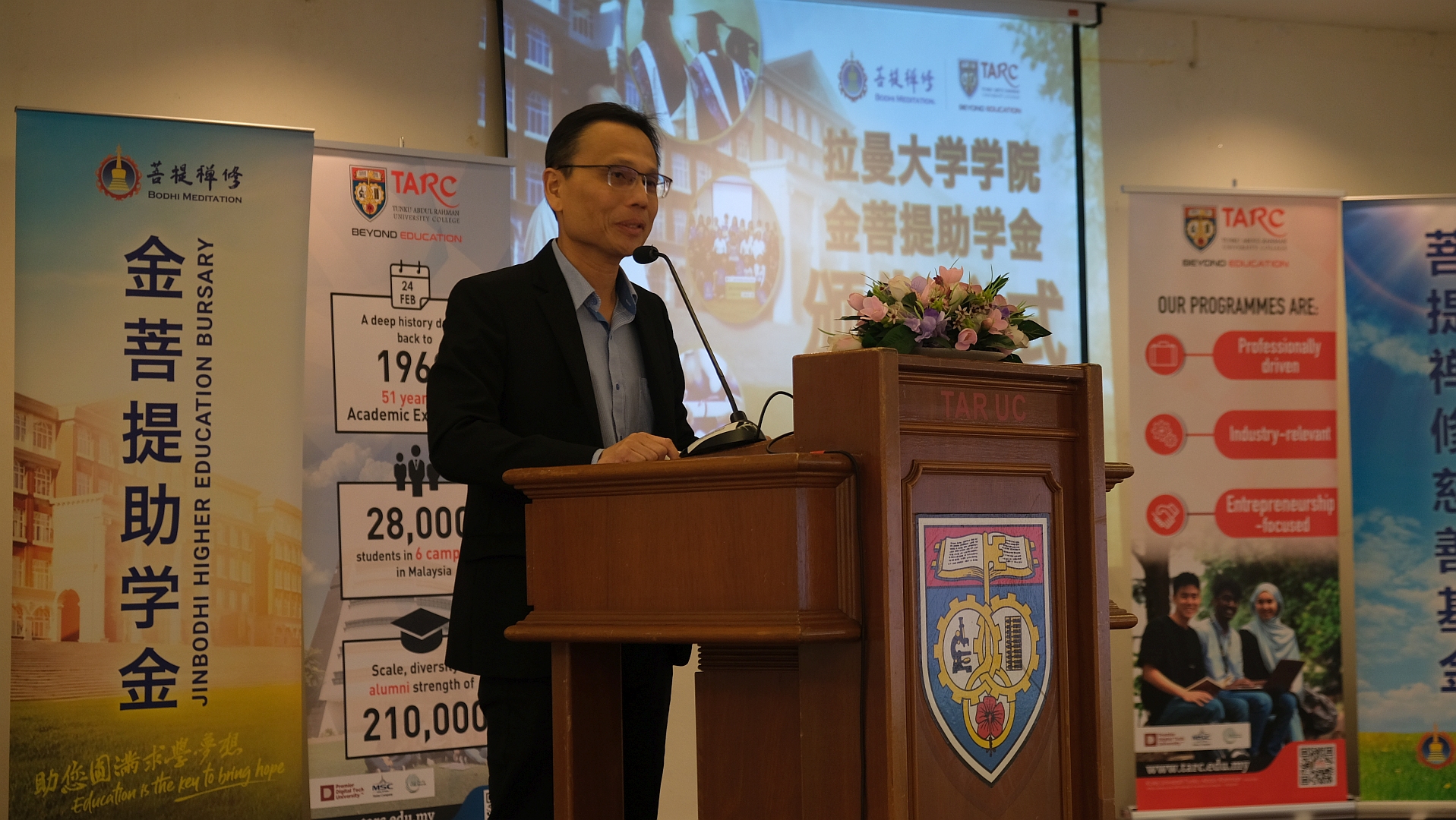 Prof Ir Dr Lee delivering his speech during the JINBODHI Bursary Awards Presentation Ceremony.