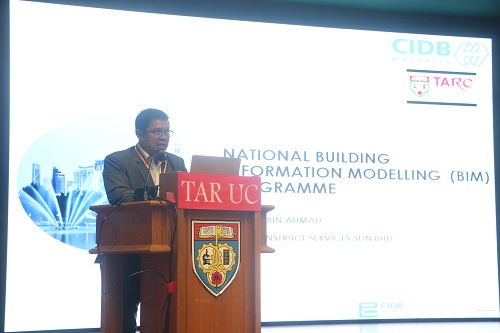 Encik Rofzilan delivering his presentation during the symposium.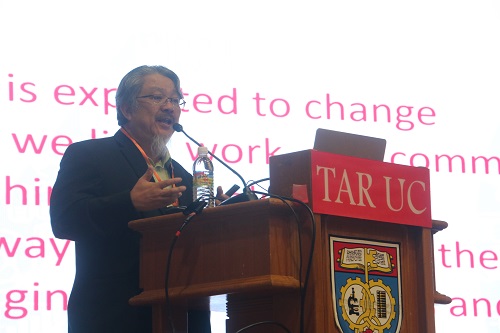 Ar Abu Zarim engaging with the symposium participants during his presentation.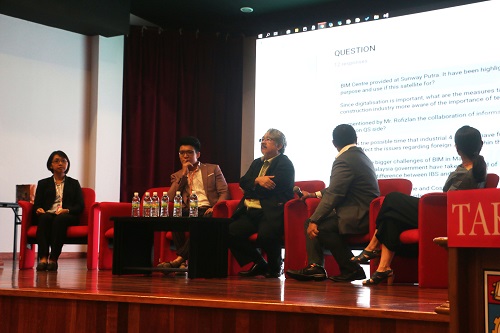 The symposium concluded with a Q&A session (from left to right): Ts Dr Ng Chiew Teng, Mr Kenny Siow Sau Fung, Ar Abu Zarim, Encik Rofzilan and Ar Zawa Ng.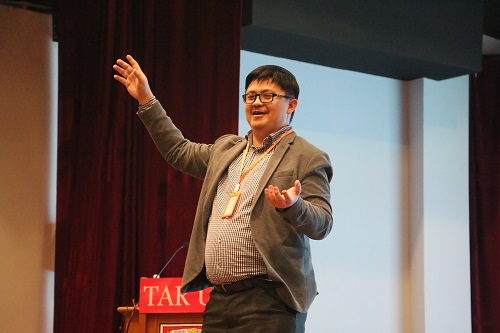 Mr Tim Sin in an interactive discussion with the students during the Q&A session.
Approximately 150 students from the Faculty of Built Environment (FOBE) attended a symposium on Building Information Modelling (BIM), which is the latest advancement in the field of construction. The BIM Symposium 2019 was held on 13 August 2019, whereby diploma and degree students studying construction management, architecture and quantity surveying spent their morning to learn more about BIM.
Five industry experts shared their knowledge of BIM with the attendees. The speakers were Encik Rofzilan Ahmad, Chief Executive Officer of CIDB MyBIM Centre, Ar Abu Zarim, Deputy President of Pertubuhan Arkitek Malaysia (PAM), Ar Zawa Ng Tzer Ying, Principal Architect of NoWz Design Studio, Mr Kenny Siow Sau Fung, BIM Director of Sinar BIM Sdn Bhd, and Mr Tim Sin, Founder of Edge Digi Pte Ltd – SIA Group.
The symposium commenced with opening remarks by Ts Dr Ng Chiew Teng from the Department of Construction Management at FOBE, who is also the Organising Chairperson of BIM Symposium 2019. "The theme for BIM Symposium 2019 is Design + Technology = Career which means the construction industry as a whole needs to embrace the future and make the leap into the Fourth Industrial Revolution. The main objective of this symposium is to provide an opportunity for our students to explore how technological advancements can enhance their careers in the field of construction in the near future. BIM is the way forward for the construction industry and it is our hope that the sharing and experiences of the symposium speakers will serve as a good introduction for our students to learn about BIM, its potential and the latest trends in the industry," Ts Dr Ng said.
Encik Rofzilan was the first speaker, and he touched upon the main structures and components of BIM and the functions of the CIDB MyBIM Centre. The symposium continued with sharing talk by Ar Abu Zarim, who explained the connections between Industrial Revolution 4.0 (IR 4.0), Digital Technology and BIM. Ar Zawa Ng presented the interesting topic of 'How a Junior Architect Starts up a Career in Design = Technology', followed by Mr Kenny Siow's sharing on Interior Design & Construction in BIM. The last speaker was Mr Tim Sin who touched upon 'The "NEXT" of BIM – Integrated Digital Delivery (IDD).
A Q&A session followed the symposium where the speakers answered a host of questions posed by attendees.