Date: 22 November 2019
Venue: Campus Auditorium
TAR UC-ACCA Business Game 2019 was kick-started on 22 August 2019 to provide an avenue for enthusiastic students who are passionate to be entrepreneurs to carry out their business plan.
During the first round of the competition, students were invited to submit their business proposal. Prior to the submission, students were given workshops including guidance on business proposal writing and presentation skills. The shortlisted candidates proceeded to semi-final round of the competition and they conducted product selling for 3 days and presented their results for 20 minutes. Three finalists were selected from the semi-final and they conducted product selling for 1 day.
On 22th November 2019, the final presentation was conducted at the hall of TAR UC Penang Branch Campus. The finalists included Good Question, 8seven and Caffe Paradise. Guests from Dell, Intel, ACCA and other sponsors joined the fruitful event, some of which became the judges of the day, giving students the encouragement and guidance on their business ideas and presentations. Before the final presentation, the guests were invited to the booths of the 3 businesses. The presentation was then done with the teams introducing their products, marketing strategies and revenue earned.
Caffe Paradise emerged as the champion of TAR UC-ACCA Business Game 2019. Two candidates were selected as the best presenters of the event. The event ended with the prize- giving ceremony and group photos of the students.
Booth visit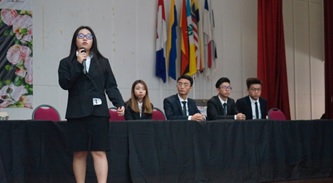 The final presentation by the team.
Q&A session.
Champion – Caffe Paradise