Date: 26 November 2019
Venue: DK G
The TAR UC Toastmasters Club of Penang Branch Campus, which was newly established in 2018, recently organized a talk by the World Champion of Public Speaking 2018, Ramona J. Smith on the 26th November 2019. Smith, from Texas, USA, reached the championship level after several eliminating rounds with 30,000 other participants that began six months before the world championships in August last year. Smith was one of 10 finalists emerging from a semi final round held on 23 August 2018 with 106 competitors. Smith is also the fifth woman to capture the World Champion of Public Speaking title since the contest began in 1938.
The mission of this talk is to inspire students to join more public speaking activities, improve themselves in English and get involved in our UC's Toastmasters Club.
The number of pre-registrations for this event soared and hit the maximum limit in a mere 5 days. About 270 students showed up even in the thick of mid-term exams. In the first 30-minute session, Smith inspired the crowd by sharing about her experiences in the 2018 competition, how she persevered through failures and learnt many invaluable life lessons. She also inspired the students to develop themselves, find their passion and love themselves. In the next 30 minutes, Smith interacted with the students by answering their questions from a fresh and youthful perspective.
Post-event feedbacks from the audience were positive. Students of mediocre English proficiency are motivated to join the Toastmasters Club.
World Champion of Public Speaking 2018, Ramona J. Smith, acknowledging the audience.
A group photo in DK G, Penang Branch Campus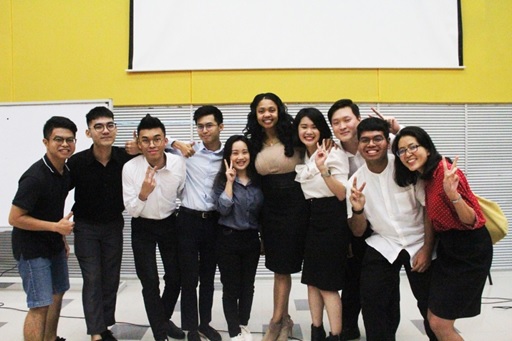 The TAR UC Toastmasters Club Committee posing with Toastmaster Ramona Smith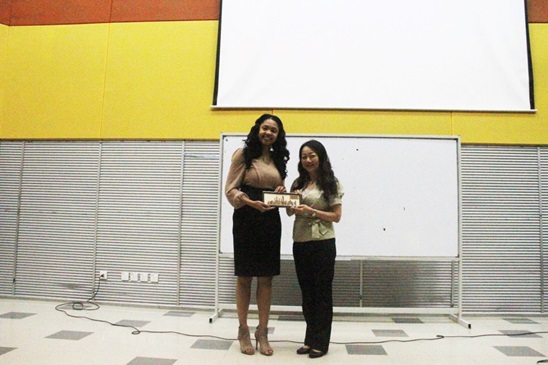 Souvenir presentation