Venue: TARUC Penang Branch Campus

The National Maths & Science Merdeka Challenge 2017 (M@S Challenge) was held for the first time successfully at the Tunku Abdul Rahman University College (TAR UC), Penang Branch Campus on Saturday, 20 May 2017. The M@S Challenge was held simultaneously nationwide across five TAR UC campuses to commemorate Malaysia's 60th independence anniversary.
TAR UC, a champion of excellence in education, organised the M@S Challenge with the objective of stimulating interest in Science and Mathematics subjects among secondary school students in view of the reduced number of students opting for science subjects.
A total of 79 students from 9 secondary schools in Penang participated in the Challenge. There were 2 categories; namely the Individual Category and the Group Category, with 2 rounds of challenges for each category. It was mandatory for the students to pass Round 1 before they could proceed to Round 2.
The Group Category champions from Chung Ling Private High School took home a cash prize of RM1,200. The same amount of cash was also awarded to the school. The teams from Penang Chinese Girls' High School won the Second and Third Prize. The Second Prize winners won a cash prize of RM800.00 for themselves and the same amount of cash for their school. The Third Prize winners won a cash prize of RM600.00 for themselves and the same amount of cash for their school.
The Individual Category champions all hailed from Sekolah Menengah Jenis Kebangsaan Chung Ling. Champion, Tan Wei Kit won a cash prize of RM300.00, Second Prize Winner, Loh Wei Tao won a cash prize of RM200.00 and Third Prize Winner, Lim Jun Hao won a cash prize of RM150.00
To spice up the event, all the participants were taken on a Campus Tour where they were shown various electronic engineering robot demonstrations by the Electronic Engineering Society students from the Faculty of Engineering, building models by the Faculty of Built Environment, Short Films assignments produced by students from the Faculty of Social Science, Arts and Humanities. We also took the opportunity to open Course Counselling Booths and took the participants on a visit to the Library. The event ended at 4.30 pm.
The Winners under the TEAM CATEGORY of the National Maths & Science (M@S) Merdeka Challenge 2017 were as follows:
Champion : Wayne Ong Way-En, Issac Ch'ng Kai Xin, Chan Qian and Loh Jia Hao from the Chung Ling Private High School, Penang
First Runner Up : Lim Ai Lin, Loo Shee Wei, Ding Ai Wei and Foong Xin Hui from the Penang Chinese Girls' High School, Penang
Second Runner Up : Lau Chy Yan, Sin Yan, Cheryl Tan Kai Li and Chuah Qim Xuan from the Penang Chinese Girls' High School, Penang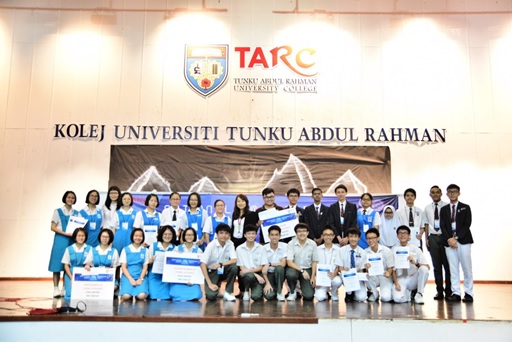 The Winners under the INDIVIDUAL CATEGORY of the National Maths & Science (M@S) Merdeka Challenge 2017
Champion: Tan Wei Kit (Student of Sekolah Menengah Jenis Kebangsaan Chung Ling, Penang)
First Runner Up: Loh Wei Tao (Student of Sekolah Menengah Jenis Kebangsaan Chung Ling, Penang)
Second Runner Up: Lim Jun Hao (Student of Sekolah Menengah Jenis Kebangsaan Chung Ling, Penang)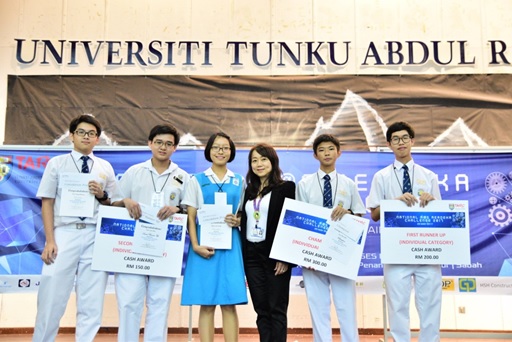 National Maths & Science (M@S) Merdeka Challenge 2017 Group Photo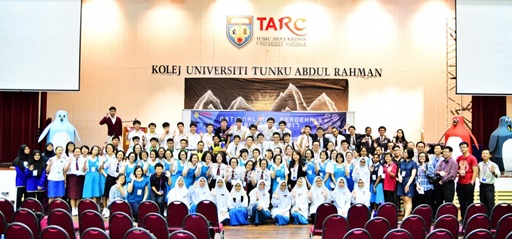 School teachers group photograph with Assoc. Prof. Dr. Toh Guat Guan, TAR UC Penang, Branch Campus Head