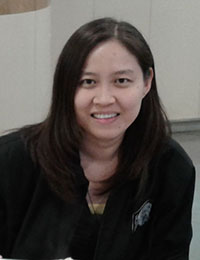 Position:
Senior Lecturer
Qualifications:
PhD. (Public Finance/Public Sector Economics) (USM); MecMgt (USM); BMgt (Hons) (USM); DipBS (TARC)
Faculty:
Faculty of Accountancy, Finance and Business
Campus:
Penang Campus
Contact:
Biography
Dr. Christine Chong Siew Pyng is a senior lecturer in Tunku Abdul Rahman University of Management and Technology, Penang. Her areas of research interest include public finance, public sector economics, crime and corruption. She was nominated for USM's 2013 Best Student Award in Coursework/Mixed Mode Master programme and USM's 2017 Excellent Dissertation Award. She currently co-supervise a PHD candidate at Wawasan Open University. Prior to this, she has worked in domestic and international companies specializing in logistics and forwarding.
Research Specialization
Corruption
Public finance
Public sector economics
Journal
2017
Chong, C.S.P. and S, Narayanan (2017) "The Size and Costs of Bribes in Malaysia: An Analysis Based on Convicted Bribe Givers." Asian Economic Papers, MIT Press, vol. 16(1), pp. 66-84.
https://www.mitpressjournals.org/doi/abs/10.1162/ASEP_a_00487
2012

Lean, H.H. and Chong, C.S.P., 2012. Calendar Anomalies and Risk in the Wine Exchange Market. Asian Academy of Management Journal of Accounting & Finance, vol. 8(1). pp.25-39.