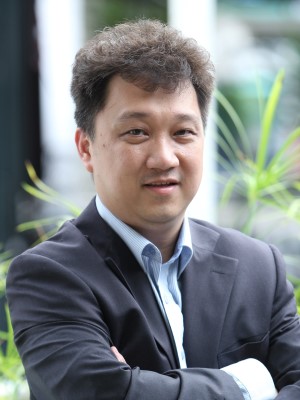 Position and Company
CEO, UMCH Technology Sdn. Bhd.
Programme and Year Graduated
Bachelor of Science (Computer Science), 1994
Find out more about FOCS programmes
Career Path and Biography
Mr. Teoh Seng Jing is the CEO of UMCH Group, a group of Companies specialize in providing the best in class, innovative mobile connected healthcare information services that drive down healthcare costs.
Teoh aspires to disrupt the healthcare industry with a new trend of connected healthcare smart devices. Teoh seizes the opportunity to work with a new generation of experienced researchers towards the innovation of CHIEF solution. Applying his vast knowledge in the industry and corporatization, Teoh has led the team towards successful and faster commercialization of CHIEF.
Prior to this, Teoh dedicated a short span of his time to map the technical strategies and business plan for AsiaTalents Sdn. Bhd.
Teoh was the Chief Executive Officer of Mobile Health Sdn. Bhd. which owns and operates MobileHealth2U.com healthcare portal. MobileHealth2U is the first Integrated Mobile Health Portal that synergizes the power of emerging mobile communications and web technologies. Teoh has led MobileHealth2U to many successes and winning multiple awards which include the International APICTA 2012 Best of e-Health category held in Brunei. The success of MobileHealth2U is recognized and lead to Teoh being interviewed by ASTRO and many news media. MobileHealth2U received RM700k R&D grant from MDeC.
Teoh was a remisier with Public Investment Bank before he ventured back into IT business in May 2010. As a remisier, he has gained various valuable experiences and networks in the financial world. He was the former Country Manager for China's Ying Shen Infocomm System (Shanghai) Co. Ltd., a joint venture between Malaysian HealthLogic Sdn. Bhd. and Singapore's Ying Shen Pte. Ltd. from July 2003 till November 2006. Ying Shen is a company specialising in providing Total Hospital Information System (THIS) to hospitals in China.
Teoh co-founded HealthLogic Sdn. Bhd. (formerly known as Intelsite Sdn. Bhd.) in July 2001, a company which main focus is on providing Healthcare and Distribution IT Solutions. He developed the IntelSite's Distribution Software which has been successfully implemented in Susu Lembu Asli Marketing Sdn. Bhd. and Wing Loong Stationers Sdn. Bhd.
In August 2003, Teoh and his partners successfully secured venture funding from Mayban Venture Capital Company Sdn. Bhd. (MVCC) for the expansion of the company to overseas market particularly China under a venture capital scheme in Malaysia.
From Teoh's first posting to setup and develop China market in July 2003, he has gone on to successfully setup and expanded China branch, Ying Shen with more than 20 staff strength. Teoh's key responsibilities included defining business strategy, strategy planning, sales and marketing as well as managing the overall operations of the company.
Teoh has also successfully closed and managed 3 multi-million hospital deals in the first year of operation in China.
The success of Ying Shen China has led to the attention and eventually the acquisition of Ying Shen and HealthLogic Group by Australia largest Healthcare IT public listed company, IBA Health Ltd. (iSoft) in July 2006.
Teoh's role ensured the successful due diligence and smooth integration of Ying Shen China into IBA Group.
Prior to this, Teoh was the Customer Support Manager for Greatcare Systems Sdn. Bhd. Greatcare Systems provides Hospital Information System (HIS) for more than 20 private hospitals in Malaysia, Philippines and Indonesia. Teoh was responsible to manage the support team in providing daily support to the company's existing and new customers.
Teoh was also the key person in the development of the windows based version of the Hospital Information System (HIS). This led to the successful implementation at various hospitals, namely Selangor Medical Centre (Selangor), Metropolitan Hospital (Manila, Philippines) and Assunta Hospital in Selangor.
Before venturing into the hospital industry, Teoh has vast experience in Finance and Hospitality Industry. He was the System Analyst for HLG Securities Sdn. Bhd. and Assistant Project Manager for IFCA Consulting Sdn. Bhd.
In HLG Securities, Teoh was involved in the successful migration of the core system from AS400 based to Windows-Oracle based. During his years in HLG Securities, Teoh gained valuable experience from the share market's bull run in 1997 whereby the peak volume really tested the capabilities and functionalities of the newly migrated system.
In IFCA, Teoh travelled vastly for various project implementations both locally and regionally. Teoh was one of the key technical person in IFCA's R&D Team.
Teoh has more than 21 years of working experiences in local and regional markets. His vast work experience encompasses 12 years of top management position focusing on corporate strategy dan planning, developing and managing budgets,developing forecasts dan plans, business development, sales and marketing. Other areas include channel management, dealing with various government agencies, regional customer support, successful project management and implementation.
Teoh is a strategic thinker with a positive attitude, initiative and highly performance oriented. He has the vision and proven ability to drive and achieve successful penetration into the highly competitive China market specializing in Total Hospital Information System (THIS).
Teoh is also actively involved in various corporate activities which include fund raising through venture capitalist, deals negotiation, due diligence, merger and acquisition process. Teoh holds a Bachelor of Science (Computer Science) degree from Campbell University, USA - year 1994. He also has a Diploma in Computer Science from Tunku Abdul Rahman College. He also passed the Securities Commission's Module 6 (Stock Market and Securities Law) and Module 7 (Financial Statement Analysis and Asset Valuation) Examination in year 2007 and is a Securities Commission Licensed Capital Markets Services Representative.