Seminar by Griffith University
ICT Education in the 4th Industrial Revolution Era
The world is now facing a rapid technological shift in the Information and Communications Technology space, known as the '4th Industrial Revolution' (4IR). The merging of disruptive technologies like AI, UAVs, IoTs, etc. with the physical lives of humans has advanced our communication and connectivity that allows technologies to be embedded within societies and even in the human body. The question then remains, in an information-enabled era, what place do current educational institutes have to play? Are we ready to provide the right skills and relevant knowledge to smoothly transition into the 4IR era?
TAR UC SAU & Griffith University, Australia will be talking about ICT Education in the 4th Industrial Revolution Era. Dr Jun Jo, Associate Professor of the School of Information & Communication Technology, will be discussing about the current ICT programs in the context of the recent exponential technological changes and then discuss how to best prepare for the upcoming 4IR age. If you are interested, registration details are as below:
ICT Education in the 4th Industrial Revolution Era
15 April 2021 (Thursday)
1.30 pm
Google Meet
Registration Link: https://forms.gle/6G3xm3Jiawn4ZiVY9
~ Registration Closes @ 13 April (Tuesday) 12 pm ~
If you have any enquiries, feel free to contact Study Abroad Unit @ 011 1075 8530 or sau.cpe@tarc.edu.my.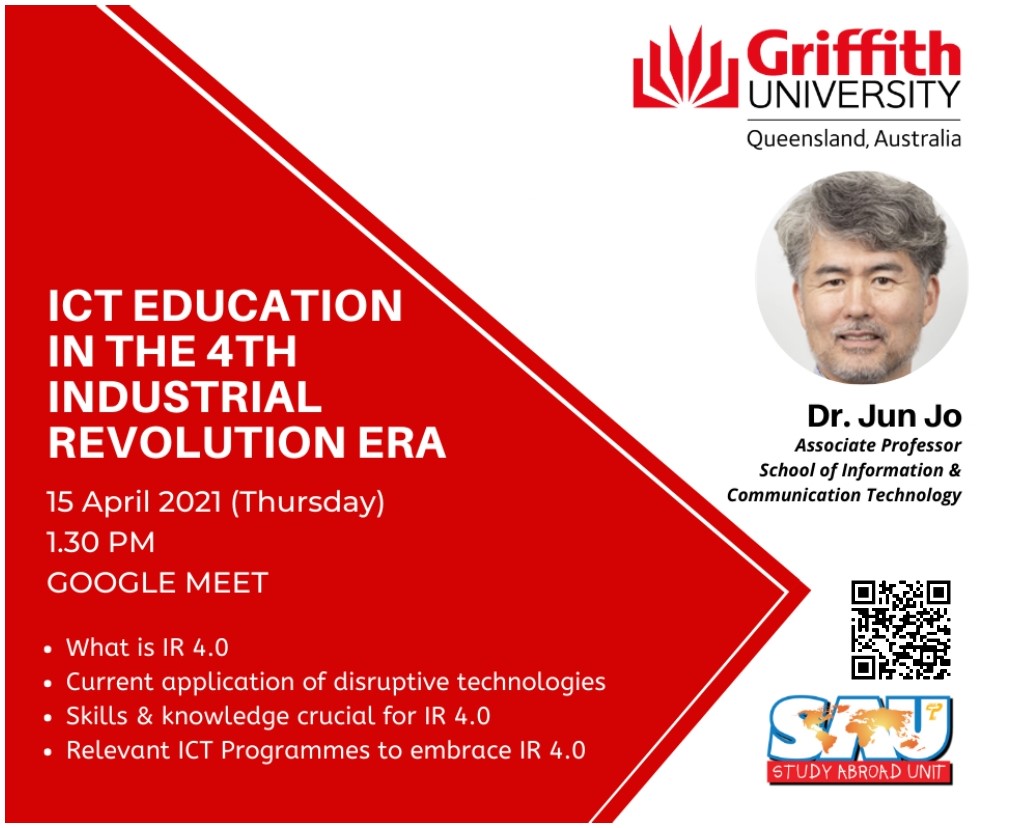 Profile of Dr. Jun Jo: https://www.tarc.edu.my/files/sau/635EC9A4-18C7-4F2E-B3E8-5B14DE971107.pdf