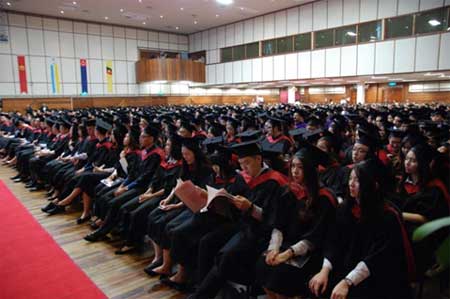 Graduands waiting for their turn to receive their scrolls on stage.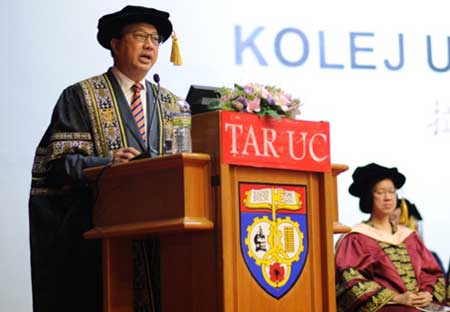 Dato' Sri Liow delivers his speech to the graduands during the ceremony.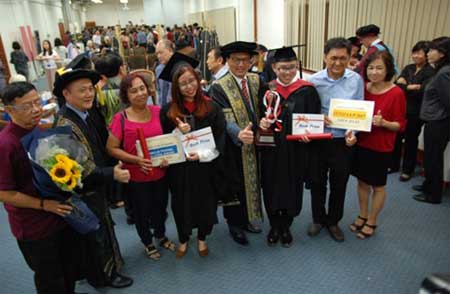 Dato' Sri Liow (fourth from right) and Datuk Dr Tan Chik Heok (second from left), President of TAR UC, posing for a photograph with Yue Sin Yee (fourth from left), Zuelig Pharma Malaysia Award winner and Bachelor of Business (Hons) in Logistics and Supply Chain Management graduate, Chew Jia Le (third from right), FPAM Perpetual Cup winner and Bachelor of Finance and Investment (Hons) graduate and their respective parents after the graduation ceremony.
Datuk Dr Tan (left) accompanying Lee Jye Yong (centre), Bachelor of Commerce (Hons) graduate, on stage as she receives the Deloitte Award from Mr Yee Wing Peng (right), Country Tax Leader, Deloitte Malaysia. Jye Yong is also awarded the ACCA Perpetual Cup award, BDO Award, and PwC Award during the ceremony.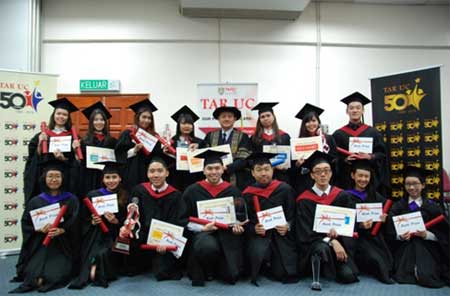 Datuk Dr Tan (back row, fourth from right) taking a group photograph with some of the Book Prize and Award winning graduates.
Graduates celebrate their success with friends and family with photography sessions around the campus.
It was a proud and joyous weekend for over 3,100 TAR UC students who received their scrolls at the University College Hall during the February 2018 Convocation Ceremony from 9 – 11 February 2018.
The three-day event which was split into five sessions saw countless parents, guardians, friends and families beaming with pride as they witnessed some 2,800 students receiving their Bachelor's Degree, and 320 others receiving their Diploma qualifications, marking a memorable moment in their tertiary education journey.
This year's first graduation ceremony was also graced by the attendance of Dato' Sri Liow Tiong Lai, Chairman of the Board of Trustees, TARC Education Foundation and Board of Governors, TAR UC, who was present to hand over the scrolls to some of the graduating students.
"I am excited to be able to join all of you, especially our graduands to celebrate this special day of accomplishing a huge milestone in your life. You have proven that all the hard work you have poured in to reach this point in your life only shows that you are ready for more greatness to come in your career and life," said Dato' Sri Liow in his speech.
" I would like to emphasise that all of you, the graduands, are the result of our commitment towards nation building as you have been equipped with the education that can transform the nation. Therefore, it is my hope that each of you will use the knowledge and skills you have gained from TAR UC for the benefit of the society and the nation," he added.
The convocation ceremony was also attended by Dr Janet Hannah, Pro Vice Chancellor and Chief Executive of Coventry University London Campus, representatives from Coventry University and representatives from Sheffield Hallam University to witness the Dual Award students graduating from their respective Dual Award programmes.
Bachelor of Commerce (Hons) graduate Lee Jye Yong, who achieved Third Top ACCA Affiliate in the World in the June 2017 ACCA examination, stood out by bagging the ACCA Perpetual Cup, BDO Award, Deloitte Award and PwC Award. She said," I did not expect to do so well! My achievements today are the best gifts I can present to my parents and friends, who have always been supportive of me from day one."
On her next step, Jye Yong, who is currently employed as a tax assistant at Deloitte, is aiming to further explore and eventually transition to a leadership role where she aspires to bring impactful contribution in her field of work.
For FAFB Professional Examination Excellence Award – MAICSA and Boardroom Corporate Services Award winner Ng Kok Loong who graduated with a Bachelor of Corporate Administration (Hons) degree, his most memorable experience at TAR UC will be the support from his friends and lecturers.
"I always remember that they were there to support me every time I struggled. The experience and knowledge I gained from TAR UC will be valuable to me as I enter the working world," he said.
And what motivated Cassandra Allison Teh to excel in her studies until she managed to bag a Book Prize on top of her graduating with a Bachelor of Social Science (Hons) in Psychology degree?
"To be honest I was not a top achiever at the start, but when I enrolled here, and the dean gave a speech telling us to always set higher standards for ourselves. I took that advice to heart, and started setting small goals for myself. When it worked and I kept improving, I was more confident of what I could achieve! Plus, I have six other siblings, and I would want to be the perfect role for them to follow," she quipped.