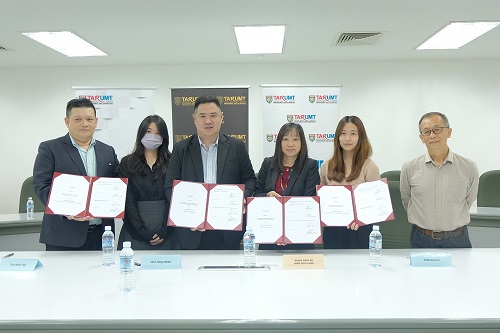 Mr Eng Chew Hian (leftmost) and Mr Seat Keng Weng (third from left), Directors of Cloud4Sea Sdn Bhd, with Assoc Prof Dr Loke Chui Fung (third from right), Vice President of TAR UMT and staff from TAR UMT and Cloud4Sea at the MoA signing ceremony.
On 26 April 2023, TAR UMT signed two Memorandums of Agreement (MoA) with Cloud4Sea Sdn Bhd involving two entrepreneurship projects, namely Coolbinet and Designer Food.
Coolbinet is an AI-powered vending machine where purchasing items will be fully automated by using facial recognition or card-reader sensor functions. This entrepreneurship project will involve the Faculty of Applied Sciences (FOAS) and the Faculty of Social Science and Humanities (FSSH) with support and coordination from the Centre for Business Incubation & Entrepreneurial Ventures (CBIEV).
Designer Food refers to a project on developing food products with special properties in addition to their traditional nutritional value. The project will also include functional food, a category of products with special health functions, such as intestinal health, high antioxidant, regulating blood sugar, enhancing immunomodulatory response, etc. This project will involve Cloud4Sea and FOAS, supported by CBIEV.