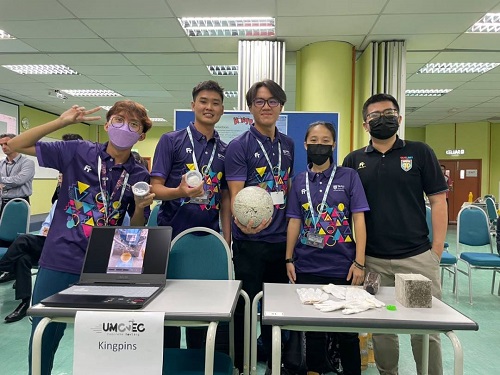 (from left) Cheng Kian Hoo, Yap Chia Cheng, Gabriel Yee Eng Teng, Shannon Alicia Wong, and Dr Tan Tee How in a group photo.

TAR UMT's Faculty of Built Environment (FOBE) team successfully clinched the Best Non-Degree Team award during the University of Malaya Civil Engineering Competition (UMCvEC) 2023 on 6 May 2023.

The annual event organised by Universiti Malaya's Department of Civil Engineering aims to showcase the exceptional and aspiring young engineering talents across the nation. The event, centred around the casting of a concrete bowling ball from the same mix design, saw 16 teams from various national universities competing against each other. They were judged based on presentation skills, concrete ball strength and weight, bowling score and overall appearance.
TAR UMT's team consists of Cheng Kian Hoo, Yap Jia Cheng and Gabriel Yee Eng Teng from the Diploma in Building programme and Shannon Alicia Wong, a Diploma in Quantity Surveying student, who were all led by Dr Tan Tee How, Programme Leader and Senior Lecturer of FOBE
Due to a late withdrawal by another team, TAR UMT was invited to participate in UMCvEC at the eleventh hour, resulting in the team having a limited timeframe to complete their bowling ball. "Adhering to the tight deadlines was a major challenge for us. As such, we had to plan and perform in a much shorter time span," explained Gabriel.
The competition was challenging for the team, but it is these challenges that helped them gain important experience in performing under pressure while strengthening the team spirit among themselves. Shannon Alicia Wong also emphasised the importance of determination, stating: "Throughout this journey, being determined helped us succeed. Despite the obstacles we encountered, we persevered, gave our best and made the most of the available resources."
The journey also provided memorable moments for the young aspiring students who were glad for the opportunity to compete in the competition.. "I have to say that I think the best part of this competition for us was when Dr Tan effortlessly rolled a strike using our bowling ball! The excitement and happiness we felt at that very moment is unforgettable." added Jia Cheng.