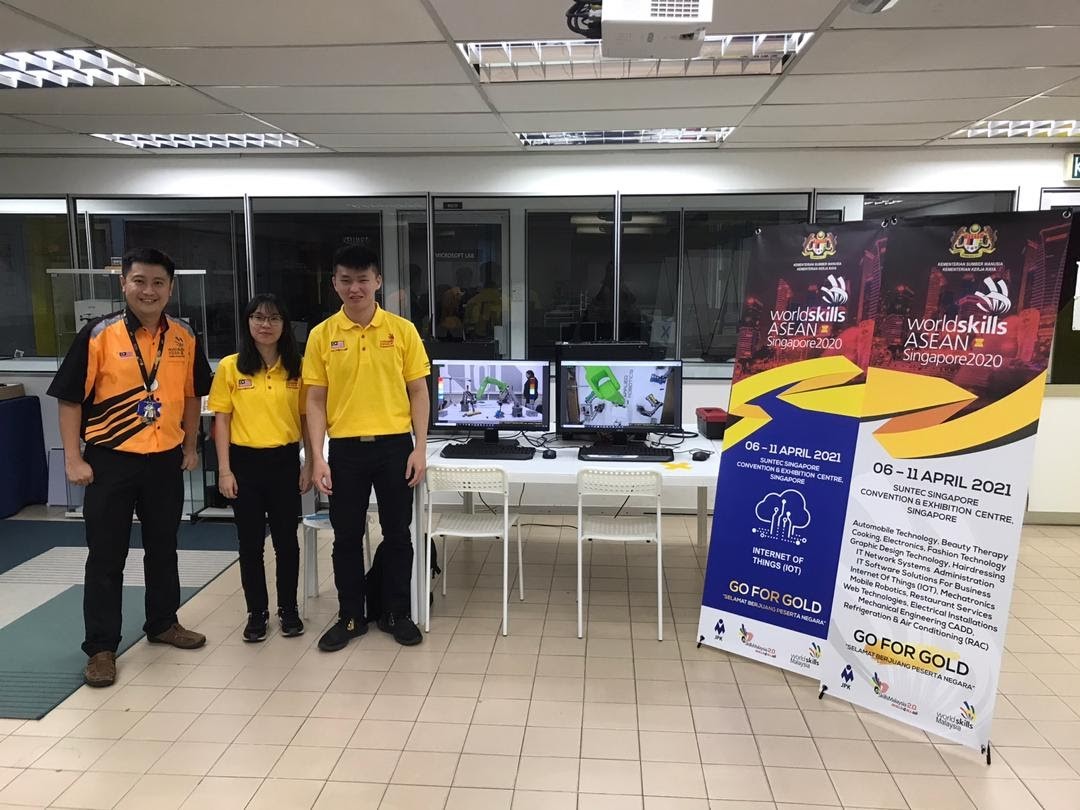 Dr Tew Yiqi (leftmost) coaching students in the IV WorldSkills Inter-University Competition 2020.
On 1-7 December 2020, TAR UC lecturers and students were invited by the Department of Skills Development, Ministry of Human Resources, Malaysia, to participate in the IV WorldSkills Inter-University Competition 2020 organised by WorldSkills Russia. This competition saw a participation of more than 500 students of higher educational institutions from 39 regions of Russia and 24 countries (by invitation), to compete in 63 categories.
TAR UC participated in four categories, namely the Internet of Things, Cyber Security, VR/AR and Neural Interface as listed in the table below:
Lau Jun Cheng, a student participant from the Bachelor of Electrical and Electronics Engineering (Hons) who participated in the IoT category, had much to share about his experience in the competition. "The competition gave me a deeper understanding of the importance of IoT in the future. We had to manage our time really well and also be patient in completing configuration tasks and interface design," he said.
Dr Tew Yiqi, Senior Lecturer of the Department of Computer Science and Embedded Systems, Faculty of Computing and Information Technology ('FOCS') who was guiding the IoT team, said: "Personally, I felt so happy working with the two students who are very enthusiastic about IoT work. For instance, we worked together until 11pm on the last day of competition (in following the Russian time (GMT+3) at 6pm), to complete all the tasks given. As an educator, I make it my personal mission to guide students with the knowledge that I have gained from my industrial experience and postgraduate studies so that they excel in projects and competitions," he enthused.
Dr Tew Yiqi has been an academic staff at TAR UC since 2016. He supervises projects in Computer Science and ICT, and in particular image and video processing, embedded system and IoT related areas. He is also the lead researcher at the Centre of Computational Intelligence in TAR UC supervising Intelligent Classroom, Community Webcast Systems as well as Artificial Intelligence projects on face recognition, object and human behaviour detection. In addition, he has received recognition and been appointed as a National Expert and Judge in the Internet of Things category from the Department of Skills Development, Ministry of Human Resources since 2018, to lead a national team in participating in the ASEAN Skills Competitions. He has also obtained his professional technologist recognition from Malaysia Board of Technologist ('MBOT').