Prof Ir Dr Lee (second from right) and Mr Andrew (third from left) taking a group photograph while accompanied by (from left) Ms Lim Fen Nee, Immediate Past Chair, ACCA Malaysia Advisory Committee, Dato' Lock Peng Kuan, Managing Partner, Audit & Assurance, ACCA, and (rightmost) Mr Wee Chu Kok, Dean of Faculty of Accountancy, Finance and Business (FAFB), TAR UMT after unveiling the TAR UMT – ACCA 50th Anniversary logo.
TAR UMT and Association of Chartered Certified Accountants (ACCA) have finally reached the 50th anniversary of their strategic partnership, a significant milestone which was celebrated on 15 February 2023 at TAR UMT's Kuala Lumpur Campus.
The ceremony saw a union of TAR UMT academic staff, students, alumni and professionals from tax, accountancy and finance industries gather to celebrate TAR UMT's long term partnership with ACCA dating back to 1971, when the institution was still known as TAR College.
Prof Ir Dr Lee Sze Wei, President of TAR UMT, and Mr Andrew Lim, Portfolio Head, ACCA Maritime Southeast Asia were present to officiate the celebrations, where they unveiled the TAR UMT - ACCA 50th Anniversary logo.
"TAR UMT's partnership with ACCA has grown stronger in the face of challenges over the years, and we will continue with our dedication and commitment to bring the globally recognised professional accountancy qualification to students across Malaysia. We thank ACCA for their confidence in, and support for, TAR UMT, and we hope the next 50 years will see us soaring to greater heights together," said Prof Ir Dr Lee Sze Wei in his speech.
Andrew is also hopeful for the friendship and partnership between TAR UMT and ACCA to last another 50 years, adding: "TAR UMT has been a really strong and reliable partner and has produced many graduates over the past five decades. That's why TAR UMT is our ACCA Platinum Approved Learning Partner and the only institution in the world running the Internally Assessed ACCA Applied Skills programme."
The celebration concluded with TAR UMT and ACCA presenting letters of recognition and appreciation to about 40 TAR UMT lecturers who were instrumental in producing countless professional accounting graduates. Since 1971, TAR UMT students have consistently excelled in the ACCA professional examinations, resulting in over 100 international and national prizes won.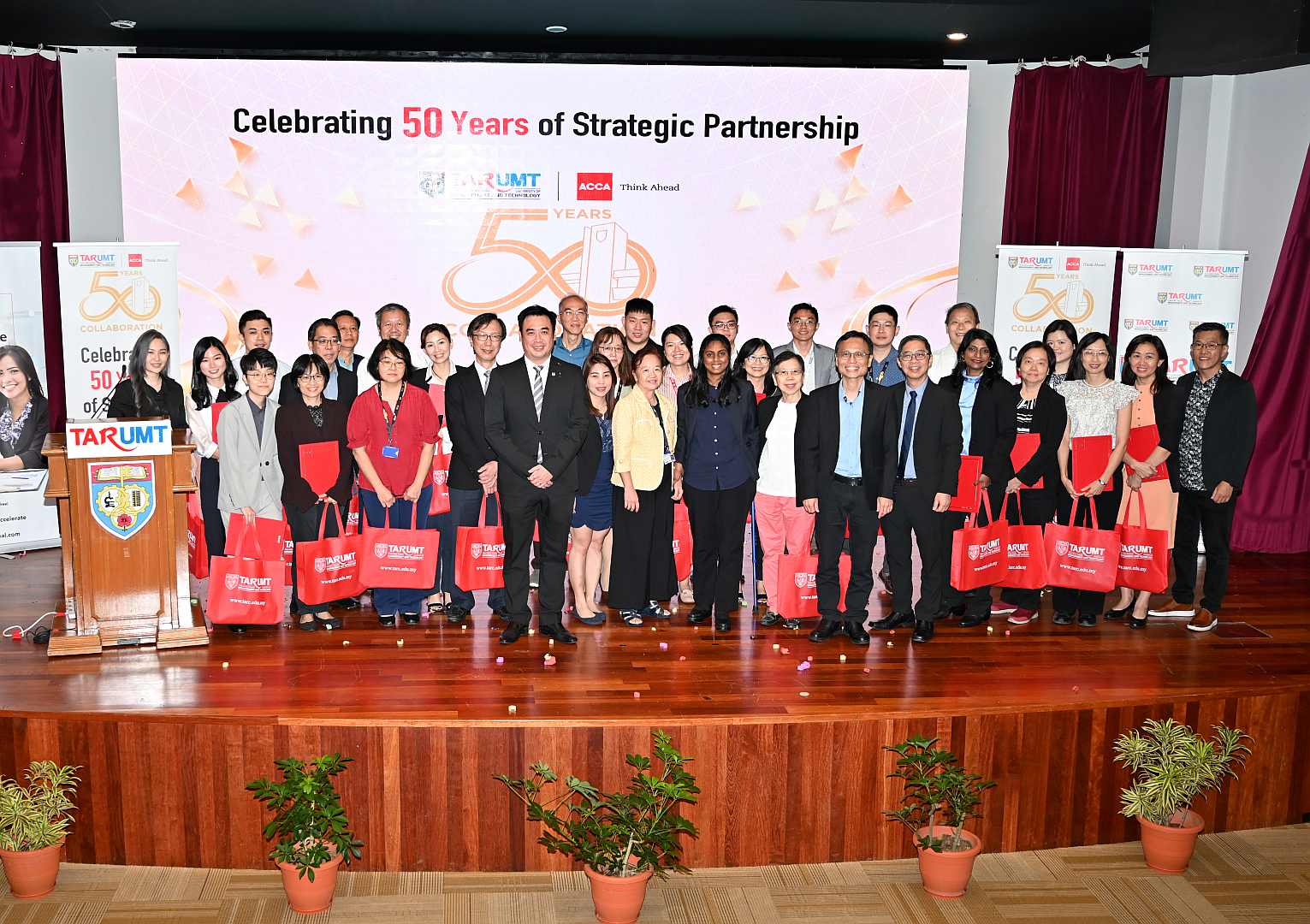 The ACCA – TAR UMT 50th Anniversary celebration saw about 40 TAR UMT lecturers being presented letters of recognition and appreciation for their contribution to the consistent success of TAR UMT's accountancy courses over the years.