HIGHLIGHTS / NEWS
See all news >>
7 December 2017
Internship and Postgraduate Study Opportunities for TAR UC Students
TAR UC takes yet another step forward in offering internship with postgraduate study opportunities to the students of TAR UC. A talk was held on 6 November 2017 at the Auditorium of Bangunan Tun Tan Siew Sin to create awareness of these opportunities among interested students on campus. This time the opportunities were open to the Faculty of Applied Sciences ('FOAS') and the Faculty of Engineering ('FOEN') students. These internship and postgraduate study opportunities were geared towards driving the Agriculture 4.0 Bentong Ginger Production research project in which TAR UC collaborates with the Dongguan Institute of Opto-Electronics, Peking University.
Click to read more
30 November 2017
Regional-level Recognition for TAR UC Academic Staff
TAR UC was among the institutions of higher learning in the ASEAN region to be in the spotlight at the ASEAN Science and Technology Award 2017. Dr Leong Wai Yie from the Faculty of Engineering ('FOEN') was named as the recipient of the ASEAN Meritorious Service Award (AMSA). She received the award from Dr Myo Thein Gyi, Union Minister, Ministry of Education, Myanmar, during the Gala Dinner held on 19 October 2017 in Nay Pyi Taw, Myanmar. The award presentation ceremony was held in conjunction with the 17th ASEAN Ministerial Meeting on Science and Technology.
Click to read more
30 November 2017
TAR UC Signs MoU with KLVA to Promote Volleyball
In the spirit of supporting the development of sports in Malaysia, TAR UC had signed a Memorandum of Understanding ('MoU') with Kuala Lumpur Volleyball Association ('KLVA') on 17 November 2017 at TAR UC's Kuala Lumpur Main Campus.
Click to read more
ACHIEVEMENTS
See all achievements >>
7 December 2017
TAR UC Students Shine in PNB 1Malaysia Investment Quiz Competition 2017
With grit and nerve of steel, a team of three TAR UC students namely Tam Jun Yen, Lim Chee Wei and Mak Kah Yew successfully clinched 2nd Runner-up position in the final round of the PNB 1Malaysia Investment Quiz Competition 2017, which was held on 30 September 2017 at Putrajaya International Convention Centre.
Click to read more
27 November 2017
Recognition for TAR UC's Young Investors
TAR UC's Bursa's Young Investors Club ('BYIC') was over the moon when they were chosen to receive the "On-Campus Capital Market Advocacy Programmes" award from Securities Commission Malaysia for their effort on investor education. Assoc Prof Say Sok Kwan, Vice President of TAR UC, received the award on behalf of Datuk Dr Tan Chik Heok, President of TAR UC, from the Youth and Sports Minister, YB Khairy Jamaluddin, during the launch of InvestSmart Fest 2017 on 13 October 2017.
Click to read more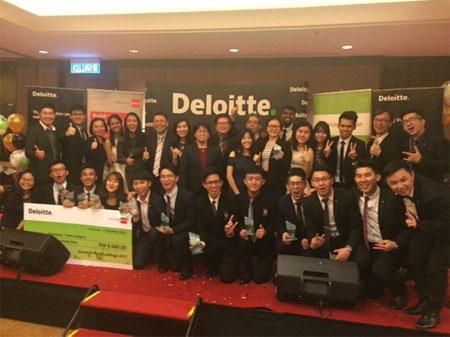 24 November 2017
TAR UC Students Scoop Multiple Prizes at Deloitte Tax Challenge 2017
TAR UC students were a dominant force to be reckoned with when they won multiple prizes in the 10th instalment of the Deloitte Tax Challenge ('DTC'). After months of fierce competition among 3,214 participants, they were not only crowned champion and 2nd Runner-up in the team category but also won 1st Runner-up and two merit prizes in the individual category. Additionally, three students won the Best Presenter award in the team category during the final round which was held on 1 November 2017 at Deloitte's Head Office in Kuala Lumpur.
Click to read more
Upcoming Events
See all Upcoming Events for the year>>