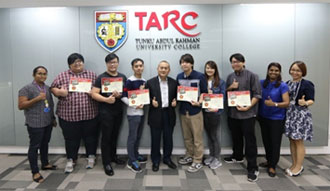 Some of the students with their certificates (from left to right): Ms Shubashini a/p Anamalai, Associate Dean, Department of Communication, Faculty of Social Science, Arts and Humanities ('FSAH'), Wong Wei Choy, Lim Chun How, Hong Siong Huat, Datuk Dr Tan Chik Heok, President of TAR UC, Kou Jin Yang, Chong Jia Yi, Yeoh Yeung Aang, Ms Chitra a/p Muthusamy, Programme Leader, Advertising, FSAH and Ms Dearna Kee June Chen, Dean of FSAH. Leong Wai Hoong, Phang Wai Keong and Yeoh Bee Bee were not present when this photo was taken.
Two teams from TAR UC who took part in the Dare to Dream ('D2D') Short Video Clip Contest organised by the Malaysian Chinese Association ('MCA') won the Excellence Award in the student category of the competition. The teams of students who have completed their studies in the Bachelor of Communication (Hons) in Advertising in TAR UC received the Excellence Award at the prize giving ceremony of the competition held on 18 April 2017 at Wisma MCA.
The first team consists of five students namely Kou Jin Yang, Chong Jia Yi, Hong Siong Huat, Lim Chun How and Yeoh Yeung Aang who produced a video about a youngster who aspires to be a photographer but he does not get the support from his father to achieve his ambition. The other team consist of four students and they are Leong Wai Hoong, Wong Wei Choy, Phang Wai Keong and Yeoh Bee Bee. The team produced a video about the challenges an aspiring artist faces as she comes to terms with the fact that she is going blind.
"As final year students, we saw this competition as a great platform for us to put into practice the knowledge and skills we have acquired in our course. It is a great motivation for us to win the award as it shows that we are capable of producing good quality films. Also, this win will certainly enhance our portfolio when we enter the workforce," remarked Kou Jin Yang.
Meanwhile, Yeoh Yeung Aang expressed his appreciation to his lecturers in TAR UC for their help which contributed to the achievements. "Besides providing us with relevant information which helped us in the planning and production of the films, our lecturers were also very supportive and gave us a lot of encouragement. On top of that, I really appreciate TAR UC's support in providing us with the latest equipment to use for the video productions," he said.
Each team won a Xiao Yi Sports action camera and a cash prize of RM500.