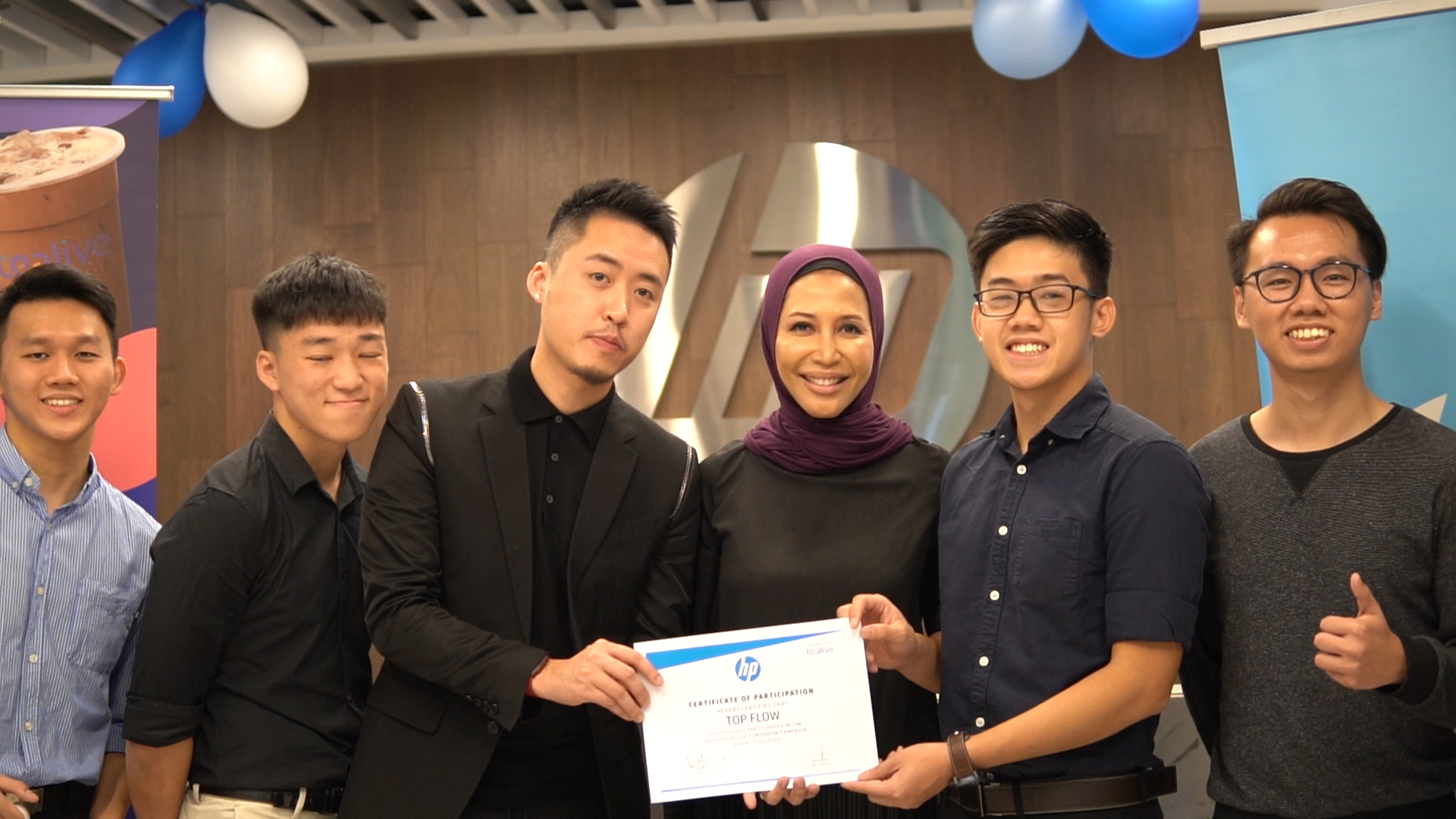 Li Huai (second from left) together with his 'Top Flow' team mates with their certificate. With them are Fayza Mohamed Amin (third from right), Managing Director of HP Inc. Malaysia and Bryan Loo (fourth from right), Founder of Tealive.
Li Huai (front row, rightmost) giving a thumbs-up together with all the Three Top Finalists teams. With them are Fayza Mohamed Amin (back row, third from right), and Bryan Loo (back row, fourth from right).
Li Huai, a TAR UC Bachelor of Business Administration (Hons) student, along with four other team members from other institutions of higher learning secured a spot as one of the Top Three Finalists in HP Inc's Creators of Tomorrow University Challenge during its last leg on 11 February 2020. Although the competition saw over 2,500 start-up ideas being pitched, Li Huai's team, named 'Top Flow', with their business idea entitled 'Bumbung' wowed the judges and made it as one of the Top Three Finalists.
The Creators of Tomorrow University Challenge aimed to realise the dreams of budding entrepreneurs by providing the help they needed to break down the barriers to entry and give aspiring entrepreneurs the support to take their business to the next level.
When asked how TAR UC had helped him to achieve this win, Li Huai said that he obtained helpful advice from his lecturers in TAR UC whenever he came across problems regarding law, taxes, crowdfunding and so on. "On top of that, I worked diligently and burned the midnight oil to finish pitch decks, break even analyses and other documents needed for the competition," he said.
Li Huai went on to explain about their project named 'Bumbung'. "It is the first property renting platform in Malaysia that provides a safe, time-saving, cheap rental and low initial cost to rent. With the services that we provide, we can be called an "all-in-one property platform". We provide solutions for property investors to increase their return on investment ('ROI') when they want to rent out their units. We solve many problems with regards to paying the initial rental cost. We provide landlords and tenants home living services that are efficient, and we help landlords to rent out their property through our platform by assisting them to make the most of our app features," he mentioned.
His advice for those planning to become a budding entrepreneur is to work hard. "Don't be upset about the results you did not get from the work you didn't do," he said.
The team walked away with certificates and goodies sponsored by HP Malaysia, and most importantly, a number of invaluable industry connections.