The signing of the MoA (from left to right): Dr Chew Khoon Hee, Dean of FOEN, Assoc Prof Dr Lee Wah Pheng, Head of the Centre for Postgraduate Studies and Research, Datuk Dr Tan Chik Heok, Datuk Ng Peng Hay, Dato' Lee Hung Lung, Ms Goh Guek Eng and Mr Yeoh Shin Chian, Senior Manager of Hotayi.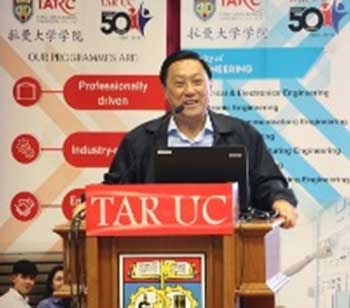 Datuk Ng Peng Hay sharing his joy on the collaboration.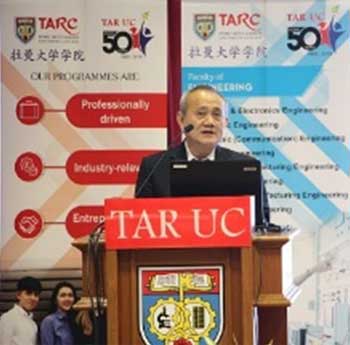 Datuk Dr Tan Chik Heok delivering his speech.
Dato' Lee Hung Lung presenting his speech.
TAR UC and Hotayi Electronic (M) Sdn Bhd ('Hotayi') forged a collaboration that led to the Memorandum of Agreement ('MoA') signing ceremony which was held on 30 March 2018. The ceremony was attended by Datuk Ng Peng Hay, Chairman of KOJADI who was the Guest-of-Honour, Datuk Dr Tan Chik Heok, President of TAR UC, Dato' Lee Hung Lung, Chief Executive Officer of Hotayi and Ms Goh Guek Eng, Managing Director of Hotayi .
The collaboration under the theme "Industry Education Collaboration: For a Better Engineering Education Tomorrow" will bring TAR UC and Hotayi together in carrying out 6 industry-oriented projects which will be developed by final year students from the Faculty of Engineering ('FOEN') and Faculty of Computing and Information Technology ('FOCS') as their final year project. The 6 industry-oriented projects are the Automated Production Simulation, Machine and Process Data Analytics using Artificial Intelligence, Machine and Process Data Analytics, Image Processing Automations, Product Data Analytics and Parts Supply Chain Automation.
In his opening speech, Datuk Ng Peng Hay related how he helped forged this industry academia collaboration between TAR UC and Hotayi Electronic (M) Sdn Bhd. "The Government is constantly pushing for more Industry 4.0 industrial programmes in Malaysia. So I was very excited when Dato' Lee informed me that Hotayi is planning to invest in Malaysia by building their own factory in Penang. Dato' Lee also highlighted to me that he would need more skilful and qualified engineers to operate the factory in Malaysia. There was no doubt in my mind that TAR UC will be able to meet the needs due to the institution's solid reputation in producing high-calibre engineers in Malaysia. Therefore, I approached Datuk Dr Tan to work with Hotayi to produce industry-trained engineers for Hotayi's factory in Malaysia," he shared.
Meanwhile, Datuk Dr Tan expressed his appreciation to Dato' Lee and his team in Hotayi for their commitment to strengthening this partnership with TAR UC. "I greatly appreciate Dato' Lee and his team for their trust in TAR UC and giving us this valuable opportunity to continue working together. By incorporating such industry-oriented projects in our engineering and IT programmes, we can provide real life industry-relevant experience for our students so that they are ready for work once graduated. Such partnership with the industry also enables us to close the gap between the industry and academia especially in the age of Industry 4.0," he remarked.
Dato' Lee took the opportunity to share his thoughts on the collaboration in his speech. He said: "We hope that with this MoA, we will be able to foster closer relations with TAR UC, contributing to the talent pool as we embrace Industry 4.0 at Hotayi. We welcome all TAR UC students to join us as we work towards a common goal. "
Hotayi also contributed RM100,000 to TAR UC's Internal Research Grant which will be channelled towards setting up the TAR UC's Big Data Analytics Lab for the purpose of carrying out the industry-related projects for Hotayi.