Participants of the workshop taking a group photo with (front row, from left) Ms. Tan Yar Shi, Programme Leader for Bachelor of Design (Hons) in Graphic Design from TAR UC's FCCI, Ms. Myers, and Ms. Cliona Campbell, International Manager for LIT International Office.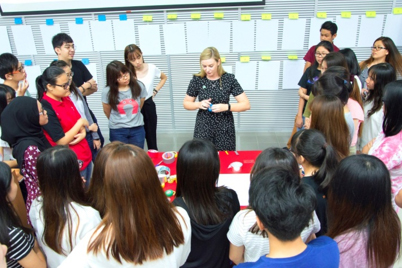 Ms. Myers in midst of conducting the special design workshop titled "Collaborative Tape Typeface" attended by over 120 TAR UC students.
It was a rare and wonderful experience for over 120 students from TAR UC's Diploma in Graphic Design Year 1 and 2 students who attended an exclusive design workshop conducted by guest lecturer Lorraine Myers on 14 March 2018 at the KL Main Campus.
Ms. Myers, who teaches at the Limerick School of Art and Design ('LSAD') from Limerick Institution of Technology ('LIT'), conducted the "Collaborative Tape Typeface" workshop as part of the "Education with Ireland Study Abroad" sharing session together with TAR UC's Department of Creative Arts, Faculty of Communication and Creative Industries ('FCCI').
Students were introduced to the concept of explorative learning and how it helps expand one's creative mind, practical learning through collective activities and productive interaction with their peers to produce raw and random ideas – skills which are very relevant to those seeking graphic design as their future career path.
"In LSAD, we keep pushing active work experiences from the industry to encourage collaborative practice, where students work with real-life briefs and are awarded commission opportunities," said Myers, who has close to 10 years' experience in the advertising industry as a designer.