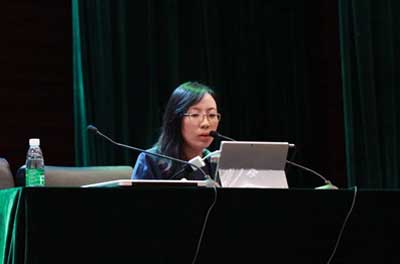 Ms Ang Yaw Feng delivering her talk during the forum.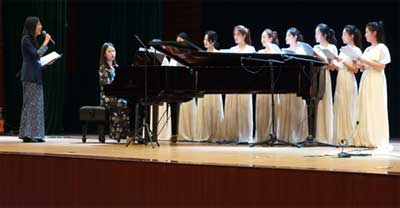 Ms Ang Yaw Feng (far left) conducting the masterclass with 9 female singers from Chengdu University Choir.
Ms Ang Yaw Feng, a senior lecturer from the Department of Creative Arts of the Faculty of Social Science, Arts & Humanities ('FSAH'), was invited and fully sponsored to participate in the Tenor's Arts Forum by China - ASEAN Art College of Chengdu University from 31 March - 2 April 2018. The forum comprised talks that were principally on topics related to Tenor singing by famous tenors in China. All in all, there were 18 different talks or ceremonies for the event.
Ms Ang gave a talk on 1 April 2018 during the 3rd session of the forum with the theme, "Chinese and Asia Music Forum". During her talk entitled, "Malaysia Tenor: Past, Present and Future", she introduced 11 established tenors in Malaysia.
The forum concluded with an open master class featuring a small group of 9 female singers from Chengdu University Choir performing a mandarin song called "思念" (which means 'Nostalgia') conducted by Ms Ang. She gave some pointers on ways to improve their singing performance, such as increasing facial and body expressions, adding dynamic contrast and emphasising on the importance of both bringing out the melody as well as to follow the scores set by the composers and arrangers, if they aim to go for any choir competitions in the future.
As a follow up to the forum, TAR UC Choir has been invited to perform at 2018 Chengdu International Sister Cities Youth Music Festival from 25 July - 31 July 2018.