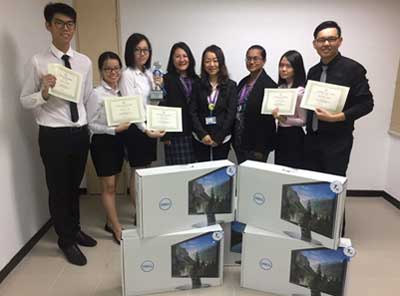 The team who won Champion. (From left): Teh Jia Jie, Teh Yong Si, Teh Pei San, Dr Lee Pey Huey, Deputy Branch Head, Penang Branch Campus, Assoc Prof Dr Toh Guat Guan, Head of Penang Branch Campus, Ms Anitha Sundrum, Programme Leader, Department of Accountancy and Business, Tee Fei Ching, Teoh Pao Xiang.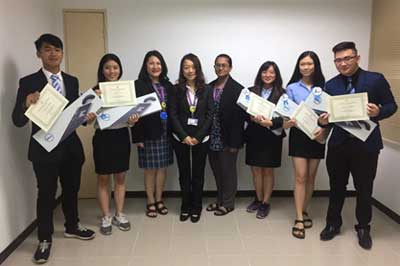 The team who won 1st Runner-up. (From left): Nicholas Kuan, Chan Su-Lyn, Dr Lee Pey Huey, Assoc Prof Dr Toh Guat Guan, Ms Anitha Sundrum, Chan Yee Mae, Khoh Wee Wen and Yeoh Wai Shen.
TAR UC has all the reasons to celebrate as two teams of Bachelor of Business (Hons) Accounting and Finance students from TAR UC Penang Branch Campus were named Champion and 1st Runner-up during finals of the Dell Business Challenge 2018 on 19 April 2018.
During the finals, one of the two teams representing TAR UC which consisted of Teoh Pao Xiang, Teh Jia Jie, Teh Yong Si, Teh Pei San and Tee Fei Ching beat out 8 other teams from various institutions of higher learning and was named Champion. Apart from bagging the Champion's Trophy, the team also went home with the latest DELL monitors as well as confirmed internship opportunity at DELL Penang in any department of their choice.
Another team from TAR UC which was made up of Nicholas Kuan Zhen Xian, Yeoh Wai Shen, Chan Su-Lyn, Chan Yee Mae and Khoh Wee Wen successfully secured the 1st Runner-up position. The team also emerged as the 2nd Best Presenting team. All members received certificates as well as the latest DELL wireless keyboards and mouse. They were also offered internship opportunity at DELL Penang in any department of their choosing.
During an interview, the Champion team shared that due diligence and sufficient research into the company's background prior to the competition were the key factors in securing their win. "We did some research and tried to predict what would be tested during the competition," said Tee Fei Ching. "We also asked for advice from our experienced seniors. Their advice was really helpful for us to know what to expect during the competition."
"The most significant take-away for me from this experience was the opportunity to have lunch with the staff from DELL", recalled Teh Jia Jie. "This open and active dialogue with them enabled me to have a better understanding of the company's working culture and environment. An added bonus was when DELL's HR staff shared insightful interview techniques that helped me answer some of the questions better."
Whereas for Teh Pei San and Teoh Pao Xiang, the moment that stood out for them was the opportunity to present in front of the company's top management.
"Rarely do we have the opportunity to present ideas to directors and managers of a big company," shared Teoh Pao Xiang. "Neither one of us have any experience presenting in front of industry experts. So we had to be well prepared and find ways to calm our nerves before presenting." Adding on to that, Teh Pei San commented that the presentation was a good stepping stone for her to brush up on her presentation skills.
The winning teams will be starting their internships at DELL, Penang in February until April 2019.