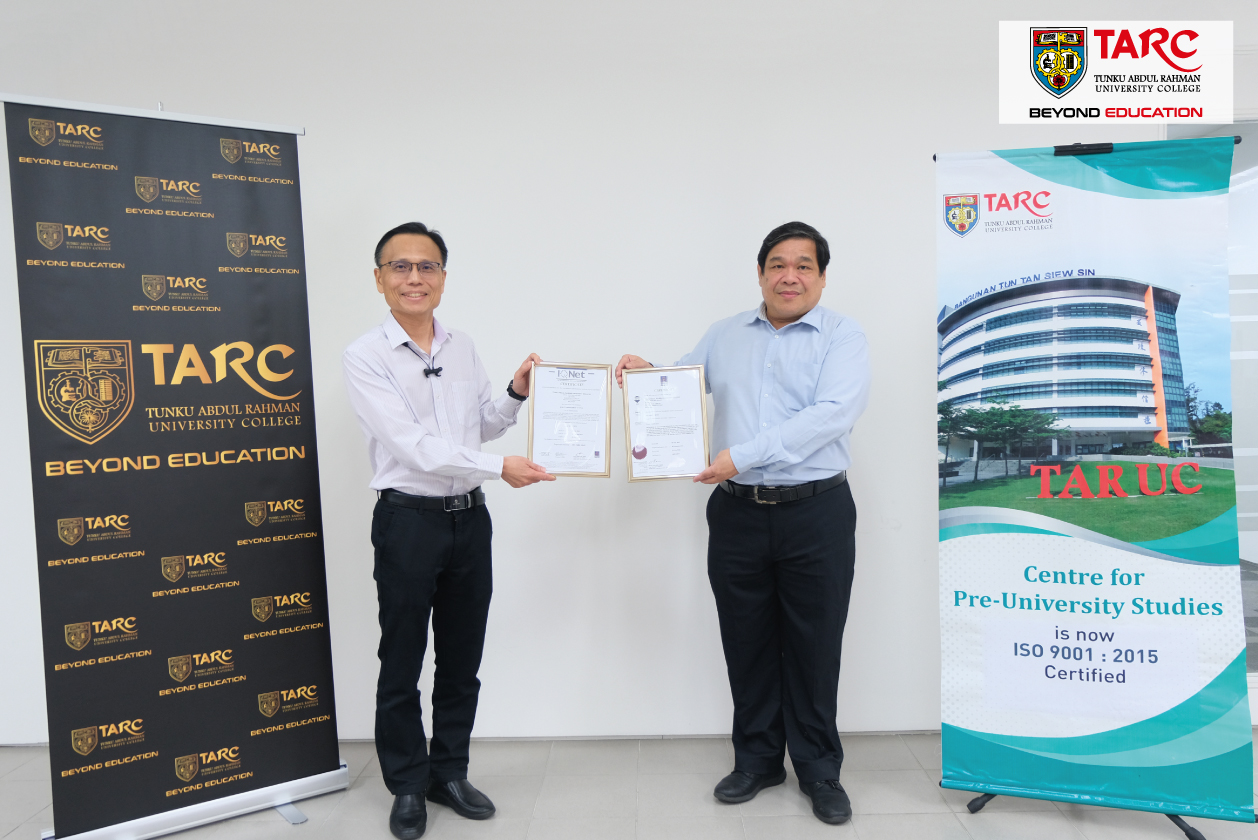 Prof Ir Dr Lee (left), and Mr Yeoh (right) holding up the ISO 9001:2015 certification awarded to CPUS during the certificate presentation ceremony on 13 August 2020.
TAR UC's Centre for Pre-University Studies' (CPUS) solid consistency and quality of its programmes have earned the centre the ISO 9001:2015 certificate, further proving that TAR UC's academic programmes are constantly in compliance with the applicable regulatory requirements set by SIRIM.
The certificate was presented by Prof Ir Dr Lee Sze Wei, President of TAR UC, to Mr Yeoh Hock Seng, Head of CPUS, on 13 August 2020 at TAR UC's Kuala Lumpur Main Campus, KL, with Prof Ir Dr Lee lauding the great team effort by Mr Yeoh and his staff for successfully achieving the certification.
The ISO 9001:2015 certification initially covered the Faculty of Applied Sciences (FOAS), before expanding to five other faculties effective from May 2018, namely the Faculty of Computing and Information Technology (FOCS), Faculty of Engineering and Technology (FOET), Faculty of Communication and Creative Industries (FCCI), Faculty of Social Science and Humanities (FSSH), and Faculty of Built Environment (FOBE).
TAR UC is now certified with the scope of certification "Provision of Education Services to Diploma and Bachelor Degree for 6 Faculties and 1 Centre" by SIRIM effective from 9 July 2020 until 8 July 2023.
The ISO certification is expected to expand to the Faculty of Accountancy, Finance and Business (FAFB) at the Kuala Lumpur Main Campus followed by TAR UC's branches in Penang, Perak, Johor, Pahang and Sabah. This is in line with the Quality Policy of Quality Management System which aims at achieving higher customer satisfaction through continuously improving an effective quality management system to enhance the quality of products and services and comply with the applicable regulatory requirements.