Madeline showing her AUG 2022 silver medal.
---
TAR UC students proved that excellence can come from both in and out of the classroom after returning from the Asean University Games (AUG) 2022 and Sukan Institusi Pendidikan Tinggi (SUKIPT) 2022 victorious on multiple fronts.
During the AUG from 26 July – 6 August 2022 in Ubon Ratchathani, Thailand, TAR UC students from the Penang Branch Campus contributed 1 gold, 2 silver and 2 bronze medals to help Malaysia finish second in the overall standings with a total medal haul of 49 gold, 83 silver and 50 bronze medals, exceeding the 45-gold medal target set prior to the event.
After AUG 2022, TAR UC's athletes from the KL Main Campus and Penang Branch Campus went on to compete in the SUKIPT 2022 held at Universiti Pendidikan Sultan Idris, Perak from 12 – 21 August 2022, where they managed to claim one gold, six silver and five bronze medals.
Karate-ka Madeline Wong Mei Ge, a Bachelor of Business (Hons) Accounting and Finance student, said: "It was honestly very comforting to be able to compete on the international stage after three years but to be able to reach the podium gave me a sense of accomplishment and confidence in my own abilities."
Madeline competed in the karate women's individual kata category and won a silver medal at the AUG 2022 and a bronze medal at SUKIPT 2022.
Despite having to walk a tightrope between studies and sports, the students have demonstrated that it is still very possible to achieve their goals.
"Time management and self-discipline are extremely important. It is not easy managing both studies and training especially with assignments and exams, but I learned how to give myself time to relax whenever necessary so I do not overstress myself out," said Ho Keesha, who won a bronze medal at the AUG 2022 (women's 4x200m freestyle relay). She also won one gold (women's 50m butterfly) and one silver medal (women's 200m medley) at the SUKIPT 2022.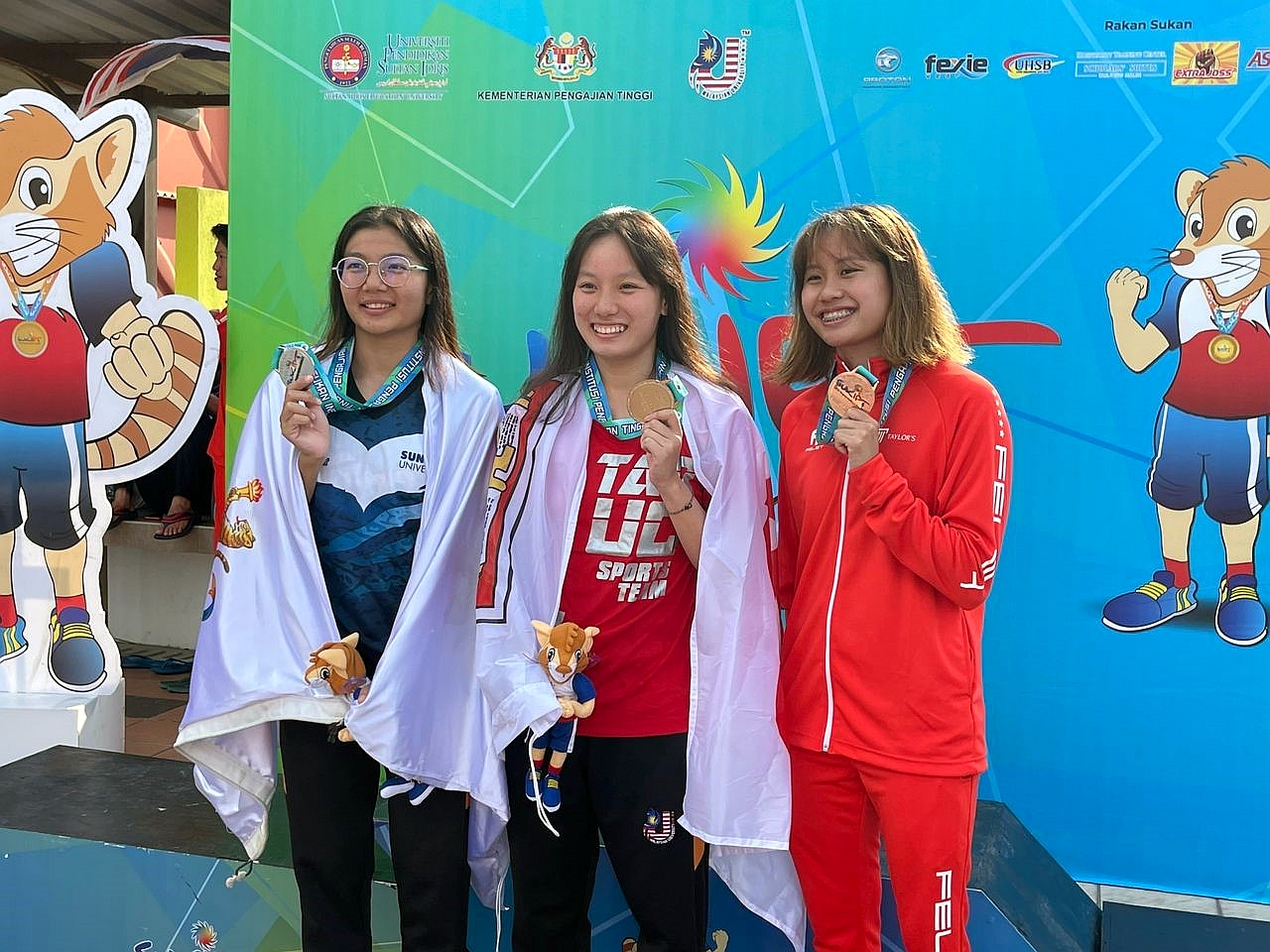 Keesha (middle) during the medal presentation ceremony after winning a gold medal in the women's 50m butterfly event at SUKIPT 2022.
Asean University Games 2022 Results
Gold
Karate (Men's team kata) - Kojiro Yong, Chan Zhen Song, Dennis Lim Kai Xiang
Silver
Karate (Women's individual kata) - Madeline Wong Mei Ge
Karate (Men's individual kata) - Chan Zhen Song
Bronze
Karate (Men's individual kata) - Kojiro Yong
Swimming (Women's 4x200m freestyle relay) - Ho Keesha
SUKIPT 2022 Results
Gold
Swimming (Women's 50m butterfly) - Ho Keesha
Silver
Swimming (Women's 200m medley) - Ho Keesha
Swimming (Men's 100m butterfly) - Hii Puong Hou
Table Tennis (Men's singles) - Lee Yee Jat
Taekwondo (Mixed poomsae) - Looi Hon Sam, Tie Yu Jun
Taekwondo (Men's kyorugi 63 - 68kg) - Loo Chee Kit
Taekwondo (Men's kyorugi 58 - 63kg) - Looi Hon Sam
Bronze
Swimming (Men's 400m freestyle) - Hii Puong Hou
Taekwondo (Women's poomsae) - Tie Yu Jun
Karate (Men's kata) - Saw Weng Onn
Karate (Women's kata) - Madeline Wong Mei Ge
Karate (Women's 61kg) - Sam Hiang Fong