Prof Ir Dr Lee with the signed MoU.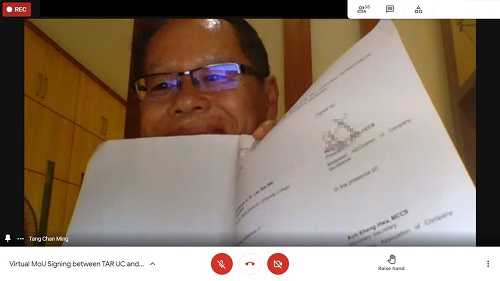 Mr Tang proudly showing the MoU which he has signed on behalf of MACS.
Young aspiring company secretaries who aim at obtaining recognised professional qualification as they complete their undergraduate degree programme can do so at TAR UC following from the collaboration between TAR UC and the Malaysian Association of Company Secretaries ('MACS'). The signing of a Memorandum of Understanding ('MoU') to formalise this collaboration was held virtually on 14 April 2021 where TAR UC President, Prof Ir Dr Lee Sze Wei and MACS' President, Mr Tang Chan Ming were present to sign the MoU.
MACS is a recognised professional body in Malaysia that promotes and advances the professional status of company secretaries and is an Approved Body under the Fourth Schedule of the Companies Act, 2016, where MACS members are qualified to practise as Certified Company Secretaries.
With the MoU signed and sealed, current and new TAR UC students who are pursuing the Bachelor of Corporate Administration (Hons) will now have the option to also pursue the MACS professional qualification. TAR UC students of the said programme will be exempted from 14 out of 16 professional-level papers and they can pursue the two remaining papers of MACS Professional Examination namely Malaysian Taxation II and Professional Practice & Ethics in the penultimate or final year of their degree programme. Upon successful completion of the TAR UC degree programme and passing of the remaining two MACS papers, students will graduate with Bachelor of Corporate Administration (Hons) degree from TAR UC and a professional qualification from MACS. In addition, for the purpose of the MACS membership qualifying requirement of at least three (3) years' relevant experience, the internship period undertaken by TAR UC students at MACS members' firms will be counted towards this requirement.
"As one of the largest learning providers for well-recognised corporate secretarial professional qualification in Malaysia, TAR UC hopes to build upon the strategic partnership with MACS to further promote the corporate secretary professional qualification and produce more professionally qualified certified secretaries in Malaysia. TAR UC will continue to develop and enhance the curriculum of the Bachelor of Corporate Administration (Hons) programme in order to gain full exemption from the MACS examinations which will allow our graduates to put their best foot forward as they enter the challenging corporate secretarial profession," Prof Ir Dr Lee said in his opening speech.
Meanwhile, Mr Tang highlighted what it would take to be a qualified company secretary. "The skill sets required of the company secretary demand strong administrative and organising ability with good communication skills. In addition, the company secretary must have good understanding of company law and practice and corporate governance. To do this, the MACS qualification is most relevant to the aspiring company secretary. It is my fervent hope that TAR UC students will take full advantage of this collaborative arrangement to consider the MACS professional qualification as the pathway to become practising company secretaries in the future," he explained.