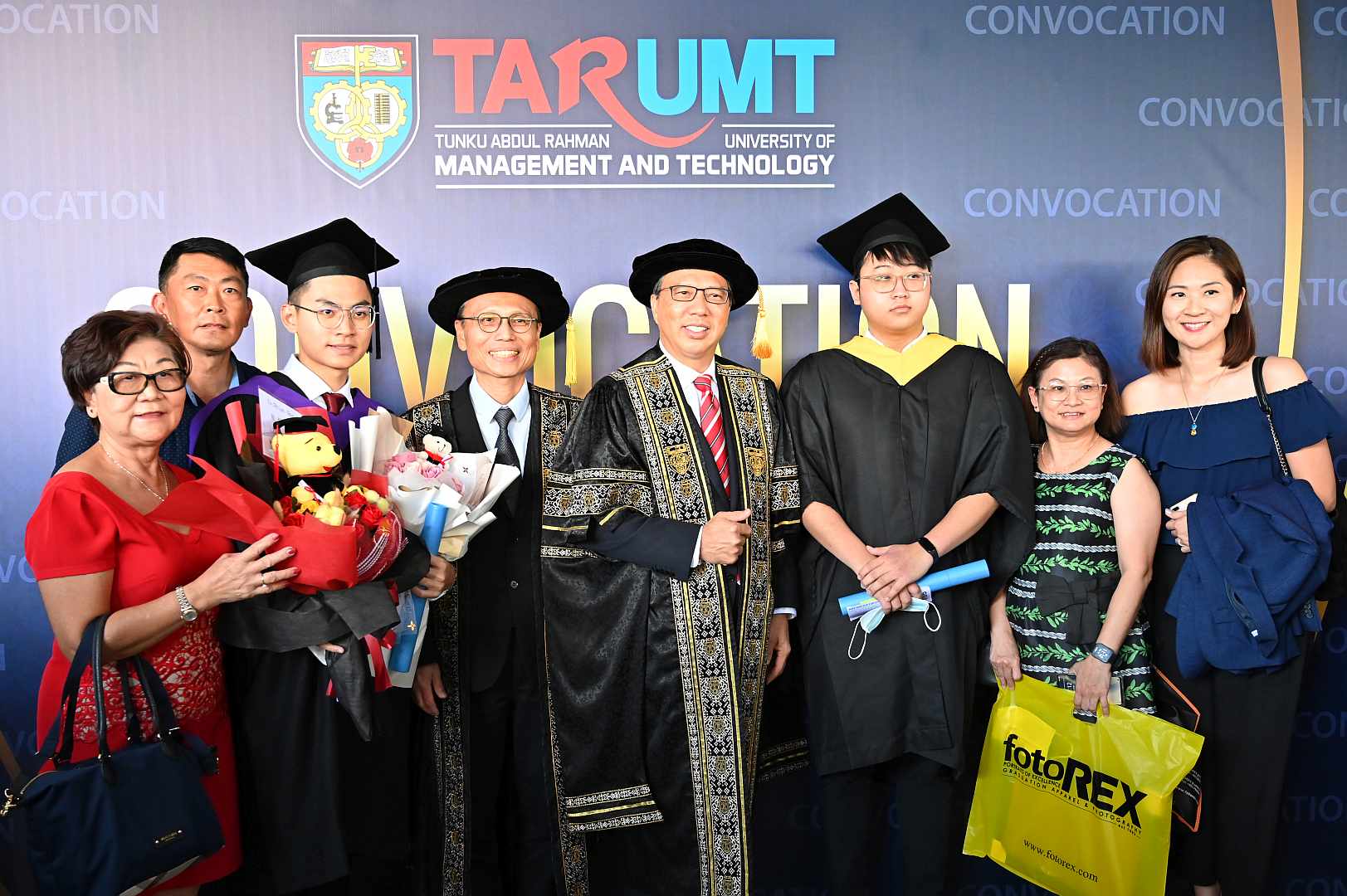 Tan Sri Dato' Sri Liow (4th from right) and Prof Ir Dr Lee Sze Wei (4th from left), President of TAR UMT, taking a group photograph with TAR UMT graduates and their family members at the University's February 2023 convocation ceremony.
TAR UMT kicked off its first convocation ceremony in 2023 in a grandiose manner after celebrating more than 4,000 new graduates who received their scrolls at its Kuala Lumpur Campus from 16 – 19 February 2023.
The four-day convocation ceremony saw thousands of proud parents, family members and loved ones witness 17 Master Degree, 4,028 Bachelor's Degree and 376 Diploma holders head up to the stage and receive their scrolls to officially mark the completion of their studies, and are now prepared to take on the next challenge in their respective journeys.
Tan Sri Dato' Sri Liow Tiong Lai, Chairman of the Board of Governors, TAR UMT, was present at the first session of the February 2023 convocation ceremony, who expressed his immense delight and pride to see more and more graduates join the TAR UMT alumni family which has grown close to over 300,000 since the institution's inception in 1969.
"Today may be the last remaining days you would spend at TAR UMT, but your bond with your alma mater will continue. I implore you to stay connected via our TAR UMT alumni community, and perhaps you will find opportunities to contribute back to the well-being of the University and students.
"The world we live in today is heavily driven by technological advancements and the required level of digital literacy will continue to be more complex. This is where your skills of adaptability and exposure will help you embrace changes and thrive with ongoing technological advancements. This is the Beyond Education factor that we strive to provide every TARCian and I am confident that this experience will guide you well in your future!" said Tan Sri Dato' Sri Liow in his speech.
For Jessie Tan Li Si, the convocation ceremony is just too special to miss – she even flew back to Malaysia from the UK just to celebrate her graduation in person together with her family. The Bachelor of Science (Hons) in Sports and Exercise graduate was also awarded the SAS Alumni Society Bachelor's Degree Cup for her outstanding academic and co-curricular achievements.
"I was surprised at first after being told that I won the award because I knew there were others who are also very outstanding among my peers. I genuinely felt proud of myself for this accomplishment because I know how much work and dedication I have put into my studies," said Jessie.
Bachelor of Business (Hons) in Marketing graduate Nicole Chia Yi Hua also expressed her delight and honour to be awarded not one but two awards, namely the Chartered Institute of Marketing (CIM) Award and Public Bank Excellence Award (Business).
"I feel proud that my hard work has been recognised, and this motivates me to do even better and achieve greater heights in the next phase of my life – to excel in my career with one of the fast-moving consumer goods (FMCG) multinational companies," said Nicole.
This convocation ceremony's President's Award went to Lum Ka Wei, who credited the people who supported her throughout her studies pursuing the Bachelor of Social Science (Hons) in Psychology.
"Thanks to my family who did not give up on me and believed in my abilities. Thanks to my dedicated lecturers who were always there to provide support and guidance whenever I needed help. Most importantly, thanks to my friends and course mates who were there when I needed social and emotional support as they always make me feel heard and acknowledged," said Ka Wei.