TAR UMT is proud of its Bachelor of Hospitality and Management students, Lina binti Chalizah and Kam Kah Hoe who returned victorious from the Malaysian Culinary World Cup 2023 held on 22 February 2023. They both won Gold and Silver medals for the beef and lamb categories respectively.
The Malaysian Culinary World Cup is a highly competitive international culinary competition. Participants from all around the world come together to put their culinary and creativity skills to the test while also raising awareness of Malaysian and other cuisines from around the world.
Students from Malaysia and 12 different countries as far as Morocco, Saudi Arabia, and Egypt, gathered for the competition to compete in the main course category. Kah How was against five other students in the lamb category, while Lina competed against 10 other students in the beef category. The students had only 45 minutes to prepare and present their dish.
Lina's creative dish which was created with mentor and coach, Chef Muhamad Aizuddin bin Ibrahim, was a pan-seared beef tenderloin with olive and shallot jus, crusted pistachio and sweet potato croquettes, herb butter poached vegetables, smoked eggplant puree, raspberry gel, beef tallow tuille, and microgreens.
"The idea behind this dish was to use the flavours of the ingredients, colours, and modern plating techniques that are well-balanced with the hope to show how creative and unique it is. And the idea worked!" said Lina.
Meanwhile, Kah Hoe served a pan-seared lamb rack with pomegranate reduction, green pea purée, herb-poached vegetables, minced lamb croquettes, mint jelly, and lamb tallow tuile. The dish is the result of good teamwork between Kah Hoe and his lecturer, Chef Muhammad Adib bin Mohamed Ramly.
Competing on the world stage was not only challenging but also a daunting experience for the students. However, the students were determined to give their best for the competition. "I am grateful to my lecturers and the faculty for not only guiding me in the competition but also providing the much-needed assistance in my preparations such as using the facilities as well as financial assistance," Lina shared.
"I have learnt so much from my lecturers and I was determined to make them proud. Plus, I was excited and confident that the concept of the dish I prepared with my lecturer would not miss the judges' attention and I am happy that this was the case!" Kam Hoe added.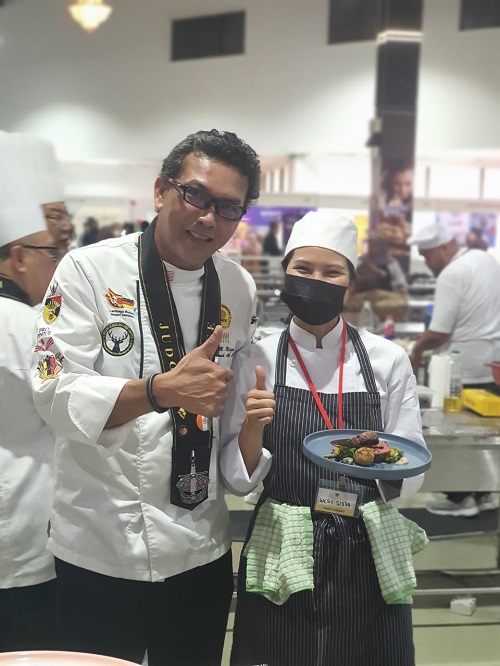 Lina (right), taking a photograph with Judge Mohd Nizar bin Al Bakri (left), President of the Negeri Sembilan Chef Association.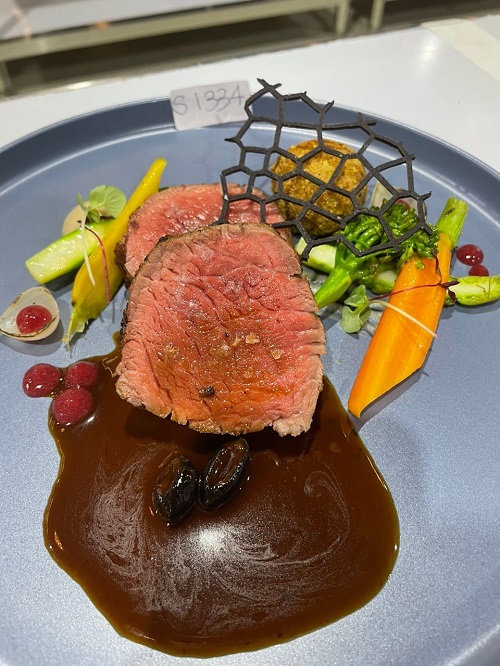 Lina's creative culinary skills resulted in her dish winning the Gold award.
Kah Hoe's Silver award-winning lamb dish.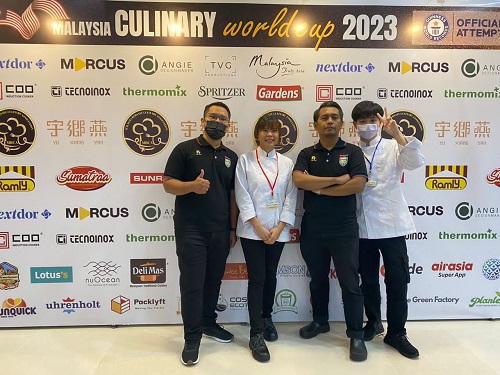 The TAR UMT team at the competition, (from left) Chef Muhamad Aizuddin, Lina, Chef Muhammad Adib, and Kah Hoe.