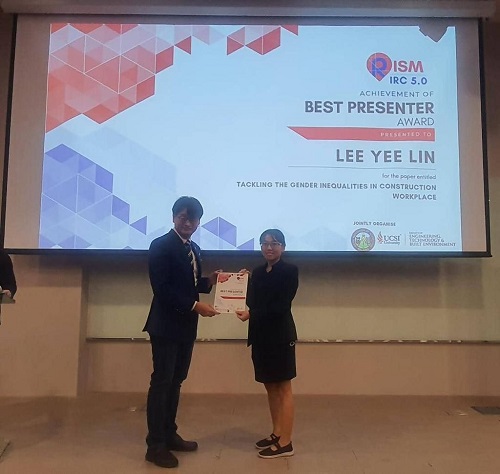 Dr Lee (right), receiving the Best Presenter Award during the RISM IRC 5.0.
Dr Lee Yee Lin, Programme Leader from the Faculty of Built Environment (FOBE), has won the Best Presenter Award at the Royal Institution of Surveyors Malaysia International Research Conference (RISM IRC) 5.0, which took place on 25 February 2023 at UCSI University, bringing pride back to TAR UMT.
The RISM IRC 5.0 is a surveying and built environment outreach platform for academics, professionals, and students that offers a stage for candid discussions, facilitates networking, raises awareness of current issues and technology, and allows employers to source good and skilled talents in the built environment industry.
This is the fifth conference organised by the RISM Quantity Surveying Division in collaboration with the Royal Institution of Surveyors Malaysia (RISM) and the School of Architecture and Built Environment (SABE) at UCSI University.
Dr Lee is the Programme Leader in the Department of Quantity Surveying at FOBE. Her presentation, titled "Tackling the Gender Inequalities in the Construction Workplace," was a collaborative effort with her coworkers, a lecturer from Taylor's University, and her project dissertation student.
"This topic was chosen because, as a female, I observed the existence of gender inequality issues in the workplace and I was curious how the women working in the construction industry dealt with the challenging factors that may discourage them from going further in the workplace," she explained when asked about the topic's inspiration.
TAR UMT tertiary education students are subjected to a variety of presentations throughout their academic journey. This is consistent with our Beyond Education philosophy, in which we are determined to train our students in presentation skills so that they will be confident in their future careers. Dr. Lee shared her thoughts on whether it is critical for students to be able to effectively present a research paper in the future, adding: "Yes, it is because it allows the students to present their research idea and gain feedback from other researchers, and that is how the students can improve their work - no matter what idea you are presenting, do remember to share some inspiring stories too."