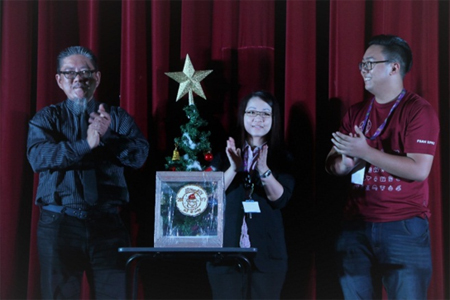 (From left): Mr Chuan Tek Pheung, Ms Lim Siz Siz and Daniel Yeoh, officiating the soft launch of JOINenJOY.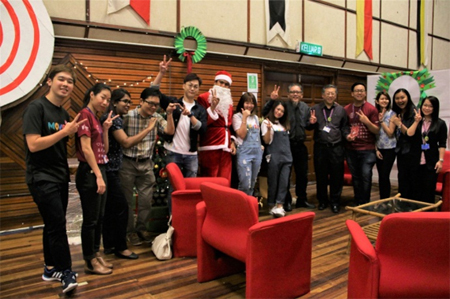 VIPs and guest posing with some of the props provided during a photo opportunity.
With their hearts set on spreading holiday cheer during the Yuletide season, JOINenJOY was a Christmas charity event organised by Year 2 Diploma in Public Relations students on 28 December 2017. In the spirit of giving, the event successfully raised more than RM10,000 and all funds were donated to House of Joy.
"The reason why we chose Christmas is because Christmas is something that is meaningful to each and every one of us. In today's society when we do something we always expect something in return, with either the same value or of even greater value. Our slogan for this event is 'Joy of Giving', which means to give something and not expect anything in return and to give it happily," said Daniel Yeoh Yew Kiong, organising Chairperson for JOINenJOY, during his speech.
"All profits made from JOINenJOY will be donated to House of Joy and the funds raised will be used for daily expenses and of course, food and resources for the children. During this festive season, we should not only appreciate what we have but we should also try to put ourselves in their shoes," added Mr Chuan Tek Pheung, Programme Leader from the Department of Communication, Faculty of Social Science, Arts and Humanities ('FSAH'). "Over the years, TAR UC's PR campaigns organised by students have raised funds and provided monetary aid for many good causes and have helped many people in need."
The soft launch was officiated with Mr Chuan Tek Pheung and Ms Lim Siz Siz, Programme Leader from the Department of Communication, FSAH, accompanied by Daniel Yeoh, by placing a star on top of a Christmas tree.
At night, audiences were treated to an array of spectacular performances by the children from House of Joy, TAR UC's cheerleading squad, TAR UC's choir, Malaysian music duo – Fuying & Sam as well as DJs from 988 FM to name a few.