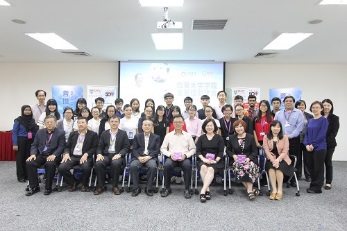 A group photo of the representatives from BBMB and TAR UC Senior Officials, together with the student recipients of the TAR UC-Jinbodhi Bursary Award.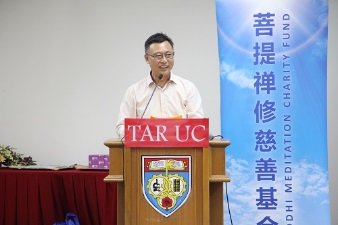 Teacher Ling Shan speaking about his aspirations for the students.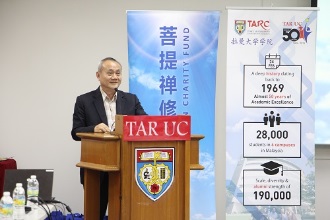 Datuk Dr Tan Chik Heok addressing the students.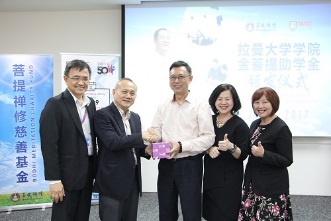 Teacher Ling Shan (centre) receiving a souvenir from Datuk Dr Tan Chik Heok (second from left) and flanked by Dr Chook Ka Joo (extreme left), Vice President of TAR UC, Sister Fu Han (second from right) and Sister Dong Cao (extreme right).
Recently, 31 TAR UC students had been selected to be the recipients of the TAR UC-Jinbodhi Bursary of which, 26 are from Kuala Lumpur Main Campus and 5 from branch campuses. The 26 students from Kuala Lumpur Main Campus received their Letters of Award during a ceremony held on 28 December 2017 at Bangunan Tun Tan Siew Sin, Kuala Lumpur Main Campus. Representatives from Bodhi Meditation Malaysia Berhad ('BMMB'), namely, Teacher Ling Shan, Sister Fu Han, Sister Dong Cao and Sister Xi Cen were present to witness the occasion.
In his speech, Teacher Ling Shan expressed his hope that the award would help the students in achieving their goals and inspiring them to give back to the society. "This scholarship will not only provide the students with financial assistance but also allow them to pursue their dreams. With the aid that they receive today, I hope that it will help them become role models for the future generation and to contribute towards the betterment of society," he said.
Datuk Dr Tan Chik Heok, President of TAR UC, also shared his appreciation to BMMB for their kindness and support to TAR UC students. "On 9 October 2017, TAR UC-Jinbodhi Bursary was setup under TARC Education Foundation with a donation amounting to RM 600,000 from Bodhi Meditation Malaysia Berhad. We are very grateful to Bodhi Meditation Malaysia Berhad for their kind gesture and support for our students. This is the first bursary scheme of its kind in TAR UC to provide bursaries to underprivileged Diploma and Bachelor's Degree students to further their studies in TAR UC," Datuk Dr Tan added.
During the ceremony, the student recipients explained how the scholarship would benefit them. Ch'ng Yik Min, a national champion in table tennis and a Diploma in Business Studies (Finance and Investment) student at TAR UC said that he used to work part-time by giving 8 sessions of table tennis coaching to fund his studies, but now with the scholarship, he could lessen the amount of time spent on coaching and focus more on his studies to achieve good results.
Another recipient, Hemavanan A/L Krishna Kumar, a Bachelor of Business (Hons) in Logistics & Supply Chain Management student said: "I have to work part-time at a call centre on weekdays to help lessen my family's financial burden as I am the eldest of 5 children. But now with the bursary, it will help me and my family tremendously."