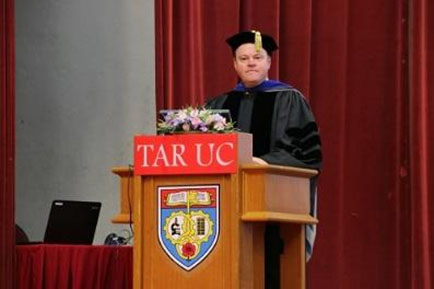 Dr Michael Bryan Wells delivering his speech at the convocation.
The award winners and the distinguished guests in a group photograph (from left to right): Assoc Prof Dr Loke Chui Fung, Dean of the Faculty of Applied Sciences, Dr Michael Bryan Wells, Datuk Dr Tan Chik Heok, Lim Jian Han, Low Jiun Yang, Foong Ghin Yew, Chong Jin Bin, Jeff Tan Yi Jieh, Chan Yi Ling, Dr Mark Hammond and Professor Prithwi Raj Subramaniam.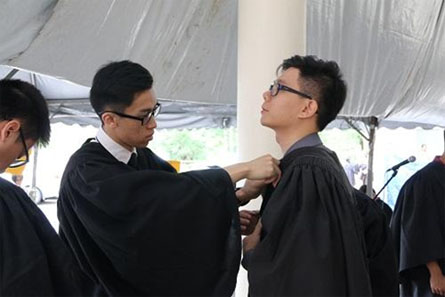 The graduands helping each other in preparation for the convocation ceremony
The Campbell University Convocation Ceremony which took place on 14 October 2017 was nothing short of a celebration of excellence as family and friends of TAR UC graduates who completed their Dual Award degree programme from Campbell University gathered to witness the success of their loved ones in the pursuit of education. It was a significant convocation for the graduates as they received their scrolls from Dr Mark Hammond, Vice President for Academic Affairs & Provost of Campbell University and Dr Michael Bryan Wells, Dean, College of Arts and Sciences of Campbell University. Datuk Dr Tan Chik Heok, President of TAR UC, senior management of TAR UC, Assoc Prof Dr Loke Chui Fung, Dean of the Faculty of Applied Sciences and Ms Lim Mei Shyan, Dean of the Faculty of Computing and Information Technology were also present at the ceremony alongside Professor Prithwi Raj Subramaniam from Ithaca College in USA who is the External Examiner for Bachelor of Science (Hons) in Sports and Exercise Science programme.
In his speech, Dr Michael Bryan Wells shared some highlights of the long and fruitful collaboration between Campbell University and TAR UC. "In 1979, Campbell University entered into a partnership with the then TAR College. The first batch of students to graduate with a degree from Campbell University was in 1981. There were 17 students in the first batch. Over the years, Campbell University has awarded more than 14,000 Bachelor's degrees to TAR UC students." He added: "Your scroll will open many doors for you. You will now be qualified for many more jobs and additional educational opportunities. This is an exciting time to be in Southeast Asia. The economic landscape here continues to be positive. Your degree will help you capitalise on the prosperities and opportunities around you. Your education will put you in a path to become a leader of future developments in this region. Furthermore, your Campbell University Bachelor's Degree will grant you access to postgraduate professional schools in the United States."
The pinnacle of the convocation was the presentation of Excellence Awards to the best students. Chan Yi Ling was the recipient of The Samuel Martin Brown Prize for Biology while Jeff Tan Yi Jieh received The Dwight Lamar Norwood Prize for Mathematics. Meanwhile Chong Jin Bin won The Jerry McLain Wallace Prize for Information Systems and Lim Jian Han took The Wallace Ewart Prize for Computer Science as well as Foong Ghin Yew being awarded The Prize for Microelectronics. The Perpetual Cup which is awarded to the most outstanding student of the senior class based on academic achievements, character, integrity and leadership potential went to Low Jiun Yang.
To the question on what were her methods, habits and routines which led to her success, Yi Ling who graduated with a Bachelor of Science Major in Bioscience with Chemistry shared: "I attended all the classes as I believe the lecturers prepare very well for each teaching session and as a student, it is important for me to gain as much as I can from their teaching sessions. I also make it a point to ask questions in classes. Time management is also an important skill as without proper time management, one can easily get drown in the many assignments and topics to study."
Graduated with a Bachelor of Science Major in Software Systems Development, Jin Bin was very pleased with his decision to do the Dual Award programme. "To my surprise, it was compulsory for me to take the Music Appreciation course as part of the dual award programme. I disliked it at first, but as I learned more about music and its history, it became appealing to me. My interest in music grew and I put in a lot of effort in my assignments which included performing my own composed song in a mini concert. Looking back, if I did not pursue the Dual Award programme, I would never have discovered my interest in music," he explained.
Jiun Yang who is the Perpetual Cup winner graduated with a Bachelor of Science Major in Sports and Exercise Science, shared his thoughts on TAR UC's strength as an educational institution. "TAR UC's excellence is not only limited to its academic programmes but the overall atmosphere of the campus, the facilities and its team of lecturers are of top class and have contributed significantly towards my achievements. My lecturers are not only good but they have profound knowledge and a wealth of experience in the subjects they teach. I benefitted from the comprehensive facilities available on campus as I was able to use them for my research projects and assignments besides using them for recreational purposes. Overall, without the support from TAR UC, I would not have achieved this achievement," he remarked.