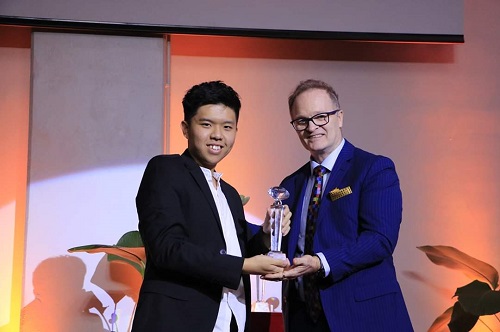 Lam Wai Jian (left) receiving his Best Director Award from Professor Dr Michael James Keppel (right), Pro Vice-Chancellor, Learning and Teaching, Taylor's University.
Using his coursework assignment as his entry for a film festival, Lam Wai Jian, who is currently studying the Bachelor of Communication (Hons) in Broadcasting programme, has bagged the Best Director award in the Student Works category of the Taylor's University Film Festival 2019. Wai Jian won the award for his film 'A Good Ghost' at the film festival which was held from 20 – 22 November 2019.
Wai Jian's film was an assignment for the Cinematography and Visual Communication subject, whereby he chose to produce a horror-comedy film. A Good Ghost is about a kind-hearted ghost who desperately seeks ways to escape the world of the dead to see his family for the last time. The high point of the story comes when he struggles to decide if he should take a life or not in order to see his family again. "My previous films are all about horror stories, so I decided to try a different genre this time, and this is why I did a horror-comedy film. I enjoyed conceptualising the story for A Good Ghost where I had to think thoroughly on how I would like to portray the ghost which would suit this particular genre," Wai Jian explained.
Though faced with limitations, Wai Jian and the other team members namely Chu Ker Ern, Kok Yu On and Hoh Hui Wen gave their best efforts in producing the film. "Since initially this film was only a coursework assignment, we did not have a large budget to make a proper production. The four of us had to think creatively on how to tackle the limitations to produce a good film. We had a lot of discussions and many trial and error moments. Our lecturer Dr Lim Jew Kim was very helpful in providing support, guidance and ideas on how to make improvisations as we worked on the film. In addition, the syllabus of the Cinematography and Visual Communication subject was also useful to us," he shared.
As the Best Director in the Student Works category, Wai Jian won a trophy and certificate of achievement. "It was a proud moment for me to receive the award as the Best Director. But the bigger reward for me is to be able to include this achievement in my portfolio where the film I directed has gained recognition from a film festival," Wai Jian said.