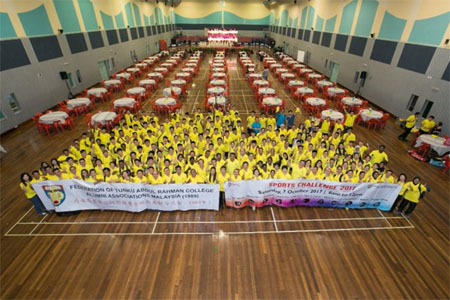 Group photo of the participants and organising committee members of TAR UC Sports Challenge 2017.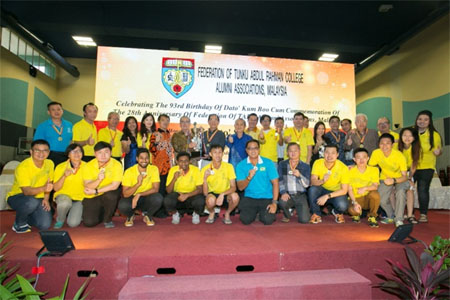 The Alumni Team receiving the Challenge Trophy on stage.
The 11 games organised by the FTARC AA, where students, staff and alumni compete against each other.
The much anticipated TAR UC Sports Challenge was held on 7 October 2017 at the Kuala Lumpur Main Campus. Successfully organised by the Federation of Tunku Abdul Rahman College Alumni Associations, Malaysia ('FTARC AA') for the 7th year, the annual event inculcated a spirit of camaraderie and fellowship amongst the TAR UC community.
The Sports Challenge which was held at various venues within the Kuala Lumpur Main Campus pitted TAR UC's students, staff and alumni against each other in a strong demonstration of sportsmanship throughout event. There were a total of 11 different games for participants to take part in which were table tennis, water polo, volleyball, badminton, futsal, 3-on-3 basketball, netball, carrom, darts, mahjong and Chinese chess.
"This is the 7th year that the Sports Challenge is organised and this event never fails to unite TARCians with old friends and serves as a platform for our alumni to socialise with students and staff to reminisce the good old days when they were students in this institution," said Datuk Dr Tan Chik Heok, President of TAR UC. "This healthy and meaningful sports event has indeed fostered a stronger and closer bond between the University College and our alumni."
The prize giving ceremony was held on stage during the celebratory luncheon in the Sports Complex where the winning teams were presented with their medals. The Alumni team successfully defended their position as the reigning champion of the Challenge Trophy.