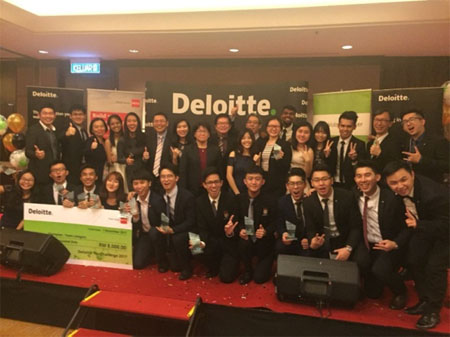 TAR UC's teams celebrating their wins during the DTC Gala Dinner
Team Taxpacito receiving the mock cheque of RM8,000 upon being named champion in the team category. (From left: Chong Hsien Leon, Tiffany Thong, Mr Yee Wing Peng, Country Tax Leader of Deloitte Malaysia, Yap Chin Siong and Carlos Wong.)
TAR UC students were a dominant force to be reckoned with when they won multiple prizes in the 10th instalment of the Deloitte Tax Challenge ('DTC'). After months of fierce competition among 3,214 participants, they were not only crowned champion and 2nd Runner-up in the team category but also won 1st Runner-up and two merit prizes in the individual category. Additionally, three students won the Best Presenter award in the team category during the final round which was held on 1 November 2017 at Deloitte's Head Office in Kuala Lumpur.
During the DTC Gala Dinner, Team Taxpacito which consisted of Carlos Wong Fook Chin, Yap Chin Siong, Tiffany Thong Siew Mun and Chong Hsien Leon was named team category champion, beating a total of 172 teams from 50 universities and colleges nationwide. They walked away with RM8,000 cash prize and employment offers from Deloitte Malaysia. Another team from TAR UC - Team Taxaholic which was made up of Lee Peng Qing, Tan Jye, Ng Peng Feng and Lee Dong Cheng, secured the 2nd Runner-up position. Chong Hsien Leon, Tiffany Thong and Lee Peng Qing were named Best Presenters in the team category.
For Peng Qing, his strategy was to make his presentation more interactive by posing some questions to the judges. As for Tiffany and Hsien Leon, their strategy was to remain professional and present their answers in a systematic manner that was easily understandable.
It was a triple win for Lee Peng Qing as not only his team emerged as 2nd Runner-up and he bagged the Best Presenter Award under the team category, but the Bachelor of Commerce (Hons) student also emerged as the 1st Runner-up in the individual category whilst Chong Hsien Leon and Lim Jing Jie won merit awards in the individual category.
"It was different participating as an individual participant as compared to being a team participant, and I had to juggle both. As an individual participant, I had to cover wider scope alone as compared to team participation," he explained. "This experience has provided me with invaluable exposure on taxation and has taught me how to better compose myself when working under pressure."
When interviewed, Team Taxpacito shared that the most challenging part of the competition was during the final round as the questions were unexpected and was something totally new as compared to questions from previous years. The team's strategy was to harness each other's strength in a combined effort to attempt the questions within 2.5 hours.
Hsien Leon also took the opportunity to express gratitude to their lecturers, Mr Michael Yeo Thiam Swee and Mr Chong Geok Chuang for their support and guidance. "Our lecturers were fantastic as they were helping us to prepare for this competition. They were very helpful, dedicated and committed to ensuring that the team got the best advice and coaching. TAR UC has provided us with a solid foundation in basic taxation which enables us to better understand more advanced topics."
As champion, Team Taxpacito will be representing Malaysia at the Deloitte Southeast Asia Tax Challenge in Jakarta next year. Lee Peng Qing will also be joining the team in Jakarta to compete as an individual category participant.
The team commented that they would be taking a well-deserved break before starting to prepare for the upcoming regional competition. They will also be looking at doing more self-study and planning to spend more time consulting their lecturers to brush up their skills.