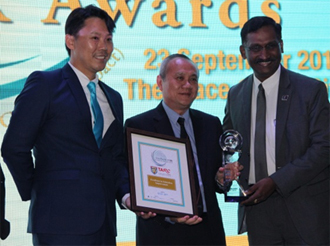 Datuk Dr Tan Chik Heok (centre) holding the award certificate and plaque while being flanked by YB Dato' P. Kamalanathan (right) and Mr Roger Wong, Founder of JCI Asia Pacific CSR Seminar & Forum / Asia Pacific CSR Awards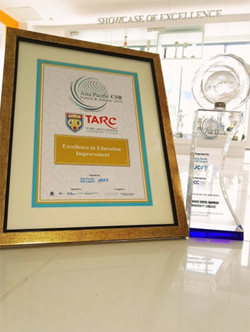 The Asia Pacific CSR Awards 2016 certificate and plaque which can be viewed in TAR UC Gallery
Having remained steadfast for more than 47 years to its mission that can be summed up in the tagline "Quality and Affordable Education", TAR UC was feted at the recent Asia Pacific CSR Awards 2016 on 23 September 2016 where the University College won the Excellence in Education Improvement award. The award bestowed was under the category of Socially Responsible Company in Education Improvement.
The award is a recognition to TAR UC's effort in widening access to quality education especially to the marginalised community. The effort is deeply guided by our philosophy that believes in education will bring benefits to the people and country regardless of one's age, race, creed or class. In addition, the award also serves as a testament to the quality of our education in light of the success of TAR UC alumni nationally and abroad owing to the education they obtained from TAR UC to enable them to leap out of poverty and pursue their dreams. Datuk Dr Tan Chik Heok, President of TAR UC, received the award from YB Dato' P. Kamalanathan, Deputy Minister of Education I who was also the Patron of Asia Pacific CSR Awards 2016 and the Guest of Honour of the awards presentation ceremony.
In his speech, YB Dato' P. Kamalanathan highlighted the importance of harmonising business with corporate social responsibility ('CSR') to ensure the sustainability of business. "It is truly possible that CSR and business can co-exist together and not just complementing each other. When such coexistence is formed, only then we can see the integration of human rights, labour standard, environment and anti-corruption come into practice". He also expressed his hope to see the inculcation of CSR culture in the business which could be realised through education.The Asia Pacific CSR Awards 2016 is a programme that is in support of the United Nations Sustainable Development Goals and United Nations Global Compact Framework and endorsed by the International Chamber of Commerce (ICC). The awards presentation ceremony held also saw the attendance of many luminaries and corporate captains including the YAM Tengku Puteri Seri Teja Pahang Hajjah Tengku Muhaini Sultan Ahmad Shah, who was the Royal Patron of Asia Pacific CSR Awards 2016. There were also many award recipients from various fields and industries being recognised during the awards presentation ceremony under the other award categories.