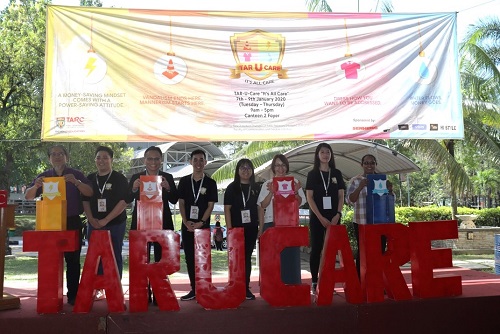 At the official launch of TAR-U-Care "It's All Care" (from left to right): Mr Chuan Tek Pheung, Programme Leader, Department of Communication, FCCI, Chan Song Sheng, Scope Leader for Electricity, Prof Ir Dr Lee Sze Wei, Cheong Ming Hao, Scope Leader for Parking, Kua Mei Chen, Scope Leader for Dress Code, Ms Dearna Kee June Chen, Dean of FCCI, Ooi Jes See and Ms Shubashini, Associate Dean, Department of Communication, FCCI.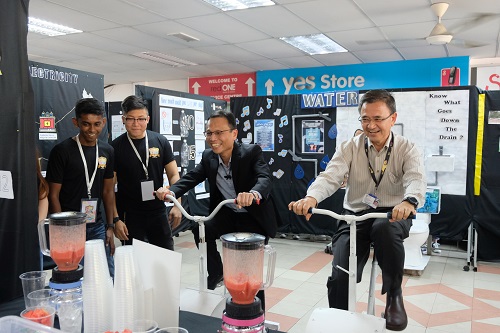 Prof Ir Dr Lee Sze Wei (second from right) and Assoc Prof Dr Chook Ka Joo (rightmost), Vice President of TAR UC, trying out the Bicycle Blender at the exhibition.
Aiming to encourage the TAR UC community to be more responsible in the conservation of energy and water civic-mindedness in utilising facilities as well as social etiquette in dress code, students from the Bachelor of Public Relations (Hons) programme organised the TAR-U-Care "It's All Care" campaign to raise awareness of these issues. The on-ground campaign was held from 7 – 9 January 2020 and was officially launched by TAR UC President, Prof Ir Dr Lee Sze Wei.
Prior to the launch, an online campaign had kick-started two months earlier on social media platforms such as Facebook and Instagram. The campaign, a coursework assignment for the PR Campaign Planning and Management subject, commenced on 25 November 2019 and ended on 19 January 2020. Meanwhile, the 3-day on-ground event featured an interactive exhibition that displayed relevant infographics and demonstrations of the campaign's objectives. There were also several thought-provoking and relevant games prepared for visitors at the event.
Ms Josephine Ng, who is a lecturer in the Faculty of Communication and Creative Industries ('FCCI') and the campaign advisor, shared more about the campaign as a coursework assignment. "Since Public Relations is a communications-based subject, it is very important for students to be able to convey their messages and ideas in an effective manner. This campaign not only challenges the students to come up with messages and lessons in a creative manner, they also aim at targetting their own community's problems where it encourages their peers to be problem solvers and not trouble makers," she commented.
Among the challenges faced by the organising committee was to figure out how to draw the attention of TARCians to the campaign. "Advocating on current issues and changing behaviour can be very difficult. That is why trends like memes and comics are incorporated into the campaign as a method of delivering the message to make it more appealing to the students. Moreover, visuals are used to illustrate the solutions to better enhance students' understanding of what is being presented," Ooi Jes See, the student leader of TAR-U-Care "It's All Care", said.
"Handling this campaign is not only fun but is very informative and impactful for us since we obtain firsthand experience in organising such a campaign on a large scale. Besides learning how to work with different departments in TAR UC, we also need to source for external sponsors and work together with them. Such industry experience will certainly enhance the value of our portfolios," she added.