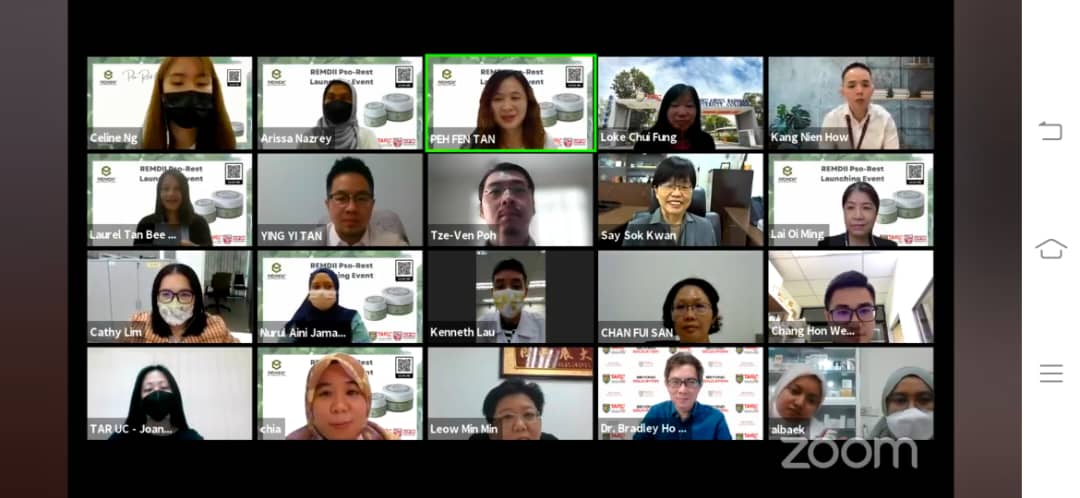 Some of the participants of the launch including Assoc Prof Dr Loke (top row, second from right), Dr Poh Tze Ven, (second row, centre) and Prof Dr Lai (second row, rightmost).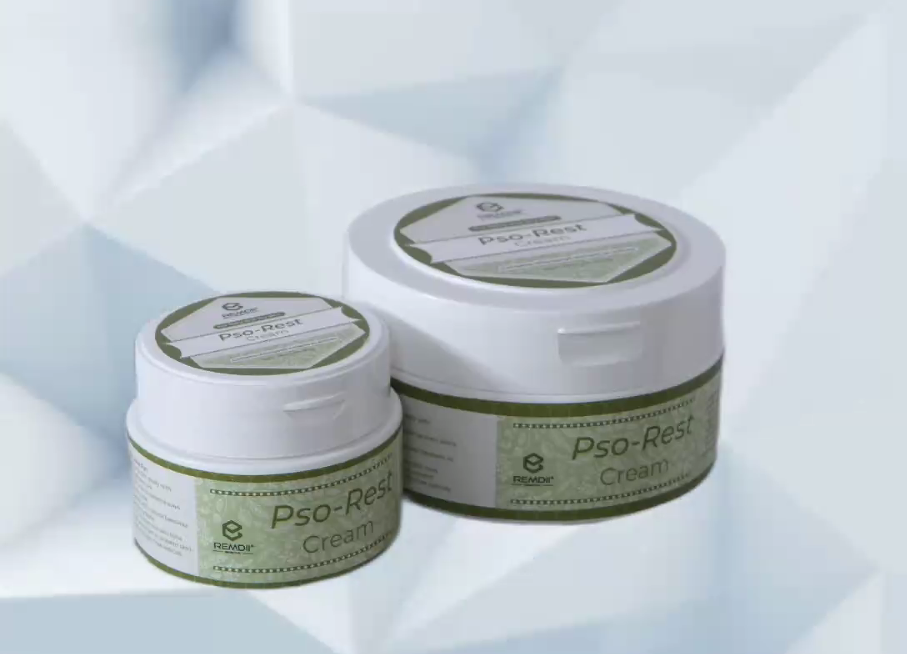 The REMDII Pso-Rest Cream for treating psoriasis.
Based on extensive scientific research, TAR UC and Lipidware Sdn Bhd ('Lipidware') jointly developed a remedy which is called the REMDII Pso-Rest Cream to bring comfort to those who suffer from psoriasis, a debilitating skin disease.
Launched on 8 November 2021, the REMDII Pso-Rest cream is a lightweight and hydrating cream. It contains natural chlorophyll extract and beeswax which is suitable for dry skin especially psoriasis. The product has been notified by the National Pharmaceutical Regulatory Agency ('NPRA') as a topical treatment for psoriasis.
Assoc Prof Dr Loke Chui Fung, Chief Scientist of the research who is also the Dean of the Faculty of Applied Sciences at TAR UC, shared how TAR UC and Lipidware came to collaborate on this project. "The product is actually a research outcome from an earlier Fundamental Research Grant Scheme ('FRGS') project in 2016. The original idea came from Dr Poh Tze Ven, Senior Lecturer of the Faculty of Computing and Information Technology ('FOCS') in TAR UC. Back in 2016 to 2019, my research team and one Master's student were researching the efficacy of the bioactive compound against human liver and cancerous skin cell lines. For this project, we collaborated with some researchers from UPM. The research outputs were convincing and we met the CEO and founder of Lipidware in 2020 and they were very keen and interested in incorporating the bioactive compound extracted from the two local plants namely, Clinacanthus nutans and Strobilanthes crispus into cream formulation for treatment of psoriasis," she said.
Assoc Prof Dr Loke elaborated at length about the research. "I'm very delighted to have the interest of Lipidware to bring this research outcome to the market. In the past, my research team had been working on the natural cure/remedy for the common infections and now we are researching on the natural herbs for the improvement of skin infection as well as the cure for cancer. We also extended our research focus using LED light as the combination therapy for skin diseases. Our research showed that the leaf extracts from Clinacanthus nutans and Strobilanthes crispus which act as photosensitizer contain anti-proliferative activities. Combining the use of light therapy at a specific wavelength, it can reduce skin cell build-up. We also tested the safety of LED light where it showed that there was no significant cell death observed even after the exposure of light for up to 60 minutes," she explained.
Prof Dr Lai Oi Ming from UPM and founder of Lipidware Sdn Bhd expressed her delight on the success of this collaboration. "Now the collaboration will actually culminate in the transfer of technology from TAR UC to Lipidware Sdn Bhd. This will enhance the competitiveness and value-addedness of our evidence-based skin care industry in Malaysia. I think we at Lipidware Sdn Bhd are really honoured to be collaborating and working closely with TAR UC on this venture", opined Prof Dr Lai.
During the launch, Prof Ir Dr Lee Sze Wei, President of TAR UC, congratulated the team for successfully bringing the scientific research into a commercial product. "I think the process that the team has gone through has been a very long journey and a fruitful one. When I heard about the commercialisation of the product, I was excited and delighted that we managed to go all the way until this stage. I believe there is still a long way for us to go to improve the product further, but as far as we are concerned, we will provide the support and resources the University College can afford to put in," said Prof Ir Dr Lee.
Assoc Prof Dr Loke added that TAR UC would continue to collaborate with UPM in research to enhance and expand the product going forward. "Together with UPM, we will continue our effort to provide the best solution for psoriatic patients by improving the formulation. In the future, we will add in some other ingredients that can improve the permeability of the cream into the skin while maintaining its effectiveness. Other substances that can modulate immune pathways caused by dermatitis may be added too. We also plan to make the product in different forms (i.e. patches, film, etc.) other than cream form. Colour, viscosity, refractive index, pH value, antioxidant activity will also be studied for the improvement of the cream formulation," she further explained.
Finally, there were testimonies from psoriatic patients who used the cream to treat their ailment and they also showed improvement on their skin as a result of the treatment.
This entrepreneurial venture went smoothly and successfully through the Centre for Business Incubation & Entrepreneurial Ventures ('CBIEV') in TAR UC where CBIEV coordinated and facilitated the collaboration of both parties in the past few months. In its efforts to catalyse entrepreneurship and innovation, TAR UC will set up a Small and Medium Enterprise Centre ('SME Centre') in the near future to provide students who aspire to be entrepreneurs the access to network connections, professional development and training or services as well as research knowledge transfer in order to support the students' entrepreneurial journey.