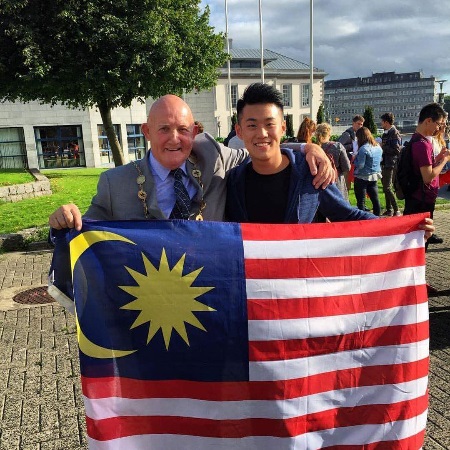 Keith Ng (right), proudly displaying the Malaysian flag together with Councillor Kieran O'Hanlon (left), the Mayor of the City and County of Limerick.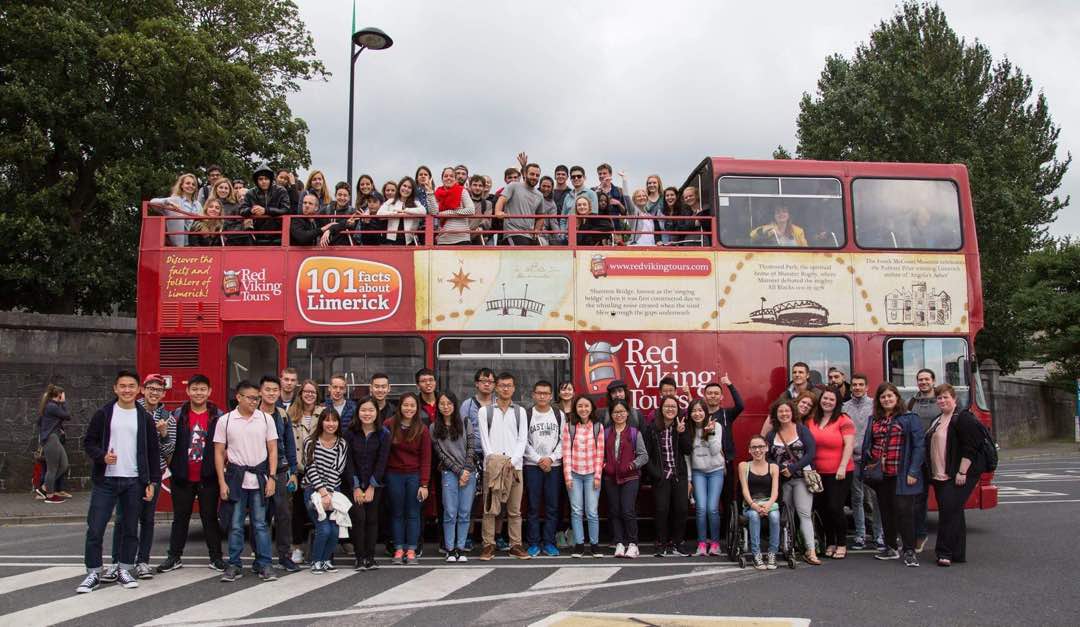 The students and lecturers during the tour around the city.
The students including Keith Ng (front row third from right) from different countries enrolled in the Erasmus+ Programme in a group photograph.
TAR UC student, Keith Ng Hun Jie became the first student from TAR UC to undergo the Erasmus+ Student Mobility Programme where he spent 3 months in Limerick Institute of Technology ('LIT') in Ireland. Keith who is a final year student studying the Bachelor of Business (Hons) in International Business at TAR UC was highly appreciative of the opportunity given to him to participate in the programme. In an interview, Keith shares his thoughts and experiences he gained from the student mobility programme which was from August 2016 to January 2017.
1) Can you elaborate further about the Erasmus+ Student Mobility Programme?
The Eramus+ programme is actually a new programme established in 2014 which combines all of European Union's ('EU') current schemes for education, training, youth and sport. The original Erasmus Programme which stands for European Region Action Scheme for the Mobility of University Students was established in 1987, is a European funding programme which offers university students opportunities to study or undergo internship training in another country for a period of between 2 – 12 months. With the new Erasmus+ programme, students from Europe can choose to do the programme in participating institutes of higher learning beyond the European borders and students from other countries outside of Europe have the opportunity to do the programme in higher learning institutes in a European country.
2) How did you come to know about this programme?
I got to know about this programme through my lecturer, Mr Johan Lim. According to Mr Johan, LIT which a very active member of the Erasmus+ programme approached TAR UC to send one student to LIT to undergo the Erasmus+ programme. A few of my course mates and myself attended the interview conducted by the Faculty of Accountancy, Finance and Business in TAR UC and I was selected for the programme. I found out later from Mr Johan that I was selected based on my academic performance, leadership skills as well as extra-curricular activities I have had participated in TAR UC.
3) Please share your experience in Ireland?
Basically, I was able to experience first-hand the real-life student lifestyle in Ireland. As credit transfer is allowed for the subjects I studied in Ireland, I attended classes, tutorials and were given assignments to do. I enjoyed the group discussions as I was able to learn how students from other countries think and interact and through my communication with them, I was able to gain a different perspective on the matters we discussed. It was a confidence booster for me to be able to contribute significantly in the group discussions especially when I was able to use the knowledge and practices I gained from TAR UC to help with the assignments and discussions in classes. Apart from classes, we also had extra-curricular activities and we also visited several companies and interesting tourist spots as part of our 3-month stay there.
4) What are the benefits you took back with you after the programme ended?
Through this programme, I was exposed to various cultures and practices from different countries. I also developed my communication skills further as I had to interact with students from different backgrounds. By looking on a matter from their different perspectives, I was able to gain better understanding on what their thought process was and at the same time, I developed important skills on how to explain my thoughts clearly. Apart from that, the teaching methodology there emphasised more on case studies and examples. And for me, this is a perfect combination as the knowledge and information I gained from TAR UC could be applied into the case study questions that were given to us. On top of this, it was a whole new experience having to do presentation in front of a multi-ethnic class. I enjoyed the discussions we had as a class. And of course, I also learnt to be more independent having to live in a foreign country where I learnt my way around campus and the town I lived in for the 3 months.
5) How were you able to contribute from what you have gained from TAR UC?
In TAR UC, our curriculum syllabi are more compact and structured which lead us to adapt to a disciplined lifestyle. Students there are more laid-back and time management is not what they practise. At first, getting all my group members to attend group discussions at the same time was a challenge. As such, I took the liberty to explain to them the importance of time management and how it would ease our lives as students. It took a bit of practice but eventually the group started to manage their time better and as a result, all of us managed to turn in our assignments on time. I was also able to share my student life experience in TAR UC with my friends. They were very amazed with the level of discipline I have when it comes to my studies in TAR UC and I am proud that others see these qualities in me.