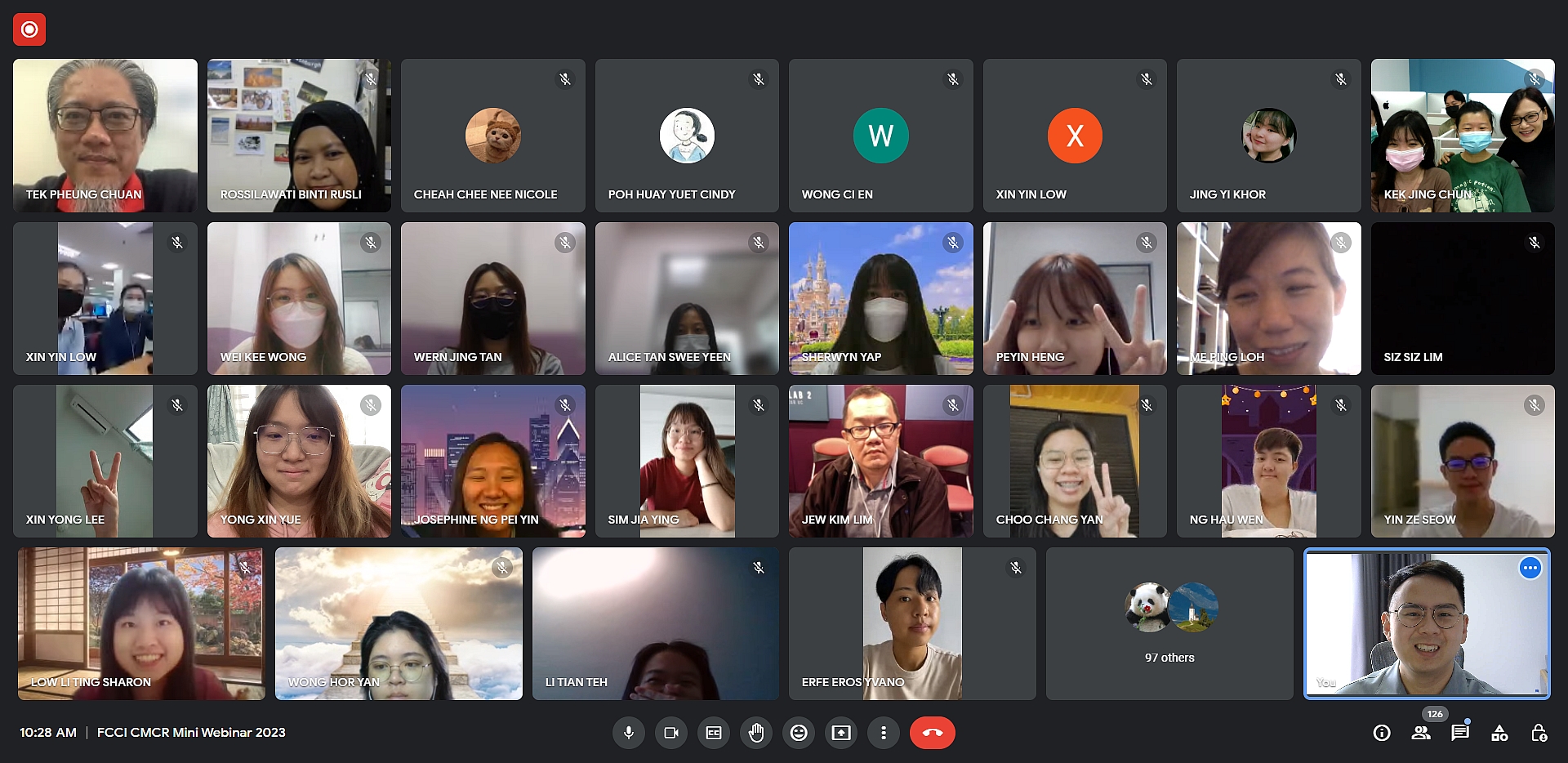 A virtual group photo of the panelists, moderators and participants of the webinar.
To prepare students for their final-year projects as well as to enhance their grasp of academic research skills, five lecturers shared their knowledge, expertise and applicable tips in the "Developing your Research Interests" webinar on 5 April 2023, organised by TAR UMT's Centre for Media and Communication Research (CMCR).
The half-day webinar that aimed to benefit degree students before they commence their final-year research projects was attended by about 162 students and lecturers from advertising, broadcasting, journalism, media studies, and public relations backgrounds.
Five panelists consisting of academic staff from the Faculty of Communication and Creative Industries (FCCI), namely Dr Tan Ling Ling (Advertising), Dr Lim Jew Kim (Broadcasting), Ms Lee Soo Hui (Journalism), Ms Oh Hui Kun (Media Studies), and Puan Rossilawati Rusli (Public Relations) took the stage to share their experience and good practices to formulate and execute good research projects. The forum was moderated by their fellow FCCI colleagues Mr Chuan Tek Pheung and Mr Beven Lau Keng Mun.
The webinar is part of annual activities planned by CMCR to benefit students by inculcating critical and practical foundation knowledge and skills to prepare them for their academic research projects.
"Events like this webinar is an important stepping stone as CMCR aims to help our lecturers become better researchers, and at the same time help guide our students in grasping and applying the essential skills of communication and media research effectively," said Dr Tang Mui Joo, CMCR Chairperson and Deputy Dean of FCCI.