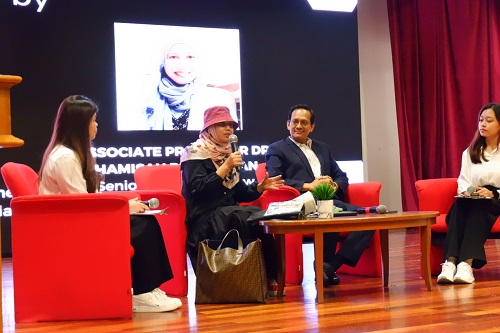 Professor Dr Hamisah Hasan, Mr Abdul Latiff bin Puteh (2nd and 3rd from left) together with student moderators during a sharing session
A group of TAR UMT Bachelor of Public Relations (Hons) students successfully organised an educational forum on the topic of "Measuring the Return of Investment (ROI) of PR Campaigns". The forum took place on 19 April 2023, and featured guest speakers, Associate Professor Dr Hamisah Hasan from Taylor's University and Mr Abdul Latiff bin Puteh, founder of White & Associates and President of the International Association of Business Communicators (IABC) Malaysia.
In his opening speech, Prof Ir Dr Lee Sze Wei, President of TAR UMT expressed his delight at the significance of the event. "We are excited to host this forum and bring together experts and PR professionals to share their insights and experiences because it is a timely event to understand how critical it is for any organisation to ensure that their resources are well utilised throughout PR campaigns to minimise the risk of loss and inefficiency," he said.
The forum discussed a variety of subjects to help guide PR students into becoming excellent PR practitioners. The forum covered the purpose and significance of PR in the contemporary world, the significance of evaluating the ROI, and understanding the tactics and difficulties involved in running PR campaigns.
Allowing students to organise events such as this educational forum during their studies with TAR UMT is part of TAR UMT's Beyond Education philosophy of developing well-rounded and future-proof students who are not only excelling in classes but also capable of applying what they learned in a practical setting. such as organising their own PR events on campus.