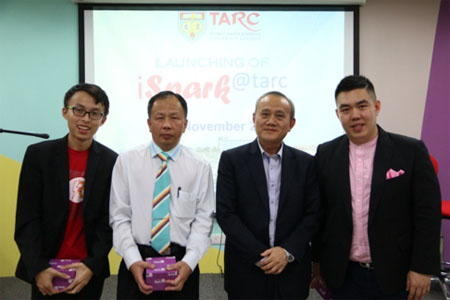 Datuk Dr Tan (second from right) poses for a group photograph with Andrew Chee (leftmost), Mr Lee Cheng Ban (second from left) and Mr Jason Tan (rightmost) after presenting souvenirs.
Mr Andrew Tan presents his business idea to the audience during the mock ideation session.
Datuk Dr Tan (front row, fifth from left) poses for a group photograph with guest speakers, senior management, officials and students of TAR UC present at the launch.
With entrepreneurship being all the rage today, Tunku Abdul Rahman University College ('TAR UC') fanned the flames of this growing trend by adding some "spark" via the iSpark @ TARC programme, which was launched on 23 November 2017.
Aimed to help entrepreneurial students turn their ideas into commercially viable and investable products, the iSpark @ TARC will give students an opportunity to pitch their ideas to TAR UC alumni who have already forged their own entrepreneurial journey and succeeded. Students will be able to receive feedback from the alumni and further improve their ideas until they are ready to be pitched to potential sponsors and refined into a feasible business model.
This launch, conducted at the TARC Business Incubation Centre situated at the Kuala Lumpur Main Campus, is just another example of TAR UC's effort in providing entrepreneurship-focused education to its many students. Just last year, TAR UC reached a new milestone after establishing TARC Incubator, an integrated business incubator, to help budding entrepreneurs develop their business ideas all the way to commercialisation through a one-stop centre built around an entrepreneurship ecosystem that promotes innovation.
"Our launch of the TARC Incubator last year and now the iSpark @ TARC programme shows how dedicated we are toward providing education which is relevant to the needs of the industry today," said Datuk Dr Tan Chik Heok, President of TAR UC, in his opening speech. "Do not think that there is an idea which is too naïve or simple, it can turn out to become a big business model someday. We encourage students to share their idea and let us help you cultivate that idea and turn your entrepreneurial goals into a reality."
Three successful TAR UC alumni who were invited as guest speakers for the launch welcomed the move by TAR UC to help students tap into their entrepreneurial skills.
"There was nothing like this when I was studying, so the new generation of entrepreneurs are really lucky to have this much support from TAR UC. I am looking forward to this programme and excited to see what we can do to help TAR UC students develop their own business ideas," said Mr Lee Cheng Ban, General Manager of Computer Business Solutions.
Other guest speakers also offered some insight to the audience on how to start cultivating their business ideas.
Mr Andrew Chee, founder of Running Man Food Delivery shared some tips of his own, saying, "A business has to make sense and make cents. So be persistent in formulating your idea. Remember that sacrifice always comes before success."
"The key to success as an entrepreneur is to have a solid good idea. If you do that, success will surely come. If you dare to dream you must be daring enough to take action and turn that idea into a reality," said Mr Jason Tan, Business Development Director of iRewards Berhad.
Datuk Dr Tan and the trio of guest speakers were presented with a mock ideation session conducted by Mr Andrew Tan, currently still a student at TAR UC and co-founder of MyOler Sdn Bhd. Andrew presented his idea of an application which can help shorten waiting times at restaurants and received some encouraging feedback from our speakers and Datuk Dr Tan himself. Datuk Dr Tan also presented souvenirs to all our guest speakers before the ceremonial group photograph session.