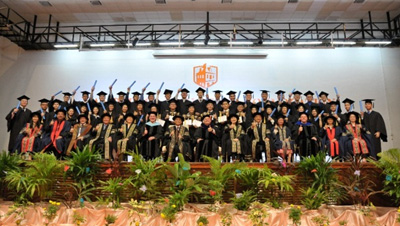 A group photo of the 2018 class of Campbell University graduands.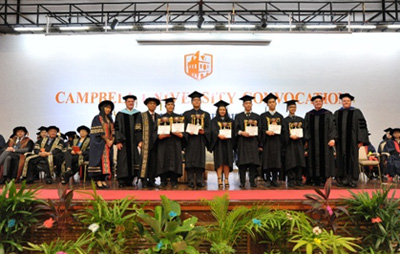 Group picture of the Excellence Awards prize winners.
(From left): Assoc Prof Dr Loke Chui Fung, Dr John Roberson, Prof Ir Dr Lee Sze Wei, Tham Ming Keat, Chong Jin Hui, Cheong Sin Yong, Loh Zi Xuan, Lim King Hoo, Loo Jia Choon, Dr Mark Hammond and Dr Michael Wells.
It was a proud moment for graduands of the TAR UC Dual Award programme with Campbell University as they walked across the stage and received their scrolls from Dr Mark Hammond, Vice President for Academic Affairs & Provost of Campbell University and Dr Michael Wells, Dean of the College of Arts and Sciences of Campbell University during the Campbell University Convocation Ceremony which was held on 20 October 2018.
Present at this jubilant occasion was Dr John Roberson, Executive Vice President of Campbell University, Prof Ir Dr Lee Sze Wei, President of TAR UC, Assoc Prof Dr Loke Chui Fung, Dean of the Faculty of Applied Sciences ('FOAS'), Ts Lim Mei Shyan, Dean of the Faculty of Computing and Information Technology ('FOCS') and Senior Management of TAR UC. Alongside them was Prof Dr Jeremy Charles Simpson, External Examiner of Bioscience with Chemistry, Assoc Prof Dr Chye Fook Yee, External Examiner of Food Science and Dr Yap Moi Hoon, External Examiner of Interactive Software Technology.
In his graduation address, Dr John Robertson commended the graduands for their tenacity and persistence in reaching this far. "This Campbell degree along with your TAR UC degree says to your future employers that you have the tenacity to start and finish a task. That you are willing to invest time, effort, energy and hard work required to earn a university degree."
In his speech, he also shared some highlights of TAR UC and Campbell University's longstanding collaboration and that Campbell University has awarded more than 14,000 Bachelor degrees to TAR UC students since 1981.
As per tradition, Excellence Awards were presented to the students who topped their class in the Bachelor of Science examination. The Matthew Baillie Prize for Chemistry for awarded to Loo Jia Choon, formerly from SMK Ketari while Lim King Hoo, who hailed from SMK (L) Methodist, received The Samuel Martin Brown Prize for Biology. Meanwhile, Loh Zi Xuan formerly from SMK San Min won The James Archibald Campbell Award for Sports and Exercise Science and The Dwight Lamar Norwood Prize for Mathematics was awarded to Cheong Sin Yong, formally from SMK Convent Green Lane. Chong Jin Hui who was previously a student from SMK Sinar Bintang received The Jerry McLain Wallace Prize for Information Systems.
The Norman Adrian Wiggins Perpetual Cup which is awarded to the most outstanding student of the Senior Class based on academic achievements, character, integrity and leadership potential was awarded to Tham Ming Keat who was previously from SMK Subang Utama. Ming Keat was also the recipient of The Wallace Ewart Prize for Computer Science.
Determination. That was what Loh Zi Xuan shared when asked the most important thing he had learned throughout the Dual Award programme to obtain his Bachelor of Science Major in Sports and Exercise Science. "It was very trying when I was studying for two papers. It was the determination to succeed and do well that I am able to achieve what I have achieved today."
Lim King Hoo recalled that working efficiently at his own pace to achieve a balance between his study life and basketball sessions helped him stay focused during his course of study. "My most memorable time here would be the time I spent with my friends. Looking back, the moments we spent together in and out of the classroom is definitely times to be cherished," added the Bachelor of Science Major in Bioscience with Chemistry graduate.
Graduating with a Bachelor of Science Major in Management Mathematics with Computing, Cheong Sin Yong shared that the Dual Award with Campbell University helped her tremendously as she succeeded in landing a position in a leadership development programme in a United States-based company. She shared that she would also have the opportunity to work at the company's headquarters in the U.S for a year.
Tham Ming Keat was certain that the Dual Award from Campbell University would boost his employability as it would prove to prospective employers his hard work, persistence and dedication to complete both internal and external papers. "TAR UC has many good facilities which students can utilise and it helps us learn better. In the future, I plan to join a small to medium sized enterprise and build my career from there," said Meng Keat who graduated with a Bachelor of Science Major in Software Engineering.