Graduands celebrating their graduations with their families and friends.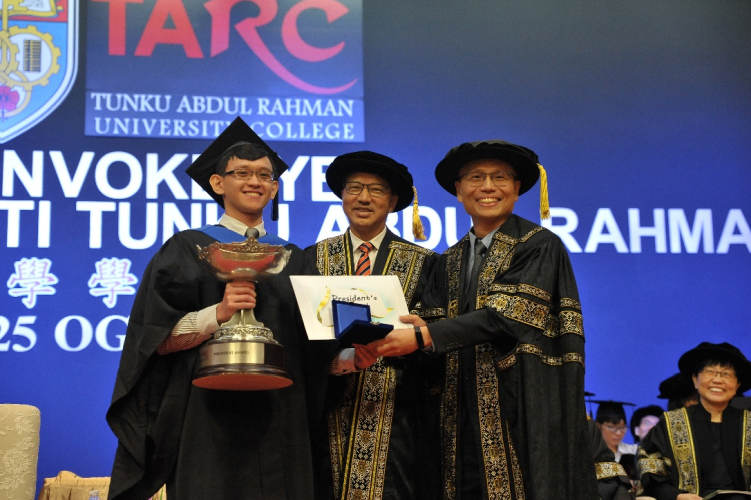 Prof Ir Dr Lee Sze Wei (right) presenting the trophy, certificate and medal to Ong Kevin (left), the President's Award winner at the TAR UC August Convocation ceremony while Dato' Sri Liow Tiong Lai (middle) witnesses the exchange.
Celebrations are in order again as TAR UC witnessed students receiving their scrolls during the Convocation Ceremony held at the Kuala Lumpur Main Campus from 22 – 25 August 2019.
The UC Main Hall witnessed a total of 4,759 graduates successfully completing their studies and fulfilling the requirements for graduation in the August 2019 convocation, of which 2,919 are Diploma graduates, 1,839 are Bachelor Degree graduates and one Masters graduate.
Dato' Sri Liow Tiong Lai, Chairman of the Board of Governors of TAR UC, attended the morning session of the TAR UC Convocation Ceremony on 25 August 2019, where he presented the scrolls to the graduates, and commended them for persevering in their studies and achieving academic success.
"Today is the day when you are rewarded for your many years of hard work and acknowledged for the knowledge and skills that you have acquired to face future challenges. I would like to congratulate all of you for successfully completing your education journey at TAR UC!
"As Malaysia celebrates its 62nd year of independence, I encourage you all to strive towards becoming productive members of society by contributing fruitfully in your respective fields to make Malaysia an outstanding nation. No doubt, this is not an easy task by any measure, but something that every responsible citizen should undertake, for the betterment and advancement of our country," said Dato' Sri Liow.
Prof Ir Dr Lee Sze Wei, President of TAR UC, urged graduates to continue doing their best. "I would like to call on the graduands here to strive for meaningful goals in life that bring positive impact to the communities and your country. By doing so, you will create your own legacy which is far more fulfilling and significant than material wealth."
The ceremony also witnessed 80 academically outstanding graduates being awarded the coveted Book Prize award. Kevin Ong, a Bachelor of Engineering (Hons) Mechanical graduate and Book Prize winner, was also awarded the President's Award. Khoo Ting Shen, a Bachelor of Science (Hons) in Applied Physics with Scientific Instrumentation graduate, was named the Dr Teh Hock Heng Memorial Prize in Physics award winner.
"As much as I am delighted with this academic accomplishment, I would not be here without the support of my friends, who have always helped me in my studies and made my higher education journey an enjoyable and memorable one. I will not forget the days I was a TAR UC student," said Kevin.
Ang Cheow Chin from the Penang Branch Campus was grateful to have chosen TAR UC where she completed her Bachelor of Corporate Communication (Hons) studies. "The lecturers were always willing to guide us and share all their knowledge to help us in our studies. The events we organised as part of our studies did not only improve our soft skills, but also help us learn more effectively through practical applications," she said.
In 2019, a total of 8,712 students graduated from TAR UC across all campuses in Kuala Lumpur, Penang, Perak, Johor, Pahang and Sabah. Since its inception in 1969, more than 200,000 students have graduated from TAR UC.