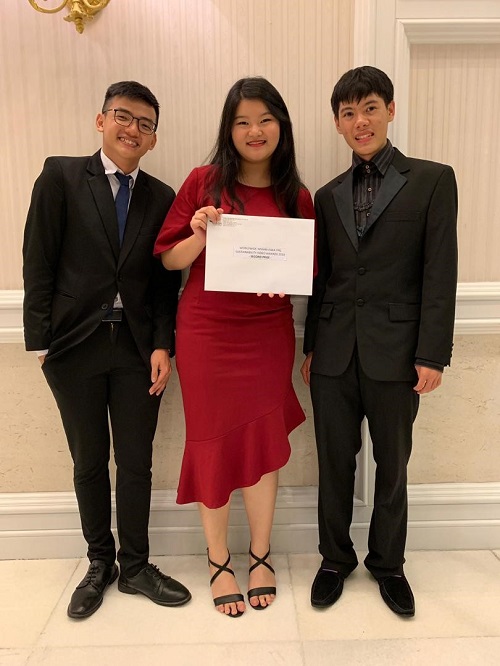 TAR UC team who clinched the 1st Runner-up spot in the competition. (From left to right): Chee Yong Chun, Ho Zhi Wei and Jerome Liew.
Three Diploma in Science (Chemistry and Biology) students brought acclaim to TAR UC when they were announced as the 1st Runner-up team in the Worldwide Waste Management Association of Malaysia (WMAM) – International Solid Waste Association (ISWA) Youth Professional Group (YPG) Sustainability Video Awards 2019. The inaugural video competition was organised by WMAM in conjunction with the WMAM Annual Conference 2019, which took place on 31 July and 1 August 2019. The winners of the video competition was announced during the conference's gala dinner on 31 July 2019.
The 3 diploma students, namely Chee Yong Chun, Ho Zhi Wei and Jerome Liew, were required to produce a video on the theme of the annual conference, which was 'Plastic: The Good, The Bad & The Ugly'. "For our video, we wanted to show how easily a plastic bag can transform from being something useful to a person into something that is useless and is harmful to the environment. The storyline for the video is quite simple but it also makes viewers rethink their daily habits which can be improved. In this case, it is the usage of plastic bags in our daily lives," Zhi Wei explained.
The team also took note of what they have learnt in preparation for this competition.
"We only found out about this competition about two weeks before the closing date for submitting the video to the organisers. It was very taxing for us as we needed to juggle our studies, assignments and shooting the video. But the learning experience we gained from our participation was invaluable. Firstly, we had the opportunity to hone our time management skills. Then, the lack of time and what was required of us helped us to work better as a team because we understood that every little bit of effort counts towards a chance of success. We also enjoyed shooting and editing the video as it was one of those rare moments for us as science students to use the latest equipment to shoot and edit a video. In a nutshell, I am glad that the 3 of us took up this challenge and completed it the best we could. Looking back on it, we all agree that the struggles and efforts were worthwhile," Jerome Liew added.
The students competed against 11 teams from other institutes of higher learning as well as corporate organisations to clinch the 1st Runner-up placing. The team won a cash prize of RM1,000 and certificates of achievement.