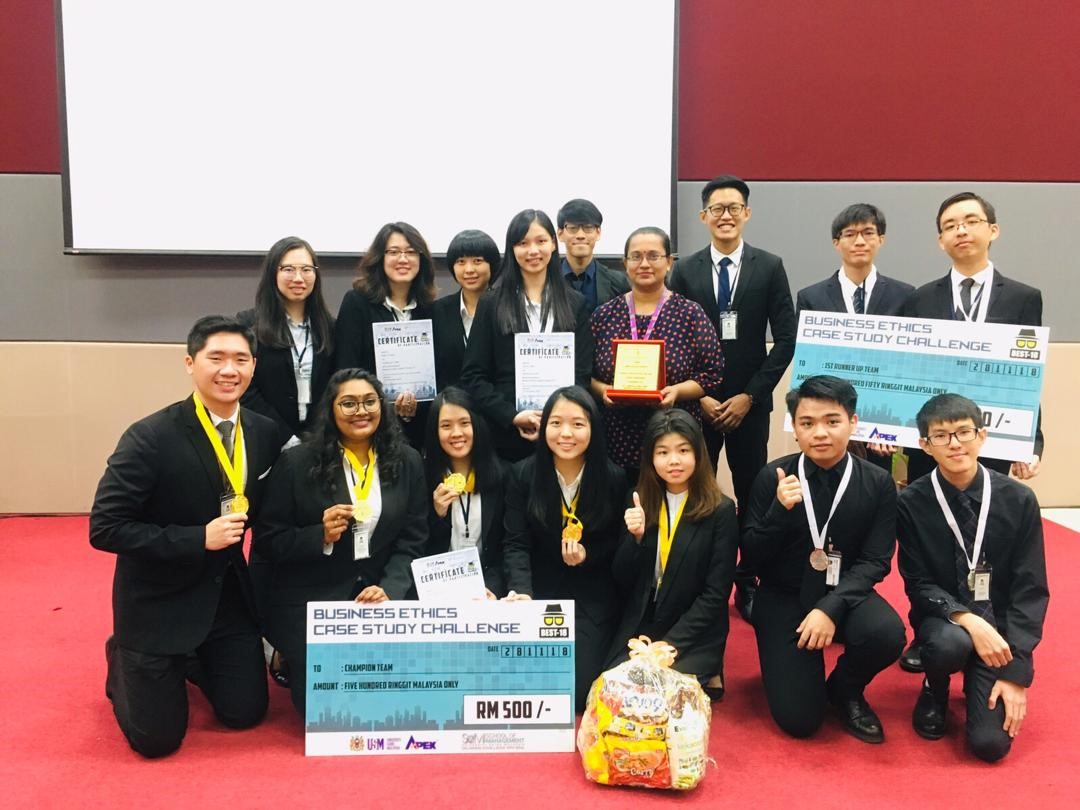 The three teams of TAR UC students beaming with their prizes.
Three teams of Bachelor of Business (Hons) Accounting and Finance students from TAR UC's Penang Branch Campus dominated the Business Ethics Case Study Challenge 2018 which was organised by Universiti Sains Malaysia ('USM') on 28 November 2018 by securing Champion, 1st Runner-up and a consolation prize.
Champion was won by team Beauties and the Beast which consisted of Loo Song Wen, Florence Ngo, Meerosha Balakrishnan Thevar, Oon Sze Chin and Chin Eileen. Team Revelation comprising Foo Ce Wei, Khoo Feng Jun, Khoo Teng Soon, Khor Si Mei and Lee Zhi Qin won the 1st Runner-up position while team Synergy consisting of Khor Yi Rou, Charlene Ong, Soon Wei Qi, Jerome Looi and Cheah Boon Ying won a consolation prize.
During the competition, participating teams had to select a company, identify ethical issues present within the company and present solutions for these issues in front of a panel of judges.
"We were ecstatic!" exclaimed Loo Song Wen, who was the team leader. "We participated in this competition to hone our public speaking skills. Who would have thought we would win Champion."
"We came to know about this competition when our lecturer, Ms Anitha A/P Sundrum, posted it in our class chat group. Lack of preparation time was definitely a big issue for us but ultimately we managed to pull through with the help of our lecturers who gave us constant guidance. We also decided not to put too much pressure on ourselves and just have fun!"
The competition saw the participation of 10 teams from four institutions of higher learning namely USM, Universiti Utara Malaysia ('UUM') and Universiti Kebangsaan Malaysia ('UKM') and TAR UC.