Ee Sheh Ling (centre), President Award Cup winner holding up the trophy and Certificate of Achievement while Datuk Dr Tan Chik Heok (left) and Dato' Yap Kuak Fong (right), President of TAA hold the mock cheque of RM 1,000.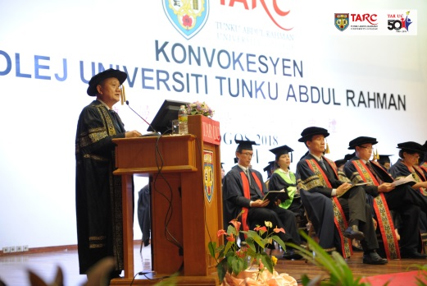 Datuk Dr Tan Chik Heok, President of TAR UC, at the lectern, giving his convocation speech.
Ooi Jes See (right), receiving her scroll and Book Prize award from Datuk Dr Tan Chik Heok.
TAR UC once again celebrated the success of its graduands who congregated in the magnificent TAR UC convocation ceremony held from 16 – 19 August 2018 at the University College Hall at Kuala Lumpur Main Campus. Spread over 7 sessions, it was celebrated with much pomp and splendour, with graduands donning their gowns resplendently and receiving their scrolls.
During the convocation sessions, the President Award Cup winner certainly stole the limelight. When interviewed, the President Award Cup winner, Ee Sheh Ling, who received not only the trophy but also a RM 1,000 cash award courtesy of the TARCian Alumni Association ('TAA'), had much to say about the teaching and facilities available at TAR UC. "The lecturers here are helpful, kind and ever-ready to share their experiences with us which enhance our learning process. As for the facilities at TAR UC, they are comprehensive and modern. I frequent the library to not only refer to the reading materials there but to hold group discussions with my peers," she said.
Apart from Sheh Ling, there were 66 book prize winners who were accorded recognition for their excellent academic performance. Ooi Jes See from the Diploma in Mass Communication (Public Relations) spoke about how TAR UC education will help her in the future. "I can foresee that the training and exposure here can help me to become a person who is able to work under pressure. If you want to become a good team leader, it's all about working well in a group as well as honing your leadership skills. I have had the opportunity to experience all that through my presentations, assignments and projects in Year 2. Having had this sort of training throughout my studies at TAR UC, I am certain that I will become a true professional in the future," she said.
In his speech, Datuk Dr Tan Chik Heok, President of TAR UC, talked about his vision of TAR UC education being the best education that students could attain. "In our quest to be the best in delivering top-notch education, we continuously review and enhance all our programmes to meet the most stringent quality standards set by the industries. Our effort has yielded many recognition and accolades from industries and professional bodies signifying a mark of assurance on the quality of TAR UC holistic education," he said.